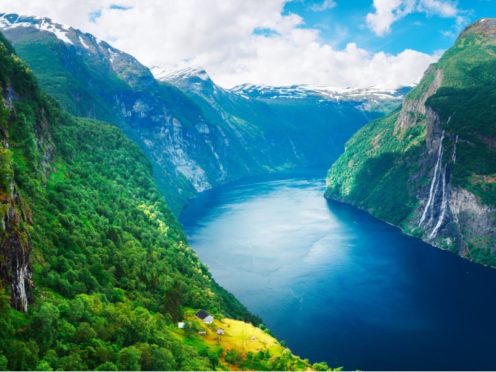 Thinking about a cruise? We preview 6 sensational 2020 cruises sailing from the historic port of Dundee.
Plan ahead and take advantage of a fantastic BUY ONE GET ONE HALF PRICE offer currently available on all below departures.
Setting sail on board stylish Magellan, we preview each of these glorious itineraries, giving readers a flavour of what to expect during each carefully crafted departure.
1. Fjordland Cruise
Looking to experience the magnificent Norwegian fjords in their Spring best? This 8-day departure could prove to be the perfect cruising escape.
Enjoy a real-roll of iconic cruising ports of call starting with the iconic 'Gateway to the Fjords' Bergen followed by Geiranger, Flåm and the historic 'Toon' Newcastle closer to home acting as a fitting finale before returning to Dundee.
A historic fishing port, Bergen offers visitors the chance to enjoy a lovely old waterfront rich in maritime history.
Should holidaymakers wish to venture beyond the city, the views up a Mount Fløyen are simply wonderful.
Heading deep into Norway's fjord region, the village Geiranger rests amongst truly special scenery.
Resting at the head of Geirangerfjord, notable sights include the cascading Seven Sisters Waterfall and lovely natural viewing point known as Flydalsjuvet Rock.
Arriving in the award-winning cruising port Flåm, a number of popular scenic spots are within easy reach, offering the chance to take in as much of the natural scenery as possible.
The village is actually best-known for a man-made wonder – the famed Flåm Railway that follows the valley, cuts through tunnels in the mountainside and crosses a number of bridges providing a variety of memorable sights as its rises up to Myrdal village.
Leaving Norway, Magellan stops closer to home at Newcastle, one of the greatest cities in the UK and a popular short break destination.
2. Hidden Baltic Treasures
Exploring the history and charm of some of the Baltic region's greatest treasures, this wonderful 13-day Bank holiday cruise sets sail on May 3, 2020.
Memorable ports of call include Kaleunborg in Denmark, Warnemunde (gateway to Berlin), Ronne, Visby (Sweden) and the beautiful cities of Klaipeda (Lithunia) and Gdansk (Poland).
Thanks to the itinerary, passengers on board Magellan will be able to easily reach Copenhagen, one of the greatest cities in the world, Berlin and Swedish capital Stockholm.
Venturing to the island of Gotland, the once crucial trading port of Visby was formerly a Viking stronghold.
Growing rapidly in popularity as holiday destinations, both Klaipeda and pretty Gdansk, both resting on the shores of the Baltic Sea, are amazing to cities to explore on foot.
The final Baltic port of call, highlights found in Gdansk include lovely colourful buildings all with their own period and major historic highlights like the mammoth Oilwa Cathedral.
3. Faroes & Northern Isles
Venturing to North Atlantic to first the Faroes and then two beautiful Scottish islands – Orkney and Shetland – this shorter cruise hops between stunning islands.
During the cruise passengers will be able to step ashore and experience a memorable selection of notable landmarks ranging from historic Scapa Flow, archaeological wonder Jarlshof and the Faroes' capital Torshavn where you can immerse yourself in Faroese culture and enjoy the wildlife and beauty of this picturesque part of the world.
On Shetland, there is so much to see and enjoy including the iconic Ring of Brodgar, respected Scapa Distillery and a number of scenic spots including popular walking spot Eshaness Cliffs.
Leaving the comforts of Magellan when calling at Torshavn, there are a number of lovely villages to be found further in-land resting amongst breath-taking mountain terrain.
4. Round Britain & River Seine Experience
Exploring the beauty of the British Isles, starting in Scotland, right down to the Channel Island before crossing the Channel to France following the River Seine, Magellan starts with a call at Portree on the stunning Isle of Skye.
Great European cities follow with stops at Belfast and Dublin – two excellent cities each with their own distinct history.
Holidaymakers looking to escape the city should look no further than the mythical Giant's Causeway, one of the most jaw-dropping destinations on the planet.
Dublin combines old and new with a number of historic attractions available to tourists to enjoy during their time in the city.
Travelling down to the remote Isle of Scilly, St. Marys awaits before crossing the channel.
The welcoming May weather here can often prove ideal for exploration and both Honfleur and Rouen have a lots to offer.
Honfleur's lovely harbour and church and Rouen's great cathedral and Church of St Joan of Arc are just some local points of interest to look out for.
This stunning region of France has long proved to be the source of inspiration for many a notable painter.
Who knows, perhaps you might return to Magellan and indulge your creative side or wait until you are back home inspired by the stunning French countryside!
5. Best of Norway & Scottish Isles
Our celebrated 2020 cruise, this fantastic itinerary showcases some great Norwegian and Scottish destinations offering a delightful journey full of wonderful cruising moments.
During the cruise, Magellan sails to Norwegian greats Eidfjord, Flåm, and Bergen before travelling to the Scottish Isles.
Calling at some of the most famous islands in the world, Magellan visits Lerwick Kirkwall, Portree and finally Tobermory on the Isle of Mull.
A wonderful itinerary, this 9-night scenic summer stunner cruise is set to be a memorable occasion.
6. Baltic Cities & St Petersburg
Calling at some wonderful European ports of call, this essential Baltic Cruise across 14 days calls at Copenhagen Warnemunde (for Berlin), Tallinn, Helsinki, Stockholm, and crucially, dedicates two days in the former Russian capital St. Petersburg.
First arriving in Copenhagen, this autumn cruise then heads on to Germany.
There will be a chance to enjoy the capital Berlin and its cosmopolitan atmosphere whilst admiring the sights of the city.
Rich in history, small yet conveniently arranged Tallinn is known for its pretty Old Town full of lovely old buildings and cobbled streets.
Two days are then spent in St Petersburg – a city known for its large number of grand palaces.
Key sights include the grand Peterhof Palace and colourful church Savior on the Spilled Blood.
Dating back to the 19th century, a visit to the renowned Mariinsky Theatre will leave a lasting impression, particularly if you decide to catch a performance during your visit.
Heading to Finland, officially one of the happiest places in the world, Magellan calls in at Helsinki where holidaymakers can enjoy the best of city before moving on to Stockholm.
Resting on a number of islands, the Swedish capital and birthplace of modern pop is one of the greatest Baltic cities and memorable final Baltic port of call before travelling to Newcastle with the cruise concluding in Dundee.
Also available setting sail from the Granite City, Aberdeen