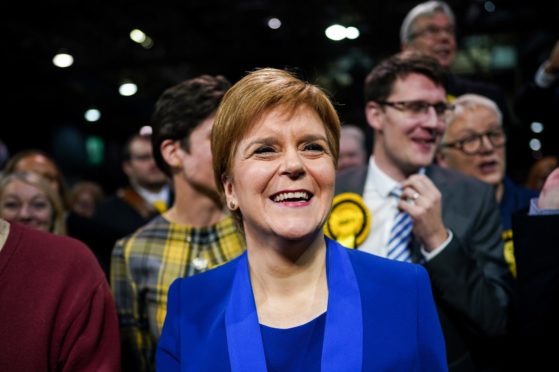 Sir, – In reply to your Editorial, (Robust response to Tay salmon threat, December 11), the Tay District Salmon Fisheries Board (TDSFB) and other associated groups and organisations have been trying to achieve a higher proportion of catch and release of salmon for 10 years or more.
There is nothing new in this, and they have managed to get a fair degree of success in that period.
The problem they have is that the Tay system is huge, with a complexity and spread of different smaller river systems, each with their own unique character, ethos and problems.
The areas where salmon are spawned are a very long way from where most of them are caught.
The owners in the spawning areas are usually smaller, and because others catch most of the fish, they don't have the same incentive to participate.
That only 52% of owners support the current suggested approach says to me that the TDSFB is struggling to manage the people in the system and that is the real problem.
There have been various efforts made over the last 10-15 years to try to pull things together, but for various reasons nothing has come to bear fruit.
It is likely in the future that with changes at sea, Tayside will have to learn to do with fewer salmon.
The best way to deal with this is to make sure that visitors have a wider appreciation of the Tay and its tributaries.
From this perspective, it might be wise then to take a slightly different approach to the beavers on the river, particularly when there is no evidence that I am aware of that they are an issue for salmon stocks.
They are an issue in other ways, yes, but they should not be used as another excuse as to why salmon numbers are so low.
We need to be able to look at the river in a different way.
If we can do that, people will keep coming back.
Victor Clements.
Native Woodland Advice,
Mamie's Cottage, Aberfeldy.
More disruption is inevitable
Sir, – A lot of the opposition to the independence movement in Scotland is about disruption: the "once in a lifetime", the we don't want to go through another referendum, or the "Brexit is disruption enough" stuff.
But disruption there will be as we can't go on like this.
The planet is being destroyed by how we live; there are people starving in one of the richest countries in the world, while the rich accumulate more wealth than they could ever spend.
And the gap is widening; housing for many is a means of enrichment, while others sleep on the streets or live in overcrowded hovels.
If we remain in the UK this will never end: England votes Conservative and that overrules any votes in other parts of the UK.
The rich and powerful know the planet cannot sustain our profligate lifestyles, they know that things must change and are determined to grab what they can while the going is good.
If we remain in the UK, the combination of Tory Government, the power of the establishment, the wealthy and the media, will use this disruption to further tighten their hold on our wealth and our country.
Les Mackay.
5 Carmichael Gardens,
Dundee.
Hoping for the SNP to grow up
Sir, – May I respond to Dave Stewart (Precious about government, Courier, December 10).
Mr Stewart complains at too much "girning" about the SNP, and asks what we actually want and expect from Holyrood.
The answer is simple.
We want more accountability for the quality of governance in Scotland, requiring focus on devolved responsibility, and to not dwell upon issues that are not part of devolved responsibility.
We witness continuing failings in matters of policing, education, NHS, etcetera, all of which are victims of SNP ideology where the over-riding issue is always independence.
Then there are the two-faced issues such as Scotland being a world leader in carbon emission reduction, while at the same time confessing that international tourism is fundamental to the Scottish economy.
Most tourism is accomplished by a rise in air travel.
Then we have people such as Ian Blackford, whose principal role at Westminster is continuously throwing verbal stones and insults at the UK Government.
In business, there are zero success factors in complaining negatively on every suggestion or decision by your partners and shareholders.
Far better to work in concert, and to make a positive contribution to debates on strategy and policy.
So what we want is for the SNP to butt out of issues such as foreign affairs, stop insulting our friends and partners and, frankly, to just grow up .
Derek Farmer.
Knightsward Farm,
Anstruther.
MP stands for Missing Person
Sir, – What do politicians expect from the public? Cheers?
They have abused the public's right to have their vote to leave Europe implemented.
They have forgotten that we are the masters and they the servants.
They have abused democracy and the people.
They come out of the political fishbowl where more people now dare to ask questions they don't like.
Like all managers and people in power they are not used to answering questions bluntly put to them. This is what they call abuse.
Our MPs would overturn the referendum result in a moment if they get a majority to stay politicians in Westminster.
What if very few of the establishment party politicians are elected?
Do they cancel the general election and have another?
We must use our vote wisely or we may get a Missing Person who will disappear for five years shielded by a secretary.
I for one have lost all trust in the four main parties.
John G Phimister.
63 St Clair Street,
Kirkcaldy.
Focus on the day job, please
Sir, – Irrespective of who won the general election, we still have an SNP administration in Holyrood.
During the campaign, Nicola Sturgeon focused principally on the constitution; no change there then.
Yet the everyday realities of Ms Sturgeon's overlooked day job – managing Scotland's hard-pressed public services – continue.
Wouldn't it be wonderful if Ms Sturgeon made an early New Year's resolution and decided to concentrate on the job we employ her to carry out, instead of relentlessly indulging her UK break-up dreams?
Martin Redfern.
Woodcroft Road,
Edinburgh.
Keep an eye on the vulnerable
Sir, – With the attention of the nation on the general election it is easy for other priorities to get lost.
This festive season thousands of people across the country will go hungry, have to huddle against the cold and endure long, lonely periods.
They deserve better and we all can play a role in ensuring that the most vulnerable in society are cared for at this time of year.
The smallest of gestures is often enough to help improve the lives of those living in isolation.
Bill Steven.
Dronley,
Angus.