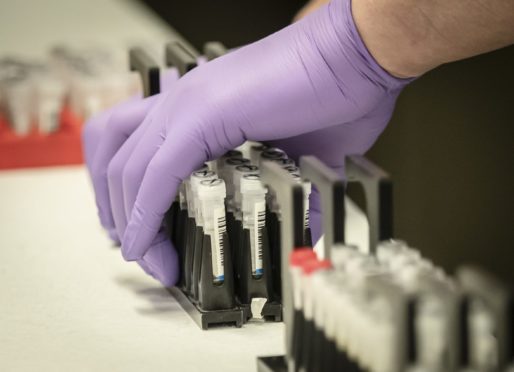 NHS Tayside staff are prepared to be "challenged like never before" by an outbreak which could strike 7,000 people across the region.
NHS Tayside medicine for the elderly consultant Dr Douglas Lowdon, a member of the health body's Covid-19 contingency planning group said an upper limit of 20-40% of the region's 420,000 population being infected by the virus was a fair estimation of its potential impact.
That would equate to perhaps 7,000 people across the course of the outbreak, the majority of whom would not likely have to be admitted to hospital.
The plan has been designed to cope with some 60 daily Covid-19 admissions to Tayside hospitals over the next five months.
Latest figures released on Sunday afternoon show Scotland has 153 confirmed cases of coronavirus.
The figure increased from 121 on Saturday, although the daily rise was slightly less sharp than an increase of 36 cases between Friday and Saturday.
Tayside has 15 confirmed cases, and Fife seven.
The Scottish Government said 4,240 tests have been carried out, with one death related to the virus.
In a widely-shared social media post, Dr Lowdon said NHS Tayside had "worked tirelessly" to put in place a Covid-19 plan the public can trust.
"We currently have 100 Covid positive beds at this stage. There is currently 1 or 2 patients with Covid-19 in Ninewells.
"We have plans in place to put in nearly 400 beds for Covid positive people over an escalation of our stages over next week or so.
"We will have this in place and staffed for the Tayside population if needed.
"That modelling will cope with up to 60 admissions with Covid per day over the next 20 weeks. That would look after up to 8,500 Tayside people if they needed admission to hospital with Covid-19.
"Feels like that is a reasonable contingency plan we have put into place."
He added: "Yes, this will be very hard work and staff are going to be challenged like never before.
"The majority of patients will be well and manage at home, so we won't need to see them and fortunately will not need admission.
"So rest assured we are as prepared for the unknown as you can be, and we are ready.
"Now wish myself and all our amazing staff in NHST all the best and hopefully we won't meet any of you in Ninewells over the next few weeks," said Dr Lowdon.
A self-isolating MP has said the health service's 111 helpline has been "absolutely inundated" due to the changing advice about the coronavirus outbreak.
The SNP's Dr Lisa Cameron revealed on Friday she had Covid-19 symptoms and had been told to self-isolate for seven days.
Although she has not been officially diagnosed with the virus following a change to guidance about who needs to be tested, Dr Cameron said she was feeling "very, very tired," adding: "Exhaustion has been the largest symptom for me."
Dr Cameron, who is a clinical psychologist and MP for East Kilbride, Strathaven and Lesmahagow, said: "I think the service has been absolutely inundated.
"I know when I called back on Thursday I waited about two hours for a response but it is because they were totally inundated, so I think the service probably has to deal with this around the clock so I can't fault that at all, they are doing an amazing job in this situation.
"I think it's difficult because the strategy and the messaging appears to have changed for people who have the symptoms.
"At first it was keep calm and carry on, it wasn't anything to worry about, just go on as normal and then as things progressed and actually as my cough developed, that was totally different.
"It is understandable as symptoms develop but you feel a bit in the dark with it and you don't know how long to expect the symptoms for.
"It's really difficult. You want to hug your children, you want to be with them – but for their safety and their health, you are pretty much keeping away from them."
Dr Cameron revealed that she hopes to return to work "within the next couple of weeks" but, having not been tested, she is unsure of how long the symptoms will last and added:  "I think you just have to take it a day at a time."