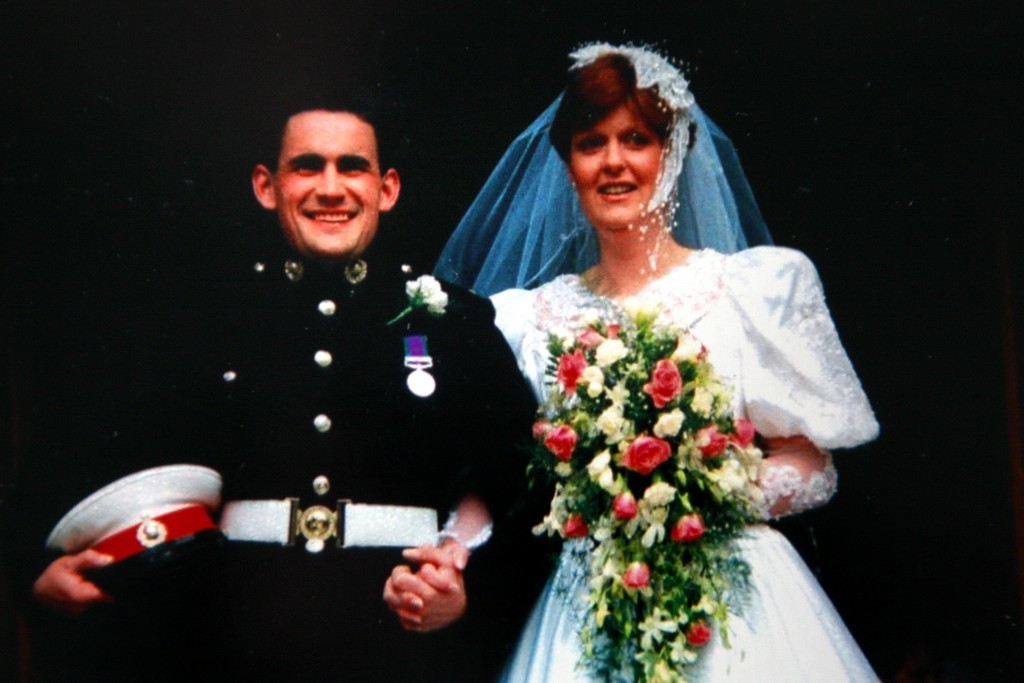 An Arbroath couple whose marriage almost didn't happen because of the Gulf War celebrate their silver wedding anniversary on Wednesday.
Two days before marine David Howard was due to marry Sheenagh Beatt he received a call from RM Condor in Arbroath telling him that he was away to be deployed to Iraq.
The news put the long planned wedding in jeopardy as David anxiously waiting for more news about when exactly 3 Squadron would be leaving the country.
The couple had to continue with their wedding plans knowing that they could change at very short notice.
Sheenagh, 53, recalled: "I remember I was sitting on Thursday doing a practice of how I wanted my hair to look when we got a phonecall to say David had been called back to Condor.
"He thought it was a joke at first – we just couldn't believe what we were hearing.
"He went away back to camp and he was told to start packing. At that stage we didn't know whether we were going to get married or not.
"David came back on the Thursday night, for our rehearsal. I remember the minister Walter Beattie telling me, 'Sheenagh this wedding will go ahead because you two are meant to be with each other'.
"I was just crying all the time."
The next day, David received several injections which meant he had fallen asleep when Sheenagh came to drop off his wedding suit that evening.
He then received more injections on the morning before their wedding at the Old and Abbey Church in Arbroath which meant he couldn't drink.
He was allowed to leave base to be married on Saturday April 20 1991 though he had to tell his superiors where he would be all day in case the situation changed suddenly.
The couple were given a guard of honour outside the church by members from David's unit.
"It was a brilliant day – I would do it again tomorrow," said Sheenagh, who worked as a midwife at Ninewells Hospital in Dundee at the time.
"David went back to Condor on the Monday and he was away to Iraq on the Tuesday."
The couple's marriage so close to David being deployed even made headlines in The Courier.
Instead of the 10-day trip to Barbados that the couple had planned as their honeymoon, they instead had a night away at Letham Grange.
They eventually got away for their dream honeymoon in July.
Meanwhile Sheenagh wasn't happy with the wedding photographs which had been taken on their wedding day and decided to have some more taken once David returned from Iraq.
"Unfortunately while he was away he had salmonella so he'd lost loads of weight and he was also really tanned," she said.
"We got the church opened again and got dressed up again – but it looked like I was marrying someone else!"
The Douglas Avenue couple will be celebrating with a meal on their anniversary night and are also planning to take a cruise, which would return to Barbados, later this year.