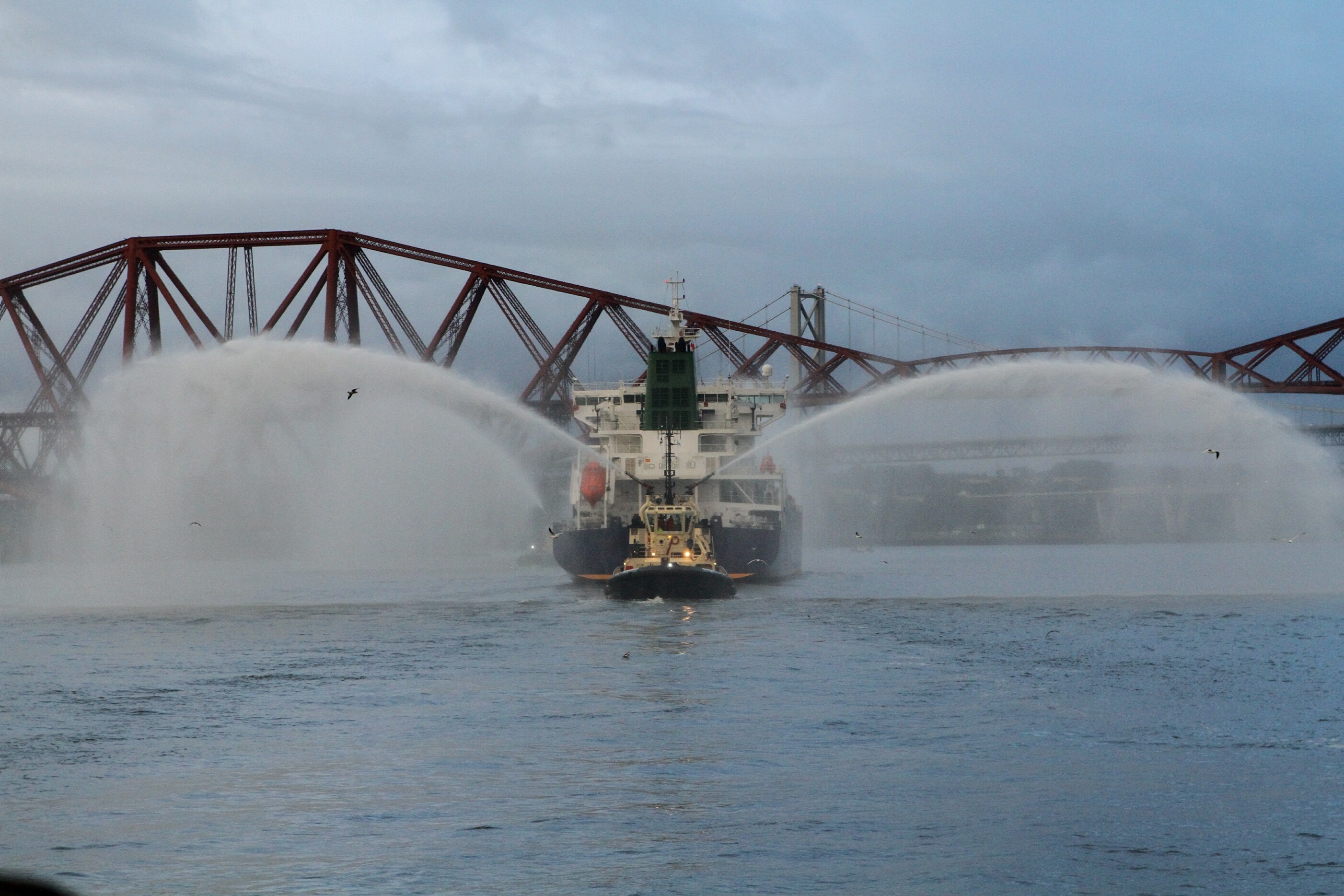 INEOS welcomed its first shipment of US shale gas to Grangemouth in what chairman Jim Ratcliffe described as "a hugely important day" for his company and the UK.
He said the $2 billion investment will safeguard the future of Scotland's
biggest industrial site and the 10,000 jobs that depend on it for the next 20 years.
The massive Dragon-class INEOS Insight brought 27,500 cubic metres of ethane to the Forth from shale fields in Pennsylvania where it had been produced by the controversial technique of fracking.
High winds prevented the 180-metre long vessel from docking and
discharging its cargo on Tuesday and the operation has been rescheduled for high tide on Wednesday.
Despite the glitch, the mood of INEOS was one of confidence and relief that their "virtual pipeline" of low-cost ethane from the US to Europe had been opened.
Mr Ratcliffe did admit to some  disappointment that no Scottish Government minister had chosen to attend the historic occasion.
Holyrood has imposed a moratorium on fracking until it has examined its potential environmental, health and economic impacts to inform its "evidence-led approach" to the issue.
The UK Government is backing the practice of injecting water, sand and chemicals into the rock at high pressure to produce shale gas. Scottish Secretary David Mundell was at Grangemouth yesterday.
INEOS intends to eventually use eight Dragon class tankers to ship US shale gas to Europe, as it replaces the reducing gas extracted from the North Sea.
Mr Ratcliffe said: "We are excited about the kickstart shale gas can give to UK manufacturing."
He said the "hugely ambitious project" which had taken five years was a world first and he was incredibly proud of everyone who had been involved in it.
Ethane, when converted to ethylene by cracking, is a vital ingredient in the petrochemical industry and has many applications in the manufacturing
sector.
With supplies from conventional extraction reduced and a block on shale gas production by fracking, INEOS has turned to the United States.
Safely produced low cost shale gas has been a huge boost for the viability of its manufacturing industry, he stated, with the cost of the vital fuel being cut by as much as 75%.
INEOS said British industry now has the chance to benefit from US shale gas economics which did so much to revitalise manufacturing in that country.
"Production costs in the US have been lowered so much that investment has increased and prosperity has risen," Mr Ratcliffe stated. "The UK now has that same opportunity.
"Manufacturing in the UK now accounts for about 10% of the country's GDP when it used to account for 25% which is the same as Germany's," he continued.
"We need to stimulate our manufacturing sector for the sake of our economy and low cost shale gas can do that. Without a bigger manufacturing sector we have to rely on our service sector but that is too fragile a basis for building a strong economy.
"With lower cost shale gas we can boost manufacturing and transform the former industrialised areas of the UK like Grangemouth and parts of northern England which have gone into decline."
The INEOS chairman described Grangemouth as "the heartbeat of the Scottish economy" and had the potential to trigger a revival of the country's
fortunes with government support.
Asked about the SNP Government's position on fracking, he said: "I
understand their sensitivity but I do hope common sense prevails.
"There is a vocal minority who are objecting to fracking but we have
conducted our own consultation with communities and have found a silent majority who are in favour of it.
"People here, just like in the United States, see it as a way to revive their
communities, boost industry and provide jobs and prosperity."
Mr Ratcliffe accepted that fracking in the North Sea may not be economically viable, but he added: "Let us at least be allowed to do the exploration."