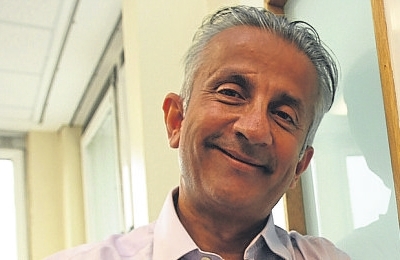 Professor Dilip Nathwani believes innovation is the key to improving
quality of care and providing a health service for the future.
As co-chairman of the Academic Health Science Partnership he has been
tasked with ensuring every part of NHS Tayside meets the needs of 21st Century
patients.
Prof Nathwani is confident the answers lie in providing better training, access to new medicines and improved surgical procedures.
The AHSP was the first of its kind in Scotland when established in 2014, bringing together NHS Tayside with Dundee University. It aims to create world-leading
improvements in the health of the population and, in time, transform healthcare
in Scotland and internationally.
Those bold ambitions could have a marked impact on patient care at every level, utilising the groundbreaking research and training being undertaken at the award-winning university.
Prof Nathwani said: "Our AHSP is focussed not only on research but around how we improve and broaden quality of care.
"It explores how we ensure our excellent and dedicated staff can be even better trained and educated.
"Dundee University is our main partner but increasingly we are also working with St Andrews and Robert Gordon universities, with other health boards such as NHS Fife and with companies, such as the tech firm Medtronic.
"We are bringing together health, academia and research to provide staff with the most up to date skills, cutting edge technology and ensure the next generation of medics, currently in training, join us with the best possible training to provide the 21st Century health care we are working towards."
Future plans will see the further development of the Cuschieri Skills Centre – one of the finest surgical skills centres in the world – the introduction of robotic surgery and the development of new digital health initiatives.
The last advance will be vital as NHS Tayside focuses upon care in the home.
It will enable doctors, nurses and GPs to remotely check on patients, even if
they are miles apart, checking pulse and blood pressure by consulting an iPad.
Professor Nathwani added: "We are doing everything we can to deliver better care and develop our staff so they feel happier and better supported."Scotland is in the midst of a GP recruitment crisis, with surgeries across the country struggling for numbers, but NHS Tayside believes it is taking positive steps to improve the situation.
For more on this special series, click here.