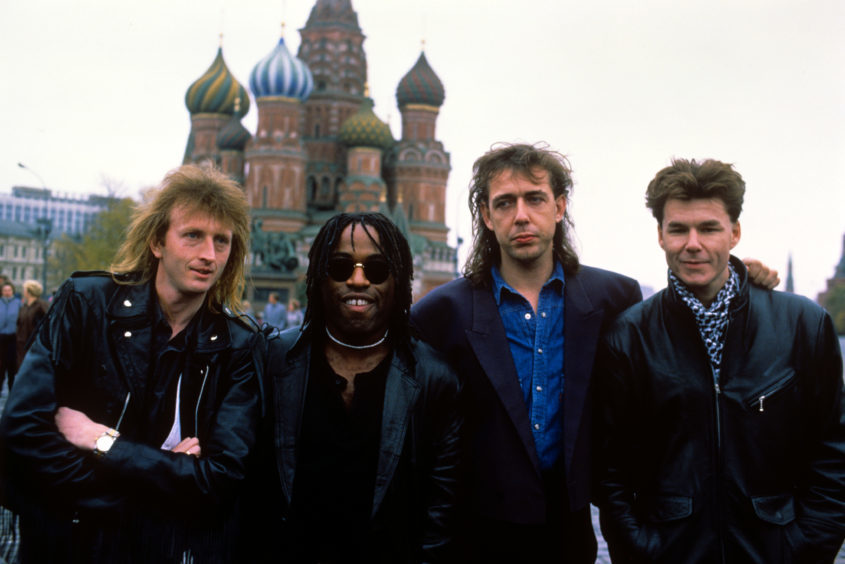 He was the Skids and Big Country rock star regarded as one of the outstanding musicians and songwriters of his generation.
Now fans of the late great Stuart Adamson will mark what would have been his 60th birthday with a pilgrimage to his beloved Dunfermline.
Next month's 60th birthday event on April 11 has been organised by Big Country fans to take in the sights, the inspiration, and the scenes that helped create the music that sold 10 million records worldwide.
The walk will start at the Glen Pavilion which was the scene of Big Country's first ever show and end with a visit to Tappie Toories which was the small pub Adamson ran in Dunfermline during the 1990s.
In the evening a Big Country tribute band will perform an acoustic show at the 17th century Balmule House which was previously owned by Adamson who used one of the outbuildings as a recording studio.
The site includes the famous gates Adamson forged in iron with the 'Crossing' album 'compass' while the recording studio was the setting for rehearsals for the 1988 album Peace in our Time.
Fife Provost Jim Leishman, the former Pars manager, who was a long-time friend of the die-hard Dunfermline Athletic fan, said: "I can't believe it is 17 years since he passed away — it feels like yesterday.
"Stuart was a big fan of the football team and Dunfermline still run out to Into The Valley which was the Skids song he wrote with Richard Jobson.
"There is also a mural in the North West Stand at East End Park and Big Country actually used to rehearse down at the Dunfermline Athletic gym.
"When I was manager I would see Stuart, Bruce (Watson), Mark (Brezizicki) and Tony (Butler) every morning playing in what is now the club shop.
"I knew him when he was a teenager and he stayed in a few places before he moved to Balmule House which was around the time they were recording the Seer album."
Mr Leishman said he was shopping for Christmas presents in November in London when he went to a record shop in Piccadilly Circus.
He asked if they had any Big Country albums and he was handed a vinyl copy of the No Place Like Home album — which he opened to find had been signed by the band themselves.
"I couldn't believe that I had found something like that in London," he said.
"I'll always be a Big Country fan and I would love to go to the tribute concert in April."
Born in Manchester, Adamson grew up in Crossgates near Dunfermline and formed the punk group The Skids in the 1970s.
After leaving the band he formed Big Country, who had a string of hits in the 1980s including Fields of Fire, In a Big Country and Look Away.
Adamson, who struggled with alcoholism, left west Fife and moved to Nashville in 1996 and played his last gig with Big Country in Malaysia in 2000.
In November 2001, Adamson, who was 43, disappeared and was eventually found dead on December 16, in a hotel room in Honolulu, Hawaii, after taking his own life.