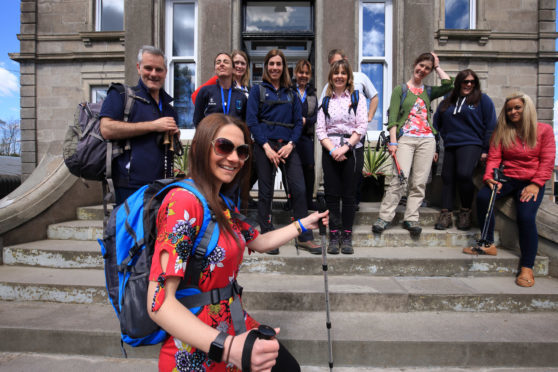 In less than a month, almost 1,000 intrepid "yompers" will be walking, or in some cases, running, 54 miles across the Perthshire and Angus Glens. Gayle Ritchie speaks to a group of 12 teachers taking part…
It's no secret the Cateran Yomp is a tough challenge, physically and mentally.
With less a month to go before this year's event kicks off on June 9, a fantastic 950 people have signed up.
The Yomp, which sees teams hike a stunning circular route through Perthshire and Angus in 24 hours, raises funds for ABF The Soldiers' Charity.
Among the near-thousand participants who have signed up, 12 teachers from Craigclowan Preparatory School in Perth – including the head teacher – will tackle the gruelling challenge.
With three routes to choose from – 54, 36, or 22-miles – most are aiming to go the whole hog.
The group was inspired to participate in the Yomp by teacher Mel Hill, whose brother David lost a limb after standing on an IED whilst on tour of duty in 2010.
"He was blown up in Afghanistan when he stood on an IED at the age of 23," explained Mel, 35.
"He was in the Royal Engineers and a member of the search team. He lost one leg below the knee and was in hospital in Birmingham for seven weeks.
"It was hard going, but he met guys who'd been in there for months so he saw himself as lucky only to lose half a leg."
Dad-of-one David, now 31, lives in Newburgh and on leaving the army, studied podiatry at Edinburgh University.
So it's fitting that he will be among the foot wizards offering his services to tired yompers in need of a bit of TLC along the route!
"It's funny how it's worked out but David will be one of the team helping people with blisters, foot problems and sock issues," said Mel.
"He's a part of the team and as anyone who's ever done the Yomp will know, these people really are invaluable."
In terms of training for the Yomp, Mel and her team-mates have been clocking up the miles, with weekly walks in Glenshee, Glen Isla and Dollar Glen to name but a few.
Each time they go out, they've been pushing each other to the max.
Having already raised more than £4,000 for The Soldiers' Charity, they're determined to raise even more.
"We're all new to the Yomp and some of us are fitter than others," said Mel.
"Two women in the team have climbed Kilimanjaro whereas I'm more of a flat walker!
"The aim is to do the 54 mile route but some are going for the 22 and 36-5 mile options.
"We're doing regular updates of our progress on the school's Facebook page and there's a real feel of community spirit and team work. The posts give parents, pupils and other members of staff the opportunity to support us and to see how our training is coming along."
It was Fiona Grant, the school's director of sports, who suggested staff taken on the Yomp.
"We do lots of charity events but this will be the first Yomp and we're quite nervous!" she said.
"Two years ago, myself and Tracey Cashman, the Form Two teacher, tackled Kilimanjaro and raised £15,000 for Cash for Kids and The Mark Taylor Educational Trust.
"Because of what David went through, the Yomp is an event close to Mel's heart.
"We've been doing loads of training and have a 32-miler lined up in the next few weeks.
"We're a team school and it's good to know we have each other's backs."
info
Cateran Yomp 2018 takes place on June 9. The adventure will see teams starting in Blairgowrie and hiking a breathtaking circular route through Kirkmichael, the Spittal of Glenshee and Kirkton of Glenisla. You can choose between a 54, 36, or 22-mile route.
It's a unique opportunity to experience some of Courier Country's finest scenery while raising vital funds for ABF The Soldiers' Charity. Last year a record-breaking 1,150 people signed up for the endurance event.
Now in its eighth year, the yomp has raised an incredible £2,888,707.98 for The Soldiers' Charity, as well as for local Scottish charities including The Alliance Trust Foundation, Perth and Kinross Countryside Trust and PSYBT.
The registration fee of £99pp (£80pp with military/veteran discount) includes all your food and drink across the weekend, access to the campsite, goody bag, technical t-shirt, well-deserved medal and much more!
All participants need to take part in teams of 3-6 people. Don't worry if you don't have a team – any individuals or pairs will be grouped together with individuals of similar abilities.
To sign up for the Yomp, see www.soldierscharity.org/events/the-cateranyomp/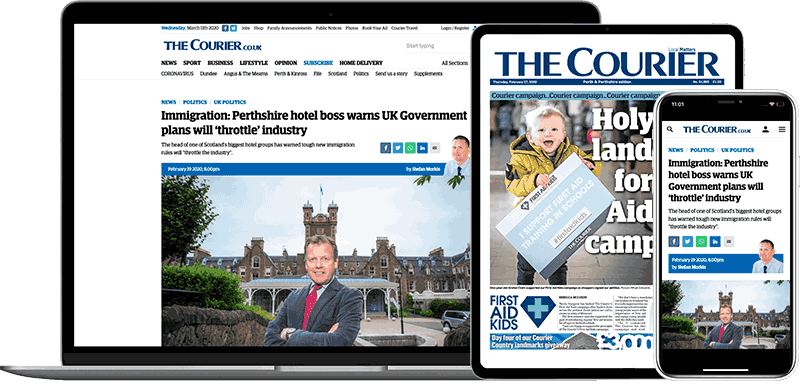 Help support quality local journalism … become a digital subscriber to The Courier
For as little as £5.99 a month you can access all of our content, including Premium articles.
Subscribe