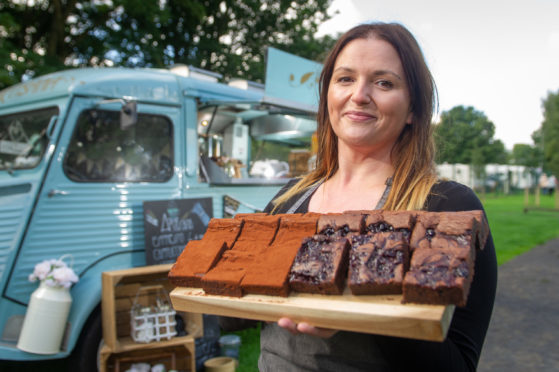 Sir, – I read the article on the demise of Ailsa Hayward and her two-day pitch at Forfar Loch ("Council in the 'brownie' stuff over baker row", Courier, August 23) with horror.
Apparently Ms Hayward was requested by Angus Alive to serve brownies a couple of days a week to improve the overall loch site for locals and tourists.
It was a very successful venture – I have seen and had the pleasure of sampling her wares at a number of farmers' markets in Perthshire, Aberdeenshire and as close to home as Glamis.
The fare on offer is absolutely excellent and way ahead of the normal burger vans that also attend at these kinds of functions.
Ms Hayward was later told to leave by the parks department.
She was instructed to get a licence, only to then be told she needs to get some form of planning permission granted by the planning department.
It all adds up to the biggest load of nonsense I have heard for the last few months from our council.
There does not appear to be any joined up thinking.
Differing departments are clearly not speaking to each other.
One wonders what they do in their regular management meetings and get-togethers.
Do they just drink coffee and talk about the weekend?
CEO Margo Williamson is a regular customer – what is she doing all day when these discussions are going on?
There is a pressing need in Forfar to reduce the number of councillors and get some business smart people into management positions.
Perhaps they could make a little sense of how this region is being operated.
George Sangster.
Woodlands,
Logie.
We would be better off alone
Sir, – Every year GERS figures are published and the Scottish media goes into overdrive with banner headlines of how bad Scotland's economy is doing in comparison with London and the Home Counties.
They will happily print the rhetoric of Willie Rennie and David Mundell talking about black holes and Scotland as a basket case if it were not for rest of the UK propping them up.
Now I'm no economist but I do know that the devolved governments were never set up to run their own economies.
The devolved governments of Scotland, Northern Ireland and Wales, were never given such powers.
So for more than 300 years, the Scottish economy has been run from Westminster, and from where the figures come from to compile the GERS figures.
Their figures constantly tell us that the Scottish economy is doing less well than that of London and the Home Counties, however, the media is telling us that this is somehow the fault of the Scottish Government.
So however bad the GERS figures are made out to be it is little to do with the Scottish Government.
As for Scotland being too wee, too poor to look after its own affairs, try this for size: Scotland's oil and gas revenues rose from £266 million in 2016/17 to £1.3 billion 2018/19.
Now compare that with a country such as Norway taking their oil and gas from the same place in the North Sea.
Over the same period it totalled some £28 billion – almost 21 times larger than Scotland.
Norway has a sovereign wealth fund from these resources of £800 billion to provide generous pensions for their senior citizens.
Scotland is a 12th of the UK's £3 trillion debt.
What does this tell us about Westminster's handling of the Scottish economy Willie and David?
Should we be giving you another 300 years to try and get it right – or just possibly we could do it better ourselves.
Walter Hamilton.
Flat 3, City Park,
City Road,
St. Andrews.
Proud history of the Red Ensign
Sir, – Further to Ian M Malcolm's letter (Courier, August 24), I would add that 78 convoys of Merchant Navy Ships, flew the Red Ensign (Red Duster) and sailed mainly from Loch Ewe on the north west coast of Scotland, protected by the Royal Navy which flew the White Ensign, and sailed to the Ports of Murmansk and Archangel with war supplies, including food for the beleaguered people of Russia, and to sustain the Red Army's fight against the German invaders.
This all was done at a great loss of both the Merchant, and Royal Navy personnel and ships, under the terrible conditions in the Arctic Seas, let alone attacks from German forces.
I heard one story from a veteran of the convoys, that on arrival in Murmansk it was women who assisted in unloading, and were found to be about to eat soap from the ship thinking it was food until the veteran told them what it was, and that it was for washing.
This prompted the veteran to share his rations of food with the Russian women, so short was the food supply in these dark days of the Second World War.
Finally, the Saltire is nothing to do with the SNP, and is an integral part of the union flag.
Bradley Borland.
Beechwood,
Kinfauns.
Councillor is in the wrong
Sir, – I proudly sailed in the Merchant Navy under the Red Ensign (Red Duster) with Scots, English, Welsh, Irish, New Zealanders, Australians and many more from around the world.
I am sure all of these people would be disgusted and dismayed by Councillor Duff's opposition to flying the Merchant Navy flag on September 3 on the town building.
It is only one day per year.
His opposition demonstrates a point beyond ignorance.
All decent people will recognise the political bile that is behind this.
I would also like to echo the point made by Ian Malcolm (Letters, August 24) and remind him that the Saltire is Scotland's flag – not the SNP's.
Eric White.
Kinlea,
Church Road,
Luthermuir.
Our nation deserves better
Sir, – So Iain G Richmond (Letters, August 23) doesn't like the fact that thousands of independence supporters want to let everyone know how passionate they are by giving up their leisure time to join a march in support.
So passionate are people about remaining in the UK that at least a dozen or so turned out to wave their union flags.
I have said this before and it is a pity to have to keep repeating it: the "nationalists" in this debate are British nationalists.
The independence movement is truly internationalist and is driven by the desire to have a decent government that works for Scotland.
What we have now is an administration in Westminster that uses a barely democratic electoral system, similar to the one that elected Trump, and an unelected second chamber full of party hacks past their sell by date.
It is currently being run by the "nasty" party determined to go back the good old days of Charles Dickens when the rich were seriously rich and the poor were seriously poor, and downtrodden.
Scotland deserves better.
Andrew Collins.
Ladyburn House,
Skinners Steps,
Cupar.
Laws should be strengthened
Sir, – The Government has announced plans for new road safety laws, including offences of causing death by dangerous or careless cycling.
The new proposed laws should also include injury to pedestrians or other cyclists and that cyclists have identification.
Cyclists breaking the law, whether it is hitting a pedestrian or crashing red lights, can quickly flee the scene knowing the chances of being identified are nearly zero.
Clark Cross.
138 Springfield Road,
Linlithgow.
Brexit leaks cause concern
Sir, – Brexit-wise, the Government seems to be as leaky as a sieve right now.
This week's scare story was that the NHS could face shortages of medicines following a "chaotic" Brexit.
The public is entitled to ask; who is doing the leaking and why aren't they being caught?
Has the Official Secrets Act been put on hold ?
George Morton.
29 Hudson Road,
Rosyth.