VIDEO: Montrose residents told to stay indoors hours after 'bang' sparks bomb squad callout
By
Peter John Meiklem
October 18 2019, 9.35am
Updated: October 18 2019, 10.27pm
Montrose residents were told to remain in their homes for hours after a loud bang sparked a bomb squad operation.
Police, Scottish Fire and Rescue and the Explosive Ordinance Disposal (EOD) team are still in attendance at Bridge Street after the alarm was raised shortly after 7am.
Residents reported hearing a bang shortly before emergency services rushed to the scene.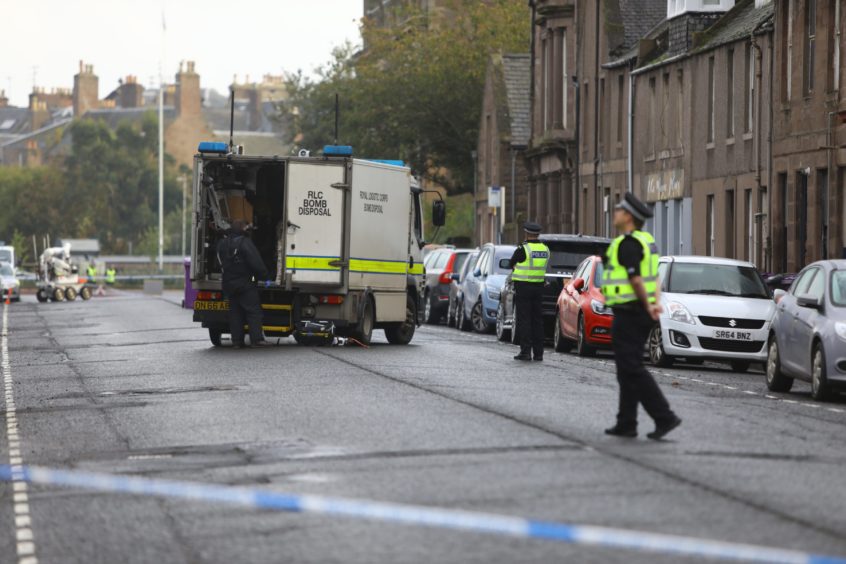 A cordon was put in place before the junction with Castle Street and a small way up the road at the Basin View end of the street.
Locals inside the cordon were told not to leave their homes.
It is believed two gas canisters had been taped together and placed near a vehicle with the intention of setting fire to the car.
The Royal Logistic Corp Bomb Disposal team set up a base in the centre of the street with its bomb disposal robot deployed.
One witness suggested the device was spotted by a Royal Mail employee going into the sorting office who saw "something  smouldering" inside a car.
Officers used torches to search beneath the other cars parked on the street, which is one of the main access roads to the town centre.
A police spokeswoman said they had received reports of a vehicle fire and were advising members of the public to stay away from the area.
She said the EOD team had been called after devices were found next to the vehicle, which is believed to be parked next to the former town Post Office.
Several vehicles, none of which appeared to be badly burned, had been placed inside a further red and white cordon directly in front of the building.
One commuter said he was told to stay in his home and not travel to work.
He said: "We believe somebody has tried to set fire to a car in the street."
Bridge Street was re-opened at 6.30pm.