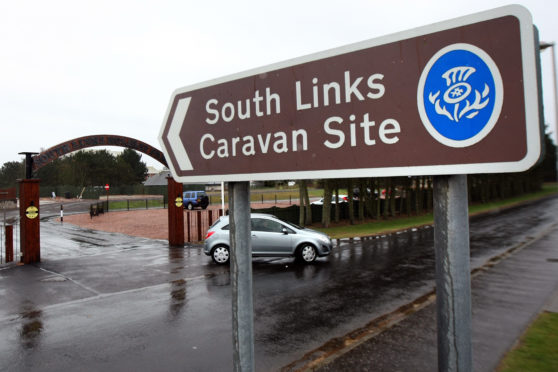 A once thriving Angus beachfront caravan site should be offered for sale or lease after being branded a drain on council coffers, it was said.
The seaside South Links site in Montrose was the subject of major controversy over financial dealings with a private operator to which it was leased a decade ago.
Wow Leisure took over running the site but became involved in discussions around its possible closure after pharmaceutical giant GSK mooted an expansion which would have used the site land.
The company was given a £275,000 interest-free council loan to smooth the possible move – which never progressed – and Wow Leisure subsequently went bust after hitting the authority with a huge compensation claim for more than £800,000 losses it said it had suffered during the business standstill.
Angus Council took back control of the site but ended up evicting long-term residents from their holiday homes.
The authority continues to run the site, with charges ranging from £25-per-night for touring caravans and motorhomes to £2,541 for an 11-month pitch rental.
Montrose SNP councillor Bill Duff has called for officials to look at the idea of offloading it through either lease or sale.
"South Links cost us a lot of money and is continuing to cost us money but we are not experts in running caravan sites," said Mr Duff.
"When we took it back over from WOW Leisure we set out to stabilise it and look at what was the best option for the future.
"During events such as MoFest and other music weekend I think the site has been quite busy and there always seems to be vehicles there.
"But we've not got it to the point of breaking even and I think we need to look seriously at what we are doing there.
"I highlighted it during consideration of the council accounts at the last meeting of full council, but didn't really get any assurance that we would be looking at sale or lease."
He added: "The previous situation caused a lot of grief, for the council and for people living there.
"It was unfortunate to see the level of human distress in a situation which was not the council's fault, but led to a lot of criticism.
"The site at Forfar Country Park was leased to the Caravan Club and when you see the investment there, and the popularity of it, perhaps that is the sort of think we should be looking at for South Links."