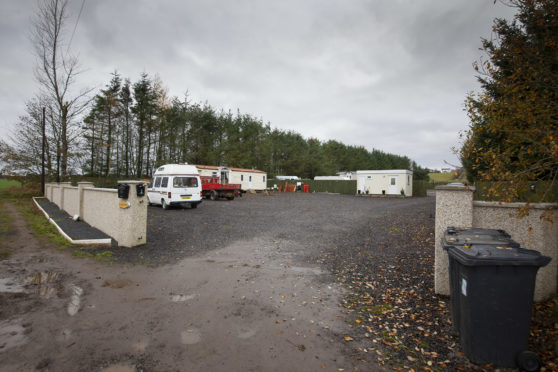 Traveller site provision has come back into the spotlight after councillors backed a "humanity" argument to give the go-ahead for a policy-breaking rural home.
Angus council's development management review committee (DMRC) voted overwhelmingly in favour of reversing an official refusal for the pitch created at Logie, near Kirriemuir to allow a daughter to stay beside her father.
John Townsley was previously granted planning permission for a site on the south-western edge of the town but another pitch was created without approval and has since been the subject of retrospective refusals and enforcement notification.
DMRC councillors carried out a site visit before considering the appeal against delegated refusal and were presented with a confidential report relating to health issues affecting the applicant, submitted in support of the bid.
Montrose SNP councillor Bill Duff said although the pitch had been created without permission,  Traveller families faced serious difficulties in finding a place to stay in Angus.
"No-one condones anyone going ahead and developing land without permission but that is where we are.
"I do not agree there is sufficient accommodation in Angus because the site at Montrose, which the council runs, is as far as I am aware, always full and nothing has been done to increase capacity.
"A second site at Tealing is under the control of Dundee City Council and I think it's fair to say it has been deemed inadequate.
"This gentleman wants his daughter and her husband to live next to him for very good reason. On the basis of basic humanity I cannot see a strong reason to refuse."
Monifieth Conservative councillor Craig Fotheringham said: "I don't think there's sufficient accommodation for the Travelling community in Angus.
"We don't have any objections to this and I think the appeal should be upheld."
Committee chairman Richard Moore was the sole voice of opposition on the five-man review body.
He said the official report highlighted the granting of a 16-pitch licence for a site at Maryton, near Kirriemuir, where the applicant had previously lived, as an indicator of additional accommodation.
Arbroath West and Letham Liberal Democrat Mr Moore added: "I can appreciate the arguments on medical grounds, but this has been formed without permission and in direct breach of an enforcement notice."
Earlier this summer, an Angus farmer said he had been forced to turn his home into "Fort Knox" after an illegal encampment set up on his doorstep.
Travellers who had been thrown of council land in Brechin arrived at Leask Mackie's Balwyllo Farm beside the A935 road to Montrose and spent weeks at the side of a community football pitch before moving on.