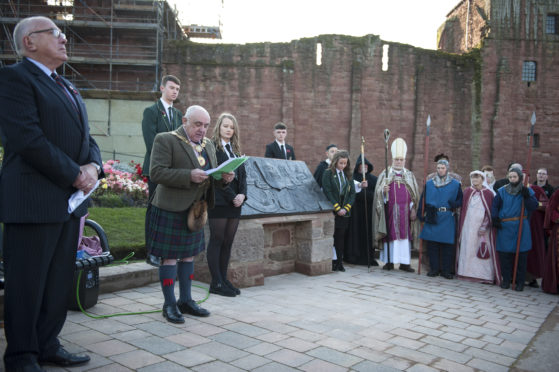 A large crowd gathered outside Arbroath Abbey on Saturday to see the unveiling of a two-metre  bronze bas relief telling the story of Arbroath.
The plaque, a gift to the people of the town from the Arbroath Guildry, was unveiled by the school captains of Arbroath Academy, Kate Maxton and Saul McGivney, along with the head boy and girl from Arbroath High School, Logan Gordon and Holly Bennett.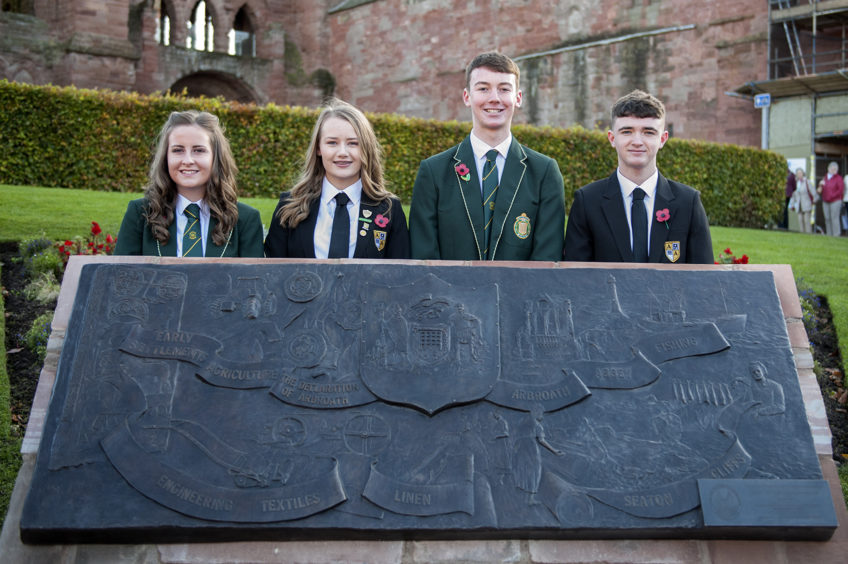 Saul McGivney said: "On behalf of Kate, Holly, Logan and I, we as the youth of Arbroath are honoured and privileged to be invited here today by Arbroath Guildry to unveil this symbolic and momentous bas relief."
The project was led by Arbroath Guildry member Ian Ballantyne who paid tribute to the support the small team had received to complete the work, which took more than two years and almost £23,000.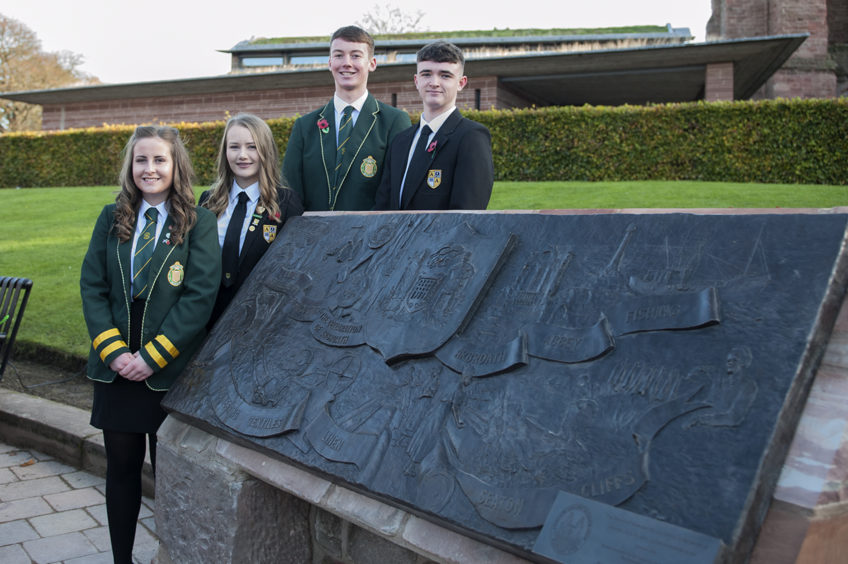 Mr Ballantyne said: "The bas relief highlights the story of Arbroath, from Pictish settlements to the present day."
He added that a code would be placed at the site which could be scanned with a smartphone and would reveal more in-depth information about the town.
The bronze plaque, by noted Scottish sculptor Alan B Herriot who attended the ceremony, features images representing aspects of the town's history, including agriculture and fishing, the Declaration of Arbroath, Bell Rock lighthouse and Seaton cliffs, along with engineering and textiles surrounding the burgh's coat of arms.
Apprentices from Historic Environment Scotland constructed the stone plinth supporting the bas relief as part of their training programme.
The event was also attended by the chair of Arbroath 2020 Harry Simpson, Angus Provost Ronnie Proctor and the Lord Lieutenant of Angus, Mrs Pat Sawers.
Mrs Sawers said: "I'm delighted and honoured to be here today and I would like to commend the individuals and organisations who have come together to make this project happen.
"This magnificent bas relief, placed in such a prominent position and unveiled ahead of the 700th anniversary celebrations next year, will tell the town's history to locals and visitors alike for generations to come."
Members of Arbroath Abbey Timethemes in authentic medieval costume provided a colourful backdrop to the proceedings.