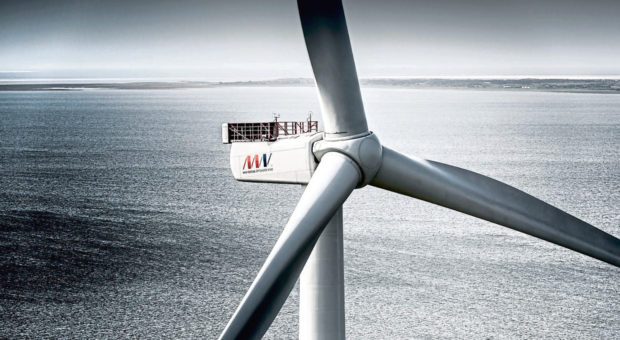 Developers behind Scotland largest wind farm off the coast of Angus are hopeful planing permission can be secured for the £6billion project by the end of the year.
Seagreen Wind Energy's timeline was aired after it emerged Angus Council parks chiefs have withdrawn opposition over the potential impact the cable route would have had on Carnoustie's world-famous golf links.
Talks are continuing between the council and developer over a compulsory purchase order for ground needed to run the cable from landfall at Carnoustie to a substation at Tealing.
However, the withdrawal of the parks service opposition has left only a handful of public representations to the scheme.
A council determination deadline of September 23 passed without the matter going before elected members and a new expiry date of December 19 has now been set.
Documents detailing the specified matters application relating to the permission in principle previously secured by Seagreen confirm statutory consultees including Scottish Water and Scottish Natural Heritage have no objection.
The council owns the golf links land which includes the Open venue Championship course and the authority's parks service said concerns over the proposed cable route which prompted their initial opposition had been "adequately addressed", leading to the removal of the objection.
---

---
​
A Seagreen spokesperson said: "We have been working closely with Angus Council and other key stakeholders to listen to comments on the matters specified application and are continuing to work through the comments received.
"We would like to thank everyone involved for their constructive engagement in progressing the application towards a decision by the end of the year."
A council spokesman said: "Angus Council, as the planning authority, has not made any decision concerning the acceptability of the proposal. It remains under consideration.
"Our planning service has undertaken consultation with various parties as part of this process and received various comments on the application.
"The applicant's supporting information, as well as comments from interested parties, including other council service departments as appropriate, and consultation bodies is presently being reviewed.
"The application will be reported to a future meeting of the development standards committee for determination."
Perth-based SSE Renewables has recently made major announcements linked to the project which will provide enough energy to power a million homes and, once complete, inherit the crown of Scotland's largest offshore wind farm from the company's Beatrice array in the Moray Firth.
Montrose port has been selected as the preferred operations and maintenance base for Seagreen, and Danish company MHI Vestas was this month named as the preferred turbine supply and operational servicing outfit.
Meet the buyer events are scheduled to take place in Dundee, Aberdeen and Inverness early next month which the firm say will offer a range of opportunities to Scots firms.