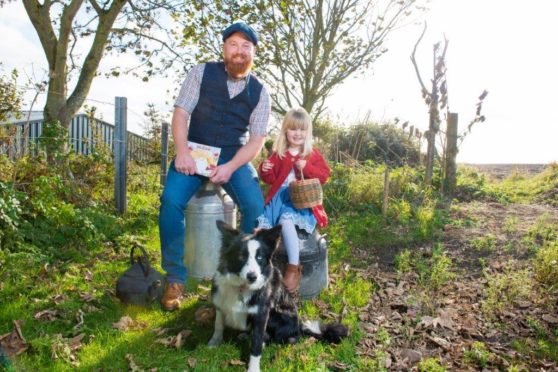 The story of one of the most celebrated Scottish Travellers is being retold for a new generation to mark what would have been her 100th birthday.
Betsy Whyte's great grandson David G Pullar has created a children's illustrated story based on her best-selling autobiography The Yellow on the Broom.
He said he hoped the book, Wee Bessie, would introduce younger people to Traveller culture at an age when they are still open minded about other ways of life.
He also hopes it will encourage Traveller children to learn more about their own heritage and take a pride in where they come from.
"It seems just as important a message now as it would have been in 1979, when Yellow on the Broom was published, and that is to acknowledge that people are different, they always will be and we should be open to discuss our differences without fear of prejudice," he said.
The book, illustrated by artist Ruthie Redden, will be published today, on what would have been Betsy's 100th birthday.
The Yellow on the Broom, told the story of her early live travelling around Scotland in the 1920s and 1930s, and was the first book to be written by someone from the Travelling community. Young Betsy attended a number of village schools before winning a scholarship to Brechin High school, where she was the only Traveller child. She gave up the Traveller life when she married in 1939 and started writing about her childhood in the 1970s.
Wee Bessie is the first children's picture book based on the life of a Traveller in Scotland.
David, chairman of the Heart of the Travellers (HOTT) group, was raised at Usan, just south of Montrose. He received more than £9,000 from the National Lottery for the project.
He said: "I wanted to adapt my great grandmother's story into a format that will appeal to three to seven-year olds — an age young enough to learn about a different culture with open minds and unlikely to know much about the travelling community.
"We also hope to encourage Traveller children to engage in discussions about shared and individual life experiences, as well as learning more about their own identity and to gain pride in their heritage.
"Betsy or as she was affectionately known, Bessie, would have celebrated her 100th birthday this year so it seemed the perfect time to share her story with a new and younger audience."
Five hundred copies will be donated to libraries and primary schools and reading sessions will be carried out by HOTT, introducing Scottish Traveller heritage to a new generation of youngsters.
Each of the 32 Traveller sites in Scotland will receive copies of the book for their onsite welcome centres or education pods.
Heart of the Travellers will host an afternoon of stories and crafts on November 9 between 2.30pm-3.30pm at the Scottish Storytelling Centre, Edinburgh. Call 0131 556 9579 to secure a free ticket.
Wee Bessie is available to buy from www.heartofthetravellers.scot.