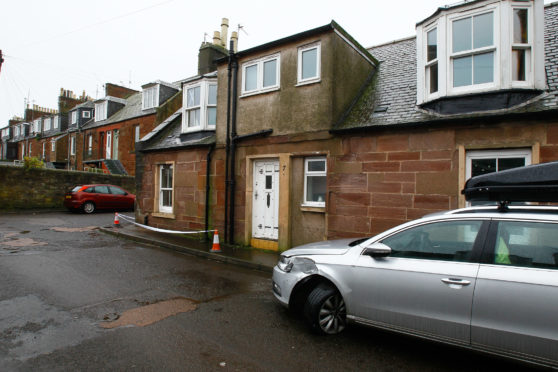 A Turkish trucker has been fined and banned after leaving a trail of destruction in a narrow Angus street.
Nevfel Bigay caused thousands of pounds worth of damage on Sunday night when the articulated lorry driver's sat nav system directed him into Arbroath's narrow Jamieson Street and he clipped several vehicles as well as scraping the side of a property.
The 58-year-old knew he had caused damage, but  panicked and carried on towards a stop in Montrose because he did not speak English.
Lorry driver takes wrong turn into Arbroath street and crashes into house and three cars
But police stopped him before he could get there and Bigay appeared in the dock at Forfar Sheriff Court on Tuesday, after spending two nights in custody following his arrest.
He admitted driving carelessly and failing to stop in the Angus town in an offence his solicitor said had been the result of panic because of his lack of English.
Depute fiscal Jill Drummond said the incident happened just before 8pm when Bigay turned into Jamieson Street but hit two cars parked near a 90 degree corner, before colliding with the property in Garden Street.
The house was structurally damaged and the vehicles parked on both sides of the road suffered significant damage, with one having its front suspension snapped.
Defence solicitor Joe Myles said his client lived in Adana, Turkey and had driven all over Europe and Asia for 20 years in his profession, and held a licence for 37 years.
"He was following directions on his satellite navigation system which took him down Jamieson Street, which is a narrow road with vehicles on both sides," he said.
"He was aware he had collided but simply continued on his journey once he was free of the obstacles.
"He was afraid to stop because he couldn't speak any English and couldn't explain himself.
"His intention was to go to Montrose – which was one and a half miles away according to the satellite navigation – and report what had happened," said Mr Myles.
Sheriff Gregor Murray told the trucker: "The damage caused to the other vehicles and the house is not an issue for me, it will be dealt with by your employer's insurance.
"In addition, the law does not allow me to consider sending you to jail for this offence."
He noted the accused's unblemished driving record but said the incident had been "at the upper end of the scale".
"Any person in your position should know that satellite navigation systems do not always take you to the right place," he added.
"It must have been very obvious to you when you entered a narrow street with cars on both sides that you ought to have stopped and not continued driving."
Bigay was disqualified for six months and fined £500.