'They need to do something about it': Councillor in call for top-level action to fix Angus A92 flooding
By
Graham Brown
December 4 2019, 8.04am
Updated: December 4 2019, 9.51am
A fed-up councillor is to lead a call for top-level action to remedy flood misery for drivers on a key Angus road.
Arbroath councillor Alex King has placed a motion before Thursday's final full Angus Council meeting of 2019 asking the authority's chief executive Margo Williamson to take up concerns over the situation on the A92 Dundee to Arbroath dual carriageway.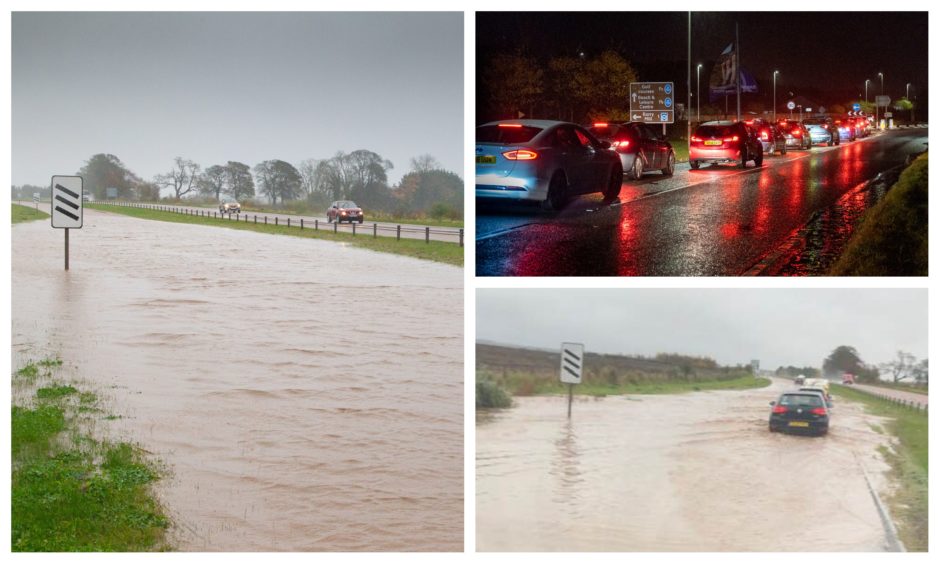 Parts of the road were shut twice in as many days when heavy rains lashed the area last month.
The worst hit stretch of the dual carriageway has already been branded "not fit for purpose" by one local councillor.
Arbroath West and Letham SNP councillor Mr King is now demanding action on the route, which is operated under concession by Claymore Roads and maintained by Bear Scotland.
A92 closed between Dundee and Arbroath as heavy rain brings floods to road
VIDEO: Footage shows flooding turning main road between Dundee and Angus into river
Mr King's motion demands Claymore Roads should "fulfil their responsibility for the maintenance of the surface water drainage from the A92 by ensuring that all rainwater gullies are cleared of weeds, grass and silt and are kept clear in the future".
Weed growth in roadside gullies has been highlighted as a concern previously by regular users of the road but Bear Scotland bosses blamed "exceptional rainfall" and field run-off for swamping the area's drainage system earlier this year.
"The simple fact is that they have a problem with this road and they need to do something about it," said Mr King.
"If the gulleys are blocked, how can the water get away? I got complaints about flooding at Elliot in Arbroath, the gulleys were cleared and the problem went away."
"I no longer commute on this road every day, but it has become a real problem for those who regularly use it."
Sections between Ethiebeaton and Muirdrum have proved particularly susceptible to flooding, with an overnight weekend closure in mid-August followed by two days of disruption for drivers in early November.
The £53 million road was opened in September 2005 after 10 years of planning and a 24-month construction programme for one of the biggest civil engineering projects ever seen in the district.
It replaced a single-carriageway stretch, which had a reputation as a killer road following multiple fatalities along its 12-mile length, many at junctions.
A spokesperson for Claymore Roads said: "Claymore Roads is currently giving consideration to what improvements can be carried out on the section of the network between Ardownie and Ardestie which has experienced recent flooding events.
"This appears to have been caused by the drainage system being inundated with water from adjacent land and side roads.
"The build-up of vegetation and silt in the rainwater gullies is not considered to have contributed to the flooding. Extensive gulley cleaning was undertaken in September at this location and will continue throughout the winter."