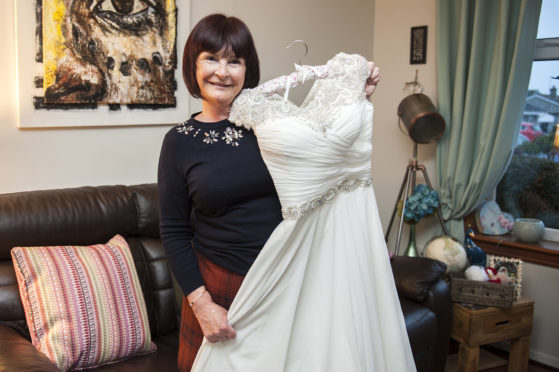 A newly-married Mearns woman has offered her wedding dress to brides left without gowns after a Perthshire wedding dress firm collapsed last month.
Audrey Foreman was one of several former brides to come forward and offer their own dresses to those whose imminent nuptials have been thrown into disarray with the closure of Apple Blossom Time in Glencarse.
Dundee bride's wedding dress plans 'up in flames' after collapse of Perthshire bridal firm
The bridal store closed its doors suddenly on November 27, with dresses belonging to multiple brides locked inside.
Others who had paid deposits were told they would not be able to claim their gowns, while others claim they were told that their dresses hadn't even been ordered.
Moved by the plight of those faced with having their big day ruined, several women offered their own dresses to those in need.
Among those willing to part with their own dresses is nurse Audrey, who bought her dress from Perth store Alison Kirk Bridal for her 2018 wedding to husband James.
The 60-year-old initially planned to have it turned into gowns for stillborn babies but found that the charity could not accept any more donations after being inundated.
With the Justin Alexander gown gathering dust in her Stonehaven home, Audrey decided to offer it to a bride in need after hearing of Apple Blossom Time's closure.
"I got married last year and know how gutting it must be when things go wrong," she said.
"I would hate it if a bride could no longer afford a dress because of the closure.
"I was going to donate it to an Angel Babies charity but they have been inundated with dresses and didn't need it.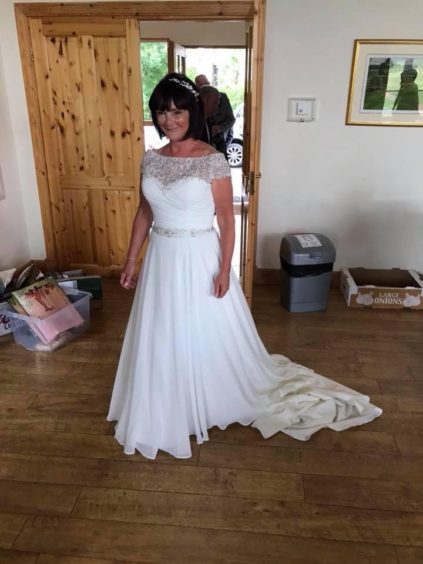 "It cost me £1,400 and was sent over from America. I bought it in Alison Kirk Bridal and it was the first dress I tried on. She made me try on one more to be sure but it was the only one that I wanted.
"I have some lovely memories in that dress and I would love to think of someone creating more memories in it."
Dozens of brides have been affected by the closure of Apple Blossom Time, with liquidators Begbies Traynor stating that only brides who had paid in full would be able to retrieve their dresses from the store.
Many who had only paid deposits were left scrambling to find replacements with just months, or even weeks, to go.
Bridal firms from across Scotland have offered to negotiate with suppliers on behalf of stricken brides, as well as offering discounts to those affected.
Begbies Traynor had previously blamed the closure on brides seeking to rein in spending, as well as an increasingly competitive market.