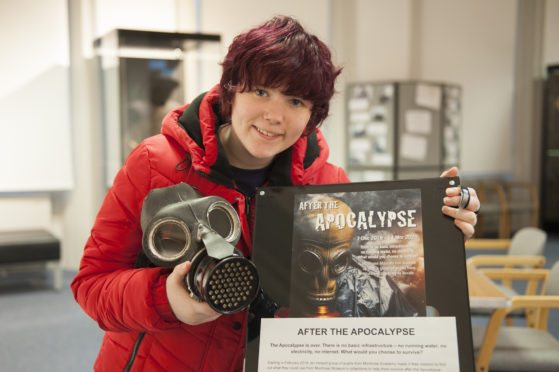 A delve into the depths of history has helped secondary school pupils come up with the kit to survive in a post-apocalyptic Angus.
In a novel project forming the latest exhibition at Montrose museum, teenagers from the town's Academy scoured the collections of the Panmure Place visitor attraction for items to help re-establish community life – including the croquet mallet to use against marauding zombies on the nearby Mid Links.
The project involved 13 pupils aged between 13 and 17-years-old from the Academy's ASN classes.
Angus Alive heritage and learning lead Caroline Taylor said: "I got the idea for the project because I'm really into science fiction and zombie films and have often thought that museums would be ideal places to hide out during the apocalypse because of the selection of objects we have.
"The objects we have in our collection could also be used to rebuild society when we have to start from scratch again.
"I thought it would be an interesting project to do with a local high school to help them view our collections in a new light – how many of these items were practical things that people used in the past?" she added.
Caroline said the project began in February with a discussion about what the pupils thought the apocalypse would look like and the important items required to start rebuilding society.
She added: "The pupils thought that their priority would be weapons to defend themselves against attackers/zombies and also to hunt and gather supplies to survive.
"Using that as a starting point we reviewed several items from Montrose museum's collections with a focus on weaponry and defence.
"We would look at each object and discuss reasons why it would be useful, then take a vote on whether we would use it or not.
"This means we've ended up with a variety of different objects including a Stone Age axe head, a shark tooth sword and a croquet mallet."
After the Apocalypse, which opened at the weekend and runs at the museum until mid-March, also encouraged the participating pupils to cast their eye over paintings in the town collection.
Caroline continued: "Based on our discussion, the pupils selected several artworks that they thought best summed up what the apocalypse would look like.
"After all the discussions, the pupils wrote labels for each item explaining why they chose it to use After the Apocalypse and this is what the exhibition is made up from."