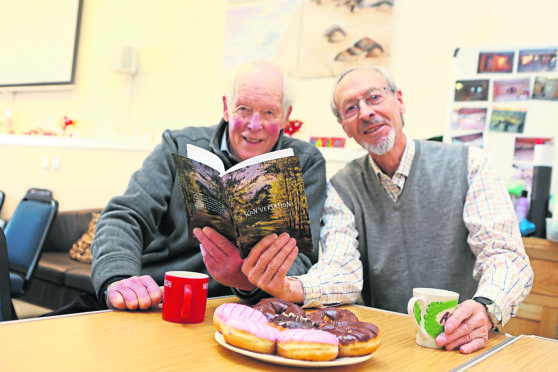 A group of tea-swilling Angus friends with a shared love of poetry and scones have dished up a treat for good causes.
Robert Ramsay, Jake Hensman, David Conran-Smith and Gavin Dobson have been meeting up to drink tea, eat scones and read and write poetry for almost three years.
They gather together each month and decided they had written enough verse to write a book, which has now gone on sale for Christmas.
The first run of 200 "Scon'servation" poetry books sold-out which has raised £500 for Havilah in Arbroath which offers a haven for heroin users.
Mr Ramsay said: "The poems are a mixture of the sad and the cheerful, the serious and the flippant, the humorous and the challenging; mostly traditional but also some free verse.
"We meet in our houses by rota, some even bake the scones and the wives mostly wash up.
"We meet once a month to read and write poetry whilst eating scones and drinking tea – hence the title of the book.
"Having been meeting for the best part of three years we thought we had written enough poetry to make a book.
"We thought we should market it as a Christmas present in aid of charity.
"We wanted it to be a local one and so asked Georgiana Osborne, the recently retired Lord Lieutenant of Angus for her recommendation and she offered three suggestions of which we chose Havilah, Arbroath.
"We saw at once that it was lovely, truly local, run by enthusiastic volunteers from the congregation of St Andrew's Church and that it was vibrant and successful and that it would be a privilege to collect money for them."
Mr Ramsay, who was born and raised in Arbroath, became a civil engineer and worked in the UK and West Africa, returning to Angus in 1972 to take over the running of the family farm at Kinblethmont.
He retired in 2000 to look after his garden and write poetry
Mr Hensman hails from south-west England became a Royal Marine before he moved to RM Condor and eventually retired to Angus.
Mr Conran-Smith was raised in the heart of Angus, served in the RAF and became a schoolmaster at a small school in East Lothian, before he retired to Angus at his family home at Clocksbriggs.
Mr Dobson was born in Germany, made his living in finance in the City and America before retiring to Logie by Kirriemuir to farm rare breeds of cattle and indulge his passion of art.
"They are all sociable guys and we have known each other for years," said Mr Ramsay.
The first print run is now sold out and a new run ordered which are available through Havilah, St Andrew's Church, or through Mr Ramsay at rdr3000@btinternet.com
The proceeds will be split between Havila and Marie Curie.