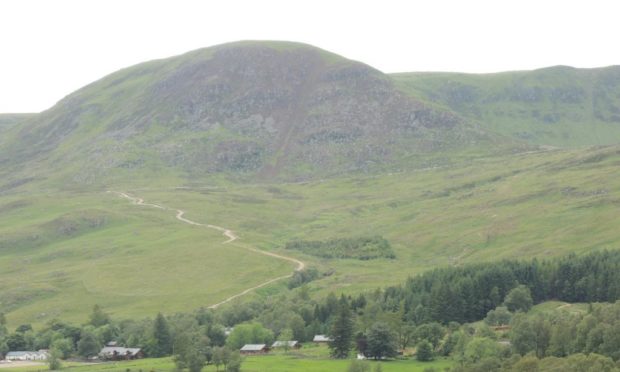 A landowner is fighting an order to remove an "ugly and unauthorised" track after being accused of "scarring" scenic Glen Clova.
Farmer and businessman Hugh Niven is contesting an enforcement order served on him by the Cairngorms National Park Authority (CNPA), instructing him to restore part of a track leading towards Ben Reid in the Angus glen.
Angus landowner ordered to remove track scarring in scenic Glen Clova
Walkers' groups have rounded on his appeal, saying it highlights the need for stronger controls on building vehicle tracks in Scotland's wild places.
Mr Niven has defended his upgraded route, arguing it is essential for forestry and farming work, transporting tourists to the Glen Clova Hotel and for servicing a hydro plant in the glen.
The enforcement notice gave the landowner one year from 28 October 2019 to complete a series of remedial works.
These include the removal of 10m "spoil mounds" which are said to be heaped next to the track.
Mr Niven has argued his work to "formalise" and develop the "existing route"  has not "constituted a breach of planning control."
A statement supporting his appeal to the Scottish Government reporter states he "considers that the alleged breach of planning control does not give rise to harm or injure amenity" in the popular glen.
The reporter will conduct a site visit on Friday, December 20 to view the track.
Helen Todd, Ramblers Scotland's policy manager, said Mr Niven should comply with the instructions in the Cairngorms National Park Authority enforcement notice.
She said: "It is deeply frustrating that a landowner is challenging the order forcing them to restore this unauthorised track, which is scarring the landscape in historic, protected Glen Clova."
She said ministers had committed to review the "unfair, inadequate planning process for such tracks next year."
"This case shines a spotlight on why change is urgently needed throughout the whole of Scotland," she added.
Beryl Leatherland, Scottish Wild Land Group, said: "We feel confident the landowner's appeal will fail, but it will result in yet more costs and delays while this retrospective process takes place.
"This case yet again highlights the urgent need for stronger controls over vehicle tracks in our hills – to support local democracy, boost construction standards and save our uplands from further damage."
The CNPA manages rural development in the park and has many of the same powers over planning as a local authority.
Mr Niven's spokesman said as the matter is now with the Scottish Ministers' Reporter it is inappropriate to make further comment.