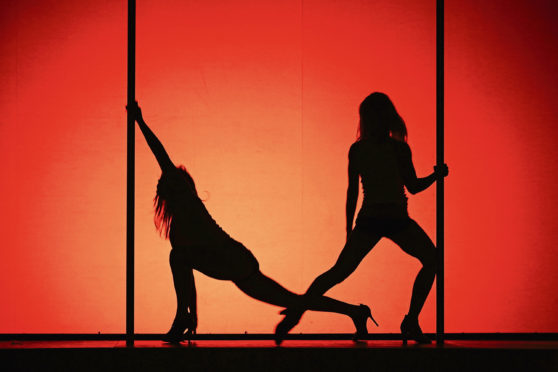 A charity has warned unlicensed sex venues would be a "very real threat in Angus".
Angus Women's Aid said the county "does have a prostitution problem" and sexual entertainment venues would "exponentially increase this".
Angus Council started a public consultation on the licensing of sexual entertainment venues (SEVs) in the county "to inform future decision-making".
The public view was sought after the Scottish Government introduced legislation which will give local authorities a discretionary power to require such venues to be licensed.
There are no known venues of this type currently within Angus but the Civic Licensing Committee on Thursday will decide if these types of premises should be licensed.
There were a total of seven responses received in relation to the consultation.
Anne Brown of Angus Women's Aid said: "Whilst we condemn sexual exploitation of all forms the very possibility of premises being unlicensed and perhaps promoting the sexual exploitation of young women is a very real threat in Angus.
"We would campaign against such premises being opened however we would also argue that the safety net of strict licensing and inspection is needed.
"We are already seeing a dramatic increase in the number of young women reporting domestic abuse including sexual abuse as a component of the domestic abuse they have experienced.
"At the recent 'Round the Edges' event in Arbroath, this was echoed by all ages – statutory and non-statutory.
"Angus may not have a problem with on-street prostitution but it does have a prostitution problem. SEVs will exponentially increase this."
She also said there was a "major issue" in schools in Angus with "misogyny and gender based violence" such as "upskirting" – taking pictures up people's skirts and dresses – and non-consensual sharing of images.
"SEVs would provide an attraction to a cohort of young men and will lead to further exploitation of young women in Angus," she added.
Sexual entertainment is defined in the relevant legislation as "any live performance" or "any live display of nudity" for the purpose of sexually stimulating any member of the audience.
If sexual entertainment is provided at a premises on no more than three occasions within a 12-month period, then those premises would not be treated as a sexual entertainment venue.
The Angus Violence Against Women Partnership said "all forms of commercial sexual exploitation" including lap dancing and strip clubs were "inherently harmful and exploitative of women".
In their response to the council, AVAWP said it rejected the notion that lap dancing and pole dancing were "legitimate forms of entertainment".
"AVAWP recognises the harm done to women and girls by sexual violence, abuse and exploitation.
"By setting the number of licenses they will grant at zero the licensing committee would make significant steps forward to ensure that their approach to gender based violence is in line with national and local strategy and policy."
Police Scotland also want premises to be licensed as it would allow conditions to mitigate anti-social behaviour in them.