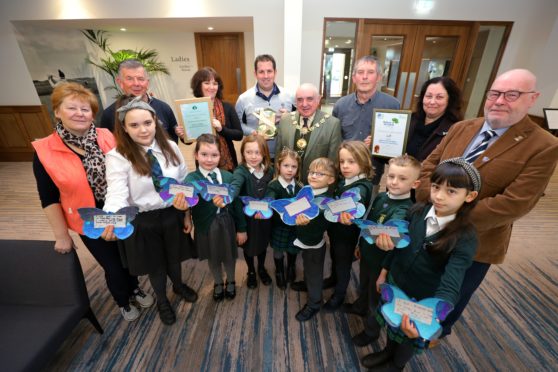 Angus has slashed support for a cross-council biodiversity initiative in a move critics claim "sends out completely the wrong message" at a time of climate crisis.
Councillors voted to cut Tayside Biodoversity Partnership funding from £26,000 to just £6,500 this year – and drop it to only £1,500 per annum thereafter – after being told it did not provide "value for money".
The decision has left Perth and Kinross Council to carry the can for the funding of full-time biodiversity co-ordinator Catherine Lloyd, with the neighbour authority stressing it has no plans to reduce support.
The Angus move was confirmed just days before a presentation fanfaring a double diversity success, including national recognition for a scheme around Carnoustie to save the Small Blue butterfly, the UK's smallest.
Talks around future funding of the co-ordinator's post have been going on for months but despite a plea to delay the decision, councillors voted narrowly to make the money-saving move.
Kirriemuir and Glens SNP councillor Julie Bell said: "Australia is on fire, the ice caps are melting and for me this is a time to escalate the effort and increase our biodiversity.
"If Angus Council feels it is not receiving its fair share of its investment in the partnership I believe that's a management conversation but it is wholly counter-intuitive to reduce funding when we need to scale up our efforts."
Brechin and Edzell SNP member Kenny Braes added: "We are losing 150 species every single day on the planet and we don't want any of those to be in Angus.
"Biodiversity doesn't follow the lines of local authority maps and we are seriously sending out completely the wrong message on this, especially to our young people."
Forfar Conservative councillor Braden Davy said: "If this is maintained it would be a more than £100,000 of additional cost for Angus Council taxpayers. This seems a safe and sensible way to save that sum."
Communities director Stewart Ball told councillors: "The council has absolutely no intention of scaling back its work in terms of biodiversity.
"What we are proposing here is withdrawing the funding for the co-ordinator, but delivering that work in a different way – we see it becoming embedded in business as usual for all council employees.
"In some ways you could say it sends out the wrong message to have this responsibility sitting with one individual, where people say 'it's not my job, it's that person's job'.
"We do not feel, as things stand, that we get value for money for the contribution," said Mr Ball.
The Tayside Biodiversity Partnership and Angus Council-led project, Back from the Brink: Saving the Small Blue has involved dozens of community volunteers since it was set up in 2011.
Angus Council leader David Fairweather is the area's Small Blue champion and last week described the project's award recognition as "sterling work for all involved in the partnership".
A Perth and Kinross Council spokesperson said the authority "has no plans to reduce its current funding for the Tayside Biodiversity Partnership."