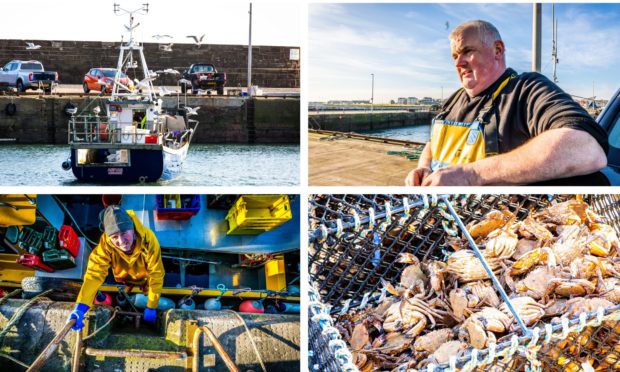 Decades ago names like Endeavour and June Rose flanked the hulls of the large fishing vessels which packed out the waters of Arbroath Harbour, and tourists flocked to watch the spectacle of the fish market as men returned from the North Sea with bountiful catches of cod and haddock.
Now, the whitefish are gone from the local waters. One at a time, the "big boats" disappeared from the harbour until the last one, the Crystal Tide, sailed from the port for the final time in February 2013.
Now smaller fishing boats lull in the waters, stacks of creels line the harbour's edges and white-washed pleasure crafts draw the eyes of visitors at the port.
Once a hub for whitefish boats hauling catches to the shores, changes to the industry, and in the sea itself, have brought about a major transformation at the Angus harbour.
It has been reborn both as a marina for yachts and hobby seafarers – and as a home to a thriving inshore fleet of small vessels whose owners ply their trade with creels, plucking crabs and lobsters from the seabed off the Angus coast.
And business is steady for the fishermen of Arbroath. They have markets in Spain and France, and are even exporting live catches to China. As shellfish are a non-quota species, European Union (EU) regulations have had little impact on their day-to-day work.
After decades of change at this bustling port, what impact Brexit will have for the fishing folk of the town remains to be seen.
The situation at the border
Arbroath's situation is complex.
Under the EU single market, seafood can be exported from the UK without tariffs or the need for paperwork such as export health and catch certificates. This is not expected to be the case from January 2021, post-Brexit.
Arbroath's fishermen are dependent on swift exports of their catches to their European markets.
When "Brexit Day" landed on January 31, 2020, the UK officially left the EU and entered an 11-month "transition period". This allows for the two sides to figure out their future relationship. Fishing will play a key part in these discussions.
If out of the EU's contentious Common Fisheries Policy (CFP), the UK would become an "independent coastal state" and the government is seeking to hold annual talks with the bloc on access to foreign vessels looking to fish in its waters.
However the EU does not want to see the current set-up change.
As it stands, much of the UK's fishing quota is sold off by British skippers to EU boats. And foreign vessels make up in excess of 60% of the tonnage landed from British waters.
In early February, the bloc's chief negotiator Michel Barnier told France Inter radio that "there will be no trade deal with the British if there is no reciprocal access deal for our fishermen".
These are, as one Arbroath fisherman put it, "uncertain times" for the industry.
A new era of prosperity for Arbroath fishermen?
Despite the question mark hanging over seafood exports, the majority of the fishing community in Arbroath is pro-Brexit – and some harbour hopes of a new era of prosperity at the port.
The town's inshore fleet has grown over decades from a handful of vessels to about 30-strong. These creel-fishing boats are made up of vessels under 10m in length. Efforts are focused on shellfish, particularly lobsters and crabs which make their way to France, Spain and even China.
Many Arbroath fishermen believe withdrawing from the bloc is going to have little effect on the inshore fleet at all. Others welcome being free of the CFP and hope for a new, post-Brexit dawn which could allow the smaller boats to diversify their catches.
Among those hopeful that the country's withdrawal from the EU could lead to exciting prospects for those working out of the harbour is Chris Pattison, who skippers the Aurora.
He hopes a good post-Brexit deal will allow him to expand from creels into "more diverse fishings" and said his operation has been "limited" to shellfish in recent years.
Mr Pattison works as part of a team of five which includes his father Gordon and a second vessel called the Ashley.
He hopes fishermen in Arbroath will have better "prospects" post-Brexit.
"We are heavily governed by the EU in this industry," he said.
"Obviously they are going to look at bringing back quotas and stuff like that for the UK. So I'd hope that that is going to be getting spread out more evenly.
"I hope that rather than being stuck at one job as I am – which is creel fishing, due to these quotas –I hope that we can start moving on to new jobs like fish, or we can go on to something else within the sector.
"We are very limited in what we can do. Right now we are a lobster fishing boat so we fish with creels.
"Due to quotas we are actually limited. To go to the fish and that with another boat, we'd have to go away and buy masses of quotas which cost hundreds of thousands to buy."
He added: "I'm looking forward to seeing what the outcome is and where we're going to stand.
"It is just the uncertainty as well just now coming up to this. We don't actually know what is happening with our markets and stuff like that."
'It is important we get a good trade deal'
Bob Teviotdale is chairman of the Arbroath and Montrose Static Gear Association and has been fishing from the harbour since the age of 15.
"It will be interesting to see what actually happens because with Arbroath being mainly a shellfish port now we're reliant a lot on exports to the EU," said the 52-year-old.
"So it is important we get a good trade deal obviously with no tariffs or very little tariffs because it is going to have an effect on the stuff that we sell through the EU.
"The stuff that we catch it all gets exported live. So any hold-up or blockage or problems at the border, that would have a problem for selling our stuff.
"Like many industries it is a bit up in the air at the minute until we see what the actual final outcome is."
However he believes the shellfish industry will "probably just stay the same" post-Brexit.
He added: "If they can trade with the EU as close to where we were before, I think Brexit itself will maybe not make a massive difference in this area.
"The whitefish sector has been over the moon with Brexit and are very optimistic with the future of our fisheries. "
Though the days of whitefish are long gone at the Angus port, he says there is no reason why some boats couldn't "turn to other things" in the future.
"I wouldn't say it is too late in the day but i think that is quite a way down the road to see if that is possible to do," Mr Teviotdale added.
"But nobody really knows what is happening in the future with this. It could be a very good thing. Because if there is fish quota that comes back into the UK then if that gets distributed throughout the fishery then, yeah, boats will maybe turn to other things.
"At my age I suppose I'll just plod along at what I'm doing. I would think but maybe for the young lads it gives them more options within the fishery."
'Everybody wanted Brexit'
"We're actually fishing creels on traditional whitefish grounds just now," says John Cargill, discussing his day's work at sea – one which threw up a decent catch of crabs.
"There is no whitefish within 100 miles of here.
"There is no point in building a boat to catch haddock when there is not a haddock in 100 miles. That's my opinion."
The Auchmitie man works from Arbroath Harbour with his son, John Jnr. He turned to shellfish 30 years ago when the town's inshore fleet was no more than five vessels strong.
"Most of the fishermen I know, everybody wanted Brexit," said Mr Cargill, who started out in the industry in 1982, aged just 16, on the whitefish boats.
"It might be a bit sticky on the shellfish to start with if we don't get a deal but I think it's worth a gamble instead of being run by the EU."
The 53-year-old said his vote for Brexit was "nothing to do" with his work as a shellfish specialist in Angus and claims he "couldn't understand" why the UK chose to join the EU in the first place.
"Now we've got the opportunity I think it's better for him (son John Jnr) and the future if you've got your own destiny," Mr Cargill said.
"That's my opinion and you'll find that with most coastal communities right around the country."
He is also confident of a solution to the issue of transporting live shellfish across the border once Brexit negotiations have concluded.
Mr Cargill said: "That is the one issue but if they can sell live crabs into China no problem, how is there going to be an issue selling them to Spain and France? I can't see how there would be a problem."
Another fisherman, who did not wish to be named, said: "I voted for it (Brexit). The reason I voted for it was because I think there is too many rules and regulations. We were being constricted by Europe.
"We just feel that they take too much out of British waters from what we get back from them in their waters."
Echoing the sentiments of many of his fellow fishermen in Arbroath, he believes Brexit will have little impact on day-to-day work for him in the town.
His vote was one of solidarity with fellow fishers across the UK.
"As far as shellfish, I don't think it is going to make a difference for us," he added.
"The whitefish boats, they will get a bigger share of British fish.
"I think it will just be the status quo (for Arbroath). Fishermen in Arbroath are all shellfishermen – lobsters, crabs. And there is a big market for them in Europe. A massive market. There is also a massive market in China.
"The world is expanding as far as shellfish is concerned."
'We'll just have to wait and see how it pans out'
Danny Smith and his sons Colin and Jonathan work three boats from Arbroath.
Mr Smith has been grafting from the port for 45 years and believes Brexit could make "a big difference" to the industry as a whole.
He said: "Only time will tell. Like everybody else, we're not sure how it goes because if they are using the fishing as like (a bargaining chip). I can see us not getting our stuff across to France.
"I would say maybe 90% maybe 100% of our stuff goes to Spain and France. We'll just have to wait and see how it pans out like."
He added: "I did (vote for Brexit) because I think in the long run,  in the future – it will maybe take a good while – but if we do get our fishing back it will make a big difference.
"Being able to make our own rules, and if it is getting over-fished then cut back ourselves. I think it will be a good thing."
However he admits changes to the industry won't take hold "overnight".
"In the long run it will be (positive)," Mr Smith added.
"It could be a great thing. Maybe not so much for the shellfish but for the whitefish, the guys up in Peterhead and that. And also the guys down in England, down the Channel."
Mr Smith also expressed concerns about shellfish stocks – saying there is "no doubting" the need to protect species from over-fishing and added that offshore wind farms are an increasing concern for fishermen.
A fish merchant's take
Fish merchant Martin Spink runs Arbroath's M&M Spink, which specialises in Arbroath smokies but also supplies locally caught products.
Though he did not vote to leave the EU, he said a good post-Brexit deal for fisherman could be good for the Angus town.
Mr Spink added: "I didn't vote for it but I hope it will work out good for the fishermen and the fish merchants. If we get our waters back, as long as we get something back it will be worthwhile I'd imagine.
"There's no fishing boats left here now for whitefish. It is mostly all shellfish that is landed here.
"But you never know maybe in the future you could get a couple of trawlers and that back. We'll just see what happens. It is all in the hands of the politicians.
"There are big landings of haddocks just now, and all kinds of fish. They obviously think there is a good future in it as long as you get a good deal out of this Brexit."
Mr Spink said: "It's all small boats now that do the lobster boats and the creels here now. There was about 30 or 40 of them (the big boats).
"If we get more landings and that it will be great it will be better for us because demand for fish is really high now."
A life at sea
A model of the Sincerity V takes pride of place on a shelf behind the bar of the Commercial Inn. A lion rampant flag adorns its side and the small figure of a bonnet-clad fishermen is perched upon its deck.
The pub, owned by Alex Smith, is just a stone's throw away from Arbroath Harbour, where the real Sincerity V once sailed in with catches of haddock, cod and prawns.
Built at Arbroath's Mackay Boat Builders in 1972, and taken on by the Smith family in the 1990s, the boat was sold off in 2013.
At the turn of the century, and after decades at sea, Alex and his brother and business partner Jim Smith – two of the last whitefish fishermen working from Arbroath – had called it a day.
"Believe it or not it is in Ghana," said Alex, pointing to the model of his old vessel.
"As far as I know it is still fishing. A great sea boat. One of the best boats Mackay ever built."
Alex, 65, comes from a long line of Arbroath fishermen and started at sea working on his grandfather's boat in 1970.
Built in Fraserburgh in 1933, the original Sincerity was the town's first diesel-engine vessel. At 39ft and 9in, she was just below the 40ft regulations of the day which qualified her to fish inshore.
"At that time it was whitefish and we worked the creels," said Alex, perched on a seat in one of his pub's booths, flanked by framed black-and-white photographs of smokies being prepared and Arbroath Harbour in the old days.
"Every boat in the harbour was family then. It was all families and sons."
The Arbroath Harbour of his youth was "whitefish boats only and a few creel boats and that was it".
"There was crowds, crowds", he said, remembering the landings in Arbroath.
"We used to land in the open in the South Pier. That's where all the fish was sold.
"Every third or fourth house was somebody who made smokies or went and sold fish."
He remembers a "multitude of fish" near Arbroath during the old whitefish season, which lasted locally from around the end of April until October. In the winter, some boats turned to fishing for sprats and herring. Others went further north to continue hunting haddock and cod from Aberdeenshire.
Alex, the last president of the Arbroath Fishermen's Association, said the first signs of change came in the 1970s, but really took hold in the 1980s with the dawn of new technologies in the industry.
"Technology took over so the boats could target things more readily and you wouldn't lose gear the same," he added.
"Technology took over, they got heavier gear. Boats started catching a lot more fish with that and started catching a lot more fish on the 'hard bottom'. It was no longer a refuge and they were coming in with big shots of fish."
He believes the loss of whitefish in local waters was down to a "combination of things".
Alex said: "They developed the pair-trawl and then that was basically the beginning of the end because that would just murder fish. It was over-fished at that time.
"The government was supplying a lot of money, grants for new boats, at that time so you only had to pay about half the cost. They couldn't build boats big enough in those years.
"They were bigger, much more powerful engines, heavier gear, bigger gear; so the catch rate kept going up and up.
"They worked further out and started clearing the ground out with the pair-trawl, heavy gear, and that was the beginning of the decline. We never went pair-trawling."
In the mid-1990s, Denmark's industrial fishing fleet also provoked fury by scoop-fishing sand eels on the east coast of Scotland.
Alex said the loss of the eels, a vital food for whitefish stocks, helped spell the end of the species near Arbroath.
He added: " They were raking the banks here. 150ft boats and they were almost sinking with all the sand eels. They broke the food chain.
"We were still sea-netting at that time. After they went they just wiped out all the food source. We went from getting a good summer fishery to it just going downhill rapidly. It was criminal.
"We were still a good haddock fishery at that time."
If the 1980s were a time of investment and over-fishing, the 1990s brought further struggles with quotas becoming tighter under the CFP, which was reformed for the first time in 1992.
Alex believes Arbroath has lost out under the quota system, which has been "ruled by the fishing up north – up Aberdeen, Peterhead and Fraserburgh".
"A lot of these guys landed up with massive quotas and the guys down this neck of the woods ended up with poor quotas," he said.
"And of course the under 10m sector weren't allowed to have a quota so they were left in the pot after the big lads got their shares."
He said this was happening while there was "still plenty of fish" locally.
"A lot of guys down here diversified into other types of fishings. Guys that had been fishing all their lives ended up with no quota."
Adapting to changes, the Smith brothers were working from Aberdeen, Peterhead and sometimes even from Northumberland, often spending weeks away from their families in Arbroath.
He said: "We went from day fishing to two days and then eventually laterally we'd be in Peterhead or Aberdeen and we'd be fishing four days. We'd leave Sunday and land Friday morning. That was the usual routine unless there was a prawn fishery here."
Alex, who has four daughters, said by the turn of the century, the local whitefish grounds were "wiped out".
"Our fishing was 50 miles east of Aberdeen, from there out to what is called the Devil's Hole so about 90 to 100 miles from here," he added.
"We spent a lot of time on the boat. I never saw my kids growing up because I was at sea all the time."
'We'd had enough'
Quotas were becoming increasingly tight after a second reform of the CFP, which took hold in 2002. With the cod and haddock gone from Angus waters, and the big boats disappearing one at a time as ship decommissioning took hold, the brothers knew they had to diversify. And diversify they did.
"It was on the cards," said Alex.
"You could see it happening. Our boat at that time was only 20 years old and we were seeing guys cutting up boats less than half that age. But it was obvious it was going to happen.
"They couldn't sustain the amount of vessels.
"About 2002-2003, that is when you saw the change."
He added: "We'd had enough. The rules and regulations – they were getting worse and worse. We were sick of it.
"We had the tight quotas and the quotas got tighter every year. We said 'we can't fish viably with the quotas we have got left'. We had a not bad quota, but not enough to keep that boat fishing successfully and give four men on the boat a wage."
Alex started a successful business supplementing the oil and gas industry, transporting crew and goods to vessels stationed offshore.
Sadly, Jim passed away several years ago.
Despite leaving the fishing industry before the Brexit referendum, Alex still voted to leave the EU in 2016 – a decision forged out of his experiences at sea.
"Did I vote for Brexit? Yes I did, no question about it," he added.
"And I hope that the government sticks to what they are saying and follows through and says we will control the fish from now on.
"We were getting dictated to. Every year we got our quota cut. They'd go to Brussels every year: cut, cut, cut.
"They were dumping them (fish) back in the sea. It was just a crazy situation. I have been there myself. I was having to dump fish. It was absolutely nuts."
'Give the small boats a chance'
"The small boats need to get a bigger share," he answered when pressed on what he hopes will come from the Brexit negotiations in the coming months.
He believes that smaller fishing communities such as Arbroath should be allowed a bigger share of quota, and its boats should be given more freedom when it comes to catches.
"There's guys built up massive quotas on big boats," he said.
"Don't get me wrong these guys started on small boats and worked their way up. They are now in a position where they have got total power over everything.
"I think the government will have to have a total change of vision. They need to take some of that quota and allocate it from some of the bigger lads.
"You have young guys now that have absolutely no chance of breaking into the fishing industry because it will just cost too much money. You need to buy the boat, buy the licence, buy the quota.
"In order to make that better across the whole coast, my idea would be to share some of that out with the smaller boats so they can lift these smaller places up a bit and make them viable."
However he adds that a wider change is needed amongst British fishermen as a whole.
Alex said: "It is sad that they haven't learned their lesson. Fishermen are the worst breed out because if he is catching more than me, I want to catch more than him. And you'll never cure that basically.
"I have been there. I know exactly how it works. It's greed, man. You have got to fish sustainably."
He described the current situation in Arbroath as a "free for all" and said regulations should be brought in on shellfishing or it "could end in grief".
When pressed on whether he believes the whitefish will ever return to Angus, he said: "There was too much over-fishing and breaking that chain.
"You'd think they would come back, and maybe it will because there is nobody fishing within 80 miles of here for whitefish.
"We're getting told that the cod is coming back on the grounds. A lot of the guys are saying that their creels are getting a lot of cod coming in their creels. Small cod. That is encouraging."
The Common Fisheries Policy (CFP) and how quotas are set in Scotland
The EU's Common Fisheries Policy manages Europe's fishing fleets and aims to conserve its stocks in a sustainable manner.
It views fish as a common property amongst member states, with European boats given equal access to all EU waters (up to 12 nautical miles from the coast of a country).
It aims to the protect the marine environment, provide a healthy food source for Europe and protect fishing communities.
Fisheries management is partly done via total allowable catches (TACs or catch limits) allocated to EU countries via national quotas. These are then distributed amongst fishermen.
They are agreed by member states at the EU Fisheries Council every December.
Until the introduction of landing obligations in recent years, the issue of discarding fish that were in excess of a vessel's quota was particularly unpopular.
The CFP was introduced in the 1970s and adopted in 1983. It has been revised several times including in 2002 and 2014.
The policy was a major bone of contention during the Brexit referendum. Many British fishers felt their voices and concerns have fallen upon on deaf ears in Europe.
The EU argues that fish are a common property amongst member states and that the CFP is the best way to protect species and the marine environment.
How are fish quotas set in Scotland?
Most of the fish stocks sought by Scottish fishermen have been managed under the EU's Common Fisheries Policy via total allowable catches (TACs), which allocates fish resources to member states.
These are set on an annual basis by EU fisheries ministers, determining the level of fish quotas that can be caught in member countries across a 12-month period.
Quotas are the amounts of fish from different species that may be legally landed by the UK. They are allocated by the UK Government to the UK Fisheries Administrations in Scotland, England, Wales and Northern Ireland.
Quotas are then allocated to fishermen in all four nations.
The Scottish Government issues quota allocations to fish producer organisations (POs) – quota management and marketing organisations made up of member fishing vessels – who manage them on their behalf.
The majority of Scotland's inshore fleet targets non-quota shellfish species. Catches on these vessels are managed directly by the Scottish Government.