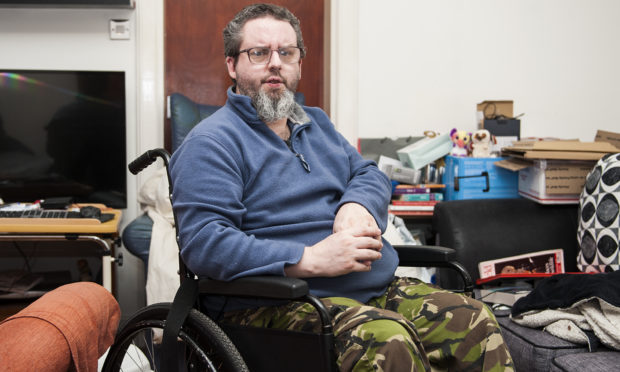 A Forfar man has condemned Angus Council after waiting four years for a house, despite being declared a medical priority.
Aaron Field, 42, collapsed in his home four years ago following a move to Forfar from Lancashire.
The accident left him with brain damage that has severely impacted his speech and mobility.
His current one-bedroom property, where he lives with his wife Tasha, is not wheelchair accessible. The door frames are too narrow and he has fallen because he is forced to use a walking stick.
Mr Field applied for an Angus property in 2016 after an assessment determined his house was too small.
Occupational therapy reports declared him a medical priority but after four years of waiting, he said he has been left in the dark by the local authority.
He said: "We got an assessment in December 2017 where they said I was a priority and assured us we would get a property.
"We hadn't heard anything a year on and I rang them and was informed by the council that they only had me listed as a recommendation.
"They said if I wanted to be considered a priority then I would need to have assessments done, despite me already having these done."
More assessments were carried out but Mr Field was told by the council he may never get a house as he kept bouncing between first and 11th on the waiting list.
He added: "The woman on the phone told me I hadn't moved because I was a low risk.  She told me the medical assessments don't offer houses – it's the council's decision.
"But what's the point in a medical assessment if they're going to ignore the reports?
"It's taken over three years to get this sorted and we're still not any closer and it's starting to take its toll on me.
"The housing team have since moved me to medium risk, which is still not enough. I'm hoping they will reassess and move me to High as the occupational therapy reports suggest."
An Angus Council spokesperson said they cannot comment on individual cases but added they offer housing advice to anyone who requires it.
They said: "This could be to help people plan for their future housing needs, or in response to unforeseen changes in their circumstances.
"They may have encountered changes within the family set-up, health or medical needs, or homelessness – these are invariably urgent to those concerned and we will always threat their situation with empathy and sensitivity and use what resources are available to us to try to provide help.
"Our resources are not unlimited and must be prioritised to where they can be of greatest benefit.
"This is why the private rented sector has an increasingly important role in providing opportunities for people to find the right accommodation for their particular circumstances.
"So we recommend that people also seek housing solutions in the private rented sector."