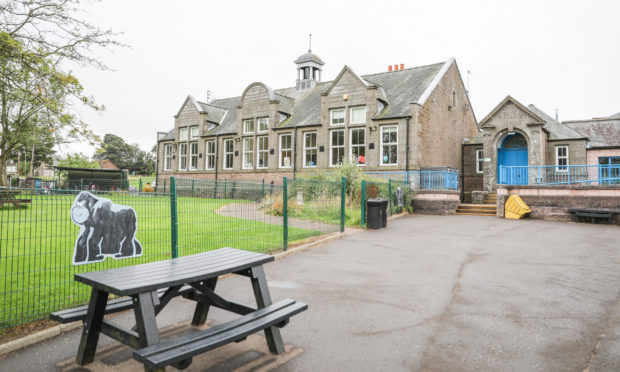 More young children will attend nursery outdoors as councils adapt buildings ahead of a nationwide increase in classes for three and four year olds.
Scottish Government officials are promoting outdoor learning, delivered outside and in yurts and wooden shelters, to local authorities who may have to close buildings for works ahead of extra hours beginning in August.
Cash-strapped Angus Council has become one of the first in Scotland to act on the advice, choosing to educate four-year-olds in the village of Letham outdoors for five months while builders work on the primary school.
Most parents in the village are said to be supportive of the move, but others have highlighted concerns including safety, additional costs for clothing and health and well-being.
One relative branded the idea "ludicrous".
Victoria Smith, an Angus Council service leader for early years, said they had looked at a range of other options for the Letham youngsters, "none of which offered as rich learning experiences for the children."
She said: "Obviously, that was at the forefront of our mind. We wanted whatever we were doing to enhance the learning for the children and not to detract from it."
She said outdoor education boosts attainment and improves physical and mental resilience, among other benefits.
Full time outdoor education is currently only offered in specialist nurseries with parents having made the proactive decision to opt for this approach.
The Scottish Government had organised an event in October, she added.
"The outdoor environment was promoted as a very good option. One, for the provision for the future but also to be considered as an option for decant arrangements.
"I know there were many local authorities that were represented at the event and quite a few who were interested in exploring the opportunities that the outdoors holds."
She stressed that no parent in Letham would be disadvantaged with costs for additional clothing, that the school's gym hall would be available for children during extreme weather, and that the staff / pupil ratio would protect health and safety.
The outdoor learning facilities, including a firepit, would remain in place to support further classes after the school renovations were complete, she added.
The Scottish Government is almost doubling the free childcare hours for three and four year olds from 600 to 1,140 from August.
Angus Council is transforming the former Forfar Academy and Pitskelly Park in Carnoustie into specialist centres. It is also using private providers.
Fife is also using a mixture of techniques to meet the childcare targets that will also include private providers and outdoor nurseries.
Children and learning convener Derek Wann, Conservative, said the council has had to take an "innovative approach" while others were "struggling to get their facilities built."
"It has been a challenge but we have had to look outside the box to find solutions. I think this is a great opportunity to give it a go," he added.
A Scottish Government spokeswoman would not confirm whether outdoor education had specifically been promoted to local authorities in a position of having to decant their pupils due to building works.
She said: "We continue to promote outdoor learning as part of the expansion of funded early learning and childcare."