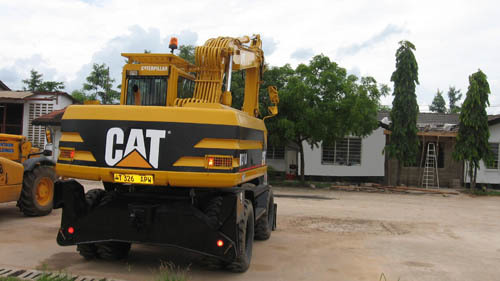 An Angus MP has urged the authorities to "take all possible measures" to bring a fugitive Angus fraudster and his on-the-run dad to justice.
Geoffrey and Gareth Johnson went on the run before a £20 million mobile phone fraud trial and now have the taxman on their trail over a £109 million debt.
The Courier tracked the pair to Dar es Salaam in Tanzania where they were running a plant hire firm although it's not known if they are still there.
Up until recently the pair were running the family owned Johnson Group which has over 25 years' experience in the construction industry in East Africa.
Angus MP Mike Weir said: "This is a huge sum of money that should have been paid to the public purse.
"Such scams are a theft from all taxpayers.
"HMRC must work closely with overseas agencies and take all possible measures to recover this money and those responsible."
The father-and-son pair were part of an 18-strong crime gang that stole £20m in a mobile phone VAT fraud.
They were involved in the carousel fraud, which stretched across Andorra, Dubai, Hong Kong, USA, Switzerland, Portugal and the UK.
The investigation by HMRC led to four criminal trials between 2012 and 2014.
The 18 gang members from Cheshire, East Sussex, Greater Manchester, Lancashire, North Wales, Staffordshire, Scotland and Spain, were given jail sentences totalling 135 years.
Gareth Johnson, 48, formerly of Turin, Forfar, was sentenced to 12 years in prison in 2013 after being tried in his absence.
He was the principal controller behind Tectonics Holdings – which played an integral role in the fraud as the money laundering arm of the operation through personal UK and offshore accounts.
He also had control of Coast Logistics which was another company used in the fraud.
Geoffrey Johnson, 72, of Dar es Salaam, Tanzania, was sentenced to 10 years in prison after being tried in his absence in 2014.
HMRC said he was instrumental in laundering the criminal proceeds of the fraud and greatly benefited from them.
Forfar man Albert Amritanand was another part of the gang and was sentenced to five years in jail in 2013.
He paid back half-a-million pounds to the public purse following a similar confiscation order imposed last year.