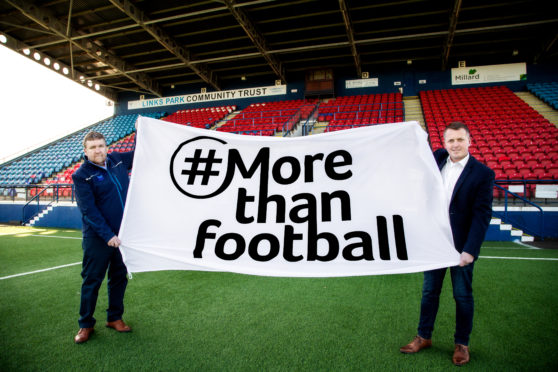 Montrose Port Authority has donated £3,000 to Montrose Community Trust to help it give essential support to the most vulnerable people in the community.
The trust, which has been running since 2012, provides a wide range of charitable programmes based around sport and well-being.
The charity helps people who are inactive, unemployed, disengaged from the mainstream school curriculum, living with a disability, suffering from poor mental health, socially isolated, recovering from an addiction or living with dementia.
Although the main focus is normally football, sport and well-being the team will be refocusing their efforts over the next few months and intend to use the donation to provide vulnerable and at-risk families with food supplies, books and games.
Peter Davidson, chief executive at Montrose Community Trust, said: "We cannot thank the Port enough for their generous donation which will prove a lifeline to many during this unprecedented crisis.
"The work we do through our community programmes is important for so many, but we now need to be on hand to offer support and assistance like never before, while trying to find new ways to connect with people who are social distancing or isolating.
"This donation will allow us to try and deliver the support that is needed and really just demonstrates the abundance of community spirit that there is in Montrose."
Tom Hutchison, chief executive at Montrose Port Authority, said the business had long been admirers of the work that Peter and his team do in the local community.
"More now than ever, people need to look out for others and join together as a community to get through the worst of this," he said.
"The work the Trust is doing is central to this and we wish them all the best with their efforts."
Meanwhile, the Montrose FC Supporters Club has made a £1,000 donation to the club's fighting fund.
With all football currently suspended indefinitely, normal revenue streams have abruptly stopped but the fans were determined to help.
Chairman Graham Christieson said: "This donation is just the start of an initiative we are calling 'Whatever it Takes!'.
"We are determined to ensure that the club that means so much to us all survives financially.
"We will be sharing more information shortly as to how all fans and supporters can contribute."
Club chairman John Crawford said, "This is a fantastic gesture and greatly appreciated at this difficult and uncertain time. It once again shows just how strong and close-knit a group we are."