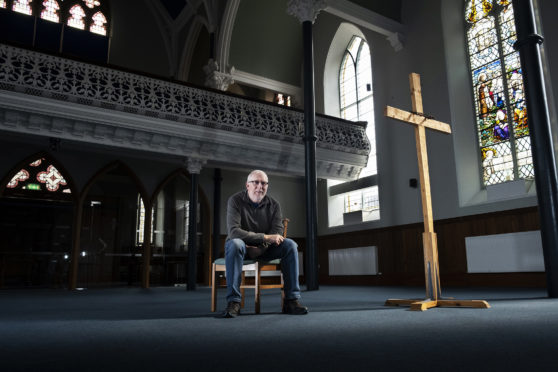 Pews may sit empty this weekend, but there is evidence more people may be turning to the kirk at this time of crisis than would have gone across the door on a 'normal' Easter Sunday.
That is the view of one Angus minister who has highlighted the innovation of colleagues in other parts of Tayside and Fife find new ways of engaging with their congregations.
The Reverend Martin Fair of St Andrew's in Arbroath has been a long-time technological convert, live streaming regular Sunday services from the kirk close to the town's ancient Abbey.
"We're fortunate that we already have in place all of the technology that has allowed us to stream services and so on," said Mr Fair.
"But credit to churches everywhere, including right across Tayside, who have been turning to innovative ways of how they can be a church when people can't come into their building.
"The focus has been on finding their creative side, and new technologies to do that."
In Angus it has included the Rev. Mike Goss posting his bell ringing at Carnoustie Church in support of the weekly 'clap for carers' event on a busy and popular Facebook feed.
Mr Fair said that although many ministers were familiar with social media and live streaming, it was new to others and they had grasped opportunities quickly.
He added: "It absolutely is working and I think most ministers are reporting that they are getting more contact from people than would have walked into church on a Sunday morning.
"That is highly interesting and getting people to think about continuing to do that much more regularly as the weeks and months go on is something we should look at."
Mr Fair is the Church of Scotland's moderator designate but the coronavirus has led to the cancellation of the General Assembly and the 55-year-old is awaiting news of the arrangements which will see him assume the important role.
He will become the first moderator from Arbroath, but Covid-19 has meant that the traditional Kirk gathering of the first week in May will not go ahead for the first time since 1689.