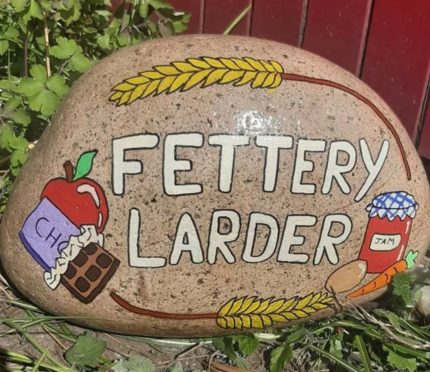 A village in the Mearns is showing how community spirit can help people cope in lockdown.
Residents in Fettercairn have launched a foodbank and have been brightening up the village with inspiring designs.
With help from the local church on a Monday and Thursday, the larder, launched by Emma Smith, distributes necessities to people who are isolating or shielding.
The streets have been decorated with obstacle courses made from chalk for children and their parents to attempt on their daily walks and children have created a treasure hunt with painted 'Fettery rocks'.
Handyman Colin Smith added a blackboard to his garage for local artist Samantha Farquharson to paint Fettery wings, symbolising togetherness.
Volunteer Marina Byrne has been praised for her efforts in uniting the community by creating the Facebook group Fettery Chat, which spearheaded the initiative.
Businesses have joined the fun by hosting competitions for children to count the balloons and create the best scarecrow and Scotmid in Laurencekirk has provided vouchers to help the volunteers produce grab bags for carers.
Shelley Mears, a volunteer, said: "We all have kids and it's important that we look after our mental health as well as theirs so we wanted to keep spirits up.
"Colour makes everybody smile so it's about getting colours out there and making sure everyone is involved.
"If we can put a smile on just one person's face then it has been worth it.
"It's not about who has done what, it's about getting together and celebrating our strong community as we all pull through this.
"This is something we want to keep going after the coronavirus is over to show what can be achieved – we have given Fettercairn a voice."