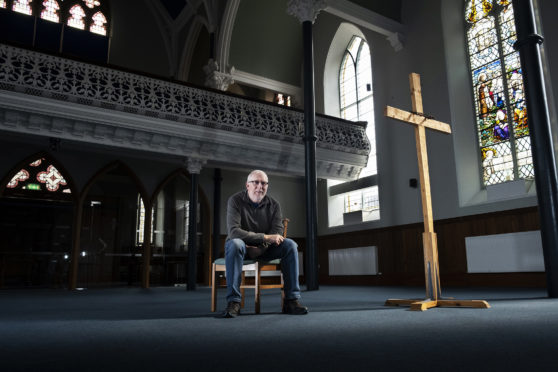 The Church of Scotland's new Moderator will spend his first night in the job putting the nation's quiz fans to the test.
Just hours after being installed in a historic online Kirk General Assembly service on Saturday morning, Arbroath minister The Rev. Dr Martin Fair will run a live Facebook event to raise money for Christian Aid.
The self-proclaimed quiz buff has promised participants some tricky questions, but given a hint they may even see the lighter side of the new Moderator early in his tenure.
Minister at St Andrew's Parish Church in Arbroath for the past 28 years, Dr Fair is the first figure from the Angus town to take up the senior ambassadorial role at the Church of Scotland.
The new Moderator is traditionally installed at the start of the week-long General Assembly Hall in Edinburgh, but the coronavirus pandemic has seen the event cancelled for the first time since 1689.
But the service will go ahead, under social distancing rules and will be broadcast online, to allow Mr Fair to take up his post.
It will include hymns, prayers, readings, and a benediction, with outgoing moderator, the Right Rev Colin Sinclair opening the service and offering words of advice to his successor.
Dr Fair, 55, said: "Saturday will be a busy day and I'm looking forward to the service in the morning at the General Assembly Hall.
"Then Saturday night, a step change, and it's the big quiz night for Christian Aid.  "The international development organisation is one I admire and I felt an online quiz fundraiser would be good fun.
"You may even see me wearing one of my infamous hats or wigs during the course of the evening.  Please join us if you can and help raise much needed funds for Christian Aid as it responds to coronavirus in places like Myanmar and Bangladesh."
Quiz fans can join he event through Dr Fair's Facebook, or contribute to a Justgiving page.
Head of Christian Aid Scotland, Sally Foster-Fulton said: "This is a Christian Aid Week like no other.
"Staff and supporters have had to respond to the current situation and embrace digital technology like never before.
"I'm so grateful that Martin has made space on his Saturday night to run a fundraising quiz for Christian Aid."
Christian Aid is currently responding to the crisis in 13 countries around the world.