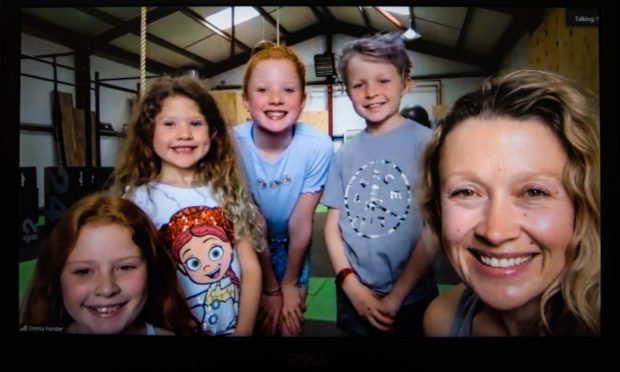 Behind the Walls is a series of portraits taken during live video calls to document the merging of home and work during lockdown.
The project reflects the way we all see each other at the moment – through a laptop or phone screen – and offers a glimpse into homes across Courier Country as the nation fights coronavirus.
Photographing the people on our screens is a creative response to the social restrictions but also helps convey the remoteness and physical distance we all feel.
Life under lockdown is challenging, and this collection of photographs refelcts the imperfect conditions we currently face. Our normal interactions are askew and somewhat distorted.
Steve MacDougall
"As a press photographer my aim is to supply crisp, clean images that tell a story. But this project challenged me to approach the portraits with a different mindset."
Emma Forster – Wormit
Emma runs her own fitness business, PeaceFit, from her home at Peacehill Farm in Wormit.
While Emma's husband continues to run the farm, she has adapted the way she works to make sure she still meets her clients' needs. The grand opening of her on-site gym, which was due to open at Easter, was delayed because of lockdown. Instead, she provides online fitness classes to her clients, as well as homeschooling her four children.
"Closing the gym just as I was about to launch my business properly was tough. Then suddenly having to homeschool our four children. Our family farm is so busy at this time of year so it's all a juggling act!"
Tricia Fox – Perth
While covering for furloughed staff, Tricia, chief executive offiver and co-founder of marketing agency Volpa, has taken on different and new responsibilities. Working in communications, she is often responsible for announcing event cancellations, or the closure of hotel and visitor attractions. She also responds to media enquiries, creates public appeals, and generally counsells clients through some major decisions.
"I'm busier than I've ever been, and constantly zipping between Zoom calls, phone calls, MS Teams and normal emails. I've genuinely struggled to keep up with the multiplicity of technologies deployed. I miss the face-to-face interaction most of all. Zoom is exhausting."
Graham Gibson – Dunfermline
Graham Gibson, senior media officer at Stirling Council, has been working from home full time. Living in a different town to his family, he relies on video calls to keep in contact with his parents and sister. Football is also a big part of Graham's life so being without it during lockdown leaves a significant hole in his life.
"I have repainted half my house and anything that needed painted in my garden that was always put off as there were other things to do. I never want to see a paint brush again!"
Michelle Robertson – Scotlandwell
Michelle's job as a child and family worker for the Children's Hospices Across Scotland (CHAS)organisation involves providing emotional and bereavement support. She normally connects with families in their darkest hour using a reassuring touch or hug. But during lockdown Michelle has found different ways to support these families, using words instead of touch. CHAS has set up a virtual hospice offering more support via telephone and newer technology platforms such as Zoom.
Initially, Michelle tried to work from her dining table with her children nearby but found it difficult because of the confidentiality aspect of her work. So, she moved her office to the family caravan, allowing her to separate her work and family life. Her girls now have a signalling system to communicate with their mum – they knock on the window and give a thumbs up or down if they need her, and she signals back to say if she's on a call or not.
"Mummy guilt as well as professional guilt also had a place in my daily struggles. I felt if I focussed on work too much I would be failing my children, and if I spent too much time with my children, I would be failing the families I support, and then when was time for me?"
Diane White – Perth
Diane, an NHS educator for Scotland, has been re-deployed within her current position during the coronavirus pandemic. She has been busy performing pre-employment checks for returning NHS workers.
Her family's restaurant business has been badly affected and staff have been furloughed. As a result of lockdown conditions, there are concerns about finances, plans for the future and how to operate once lockdown is eased.
"I miss meeting up with my running buddies and the chats we have on our runs. However, I've discovered lots of lovely new cycling and running routes in Perth that I didn't know existed as I've now got more time to explore. I'm valuing family and friends' relationships more as without them, albeit on video calls, I don't think it would be so easy to get through this."
Dug McCorkell – Kingskettle
Despite the lockdown restrictions Dug, an architect at Mary Arnold-Forster Architects (MAFA), has been working hard. MAFA has two new build housing projects in Cumbria starting in August, and the firm also secured planning permission for a project on Skye after lockdown started.  He has also been continuing his work as an architecture design tutor at the University of Dundee. Last week he marked the final design project submissions for the 2nd-year architecture students online.  They produced some very imaginative, considered and beautiful schemes despite not having access to their studios or workshops, he says, as most of them are back in their teenage bedrooms. He is also tutoring students from the University of Wuhan as part of the University of Dundee's international programme.
Balancing thesework schedules with caring for his three young sons has been a challenge. However, both Dug and his wife, who works for the NHS, have been given flexibility from their employers, enabling the family to work out a new routine.
"Being able to spend more time with our boys has been a real positive. Time previously spent commuting is quality play time. My sister-in-law moved in with us for lockdown so she could leave London and it has been great for everyone to have her around, previously we would only see her twice a year."
Kate Maitland – Higham
During lockdown, Kate, the National Farmers' Union Scotland regional manager for East Central, has been stretching her normal three workdays over five to make the most of virtual meetings and keep in touch with colleagues. Living on a farm means some aspects of family life haven't changed. Lambing began just as schools closed, giving her an easy way to keep her three boys occupied. However, the Easter holidays came and went, lambing eased, schools remained closed and reality kicked in. The family are very fortunate to live in the beautiful Fife countryside but find it strange not seeing family and friends in person. To compensate somewhat, one of Kate's sons has been regularly reading to his Grannie using Skype.
"The greatest positive is time. It's unlikely we'll ever experience this again and it's great being able to spend more time together as a family, even with the ups and downs."
Sean O'Neil – Perth
The Courier staff like Sean, a reporter on the newspaper, have been working from home since lockdown began, and finding new channels to have conversations and discussions that would otherwise easily occur in the office. Sean's work has been dominated by coronavirus. The lockdown rules mean he cannot meet contacts or attend meetings as he normally would.
Sean's family have also been forced to abandon various family celebrations, including his grannie's 80th birthday, his grandparents' 60th wedding anniversary and a trip to France for his mum's birthday. Getting his grandparents set up on Zoom calls has also been a recurring challenge.
"The only real positive of lockdown is the old Joni Mitchell adage of 'You don't know what you've got 'til it's gone'. I think I'll definitely be more appreciative of normal life when it returns."