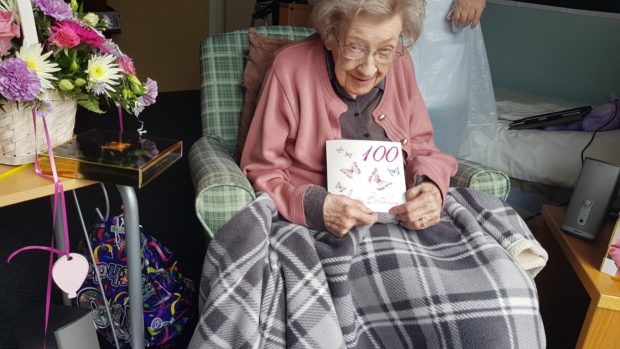 A Carnoustie woman celebrated her 100th birthday in style despite lockdown restrictions.
Jean Mathieson, born on May 17 1920, hoped to mark the special occasion by going out for afternoon tea with her family.
But staff at Balhousie's Willowbank Care Home in Carnoustie made sure the party came to Mrs Mathieson instead.
Popular Carnoustie café helped mark the big day by donating scones and custom cupcakes, while Willowbank kitchen staff provided sandwiches and a birthday cake.
Mrs Mathieson, who played piano for Irene Goodall's ballet classes, was also surrounded by her family who celebrated on the patio.
Jan Robertson, Home Manager at Balhousie Willowbank in Carnoustie, said: "Jean usually loves a trip to Dobbie's garden centre to the café and to see the plants.
"We weren't going to stop the lockdown from making Jean's 100th birthday a very special occasion.
"So with a little community help, we were able to bring the party to her. A huge thanks must go to Franco's for providing scones and cakes to make this happen. Happy birthday Jean!"
Mrs Mathieson and her husband Francis, who she met whilst both working at Stracathro Hospital, were married for 39 years and had three sons and daughter Caroline.
Son Gordon, who attended the party along with his brother Neil, wife Linda and children Laura and Andrew, said: "I think she really enjoyed it and we had a great time too.
"My granny lived to 90-odd and so did my great granny so clearly in runs in the family."
Her son Angus, who died 1993, was sadly missed at the party.