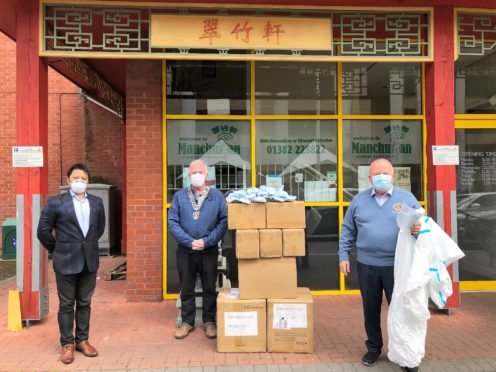 Forfar Rotary Club has established a Covid-19 fund to help continue its work, which will see 20,000 face masks distributed locally.
The organisation has seen its normal fundraising sources dry up with the cancellation of club activities and well-supported fundraising at local events.
Rotarian David Valentine has been key to sourcing masks for the initiative through his international contacts, particularly in China.
Working with Voluntary Action Angus (VAA) and Angus Health and Social Care Partnership (AHSCP), the Rotary Club has purchased and will distribute 20,000 face masks for use within the Forfar area.
Rotary president Doug McFarlane said: "Any carer, other person or organisations that require PPE face masks, while carrying out a frontline charitable or voluntary service to individuals or groups of people during the Covid-19 crisis, would be welcome to request these from the club through our Facebook page, our website or via our dedicated telephone number 07835 013095.
"We have set up a JustGiving page for donations to our charitable trust.
"Forfar Rotary has donated thousands of pounds in the community over the years but now we must appeal to the public and business to contribute now that our normal fundraising events have had to be cancelled.
"Information will be updated as we progress with this undertaking and react to the demand and availability of various types of masks."
The international links forged by former Angus Council economic development chief Dave Valentine has led to the donation of thousands of face masks to the club.
Forfar Rotary began the initiative in early April when a large number of masks were donated by a friend of Mr Valentine who runs a logistics company in Shanghai, followed by a further 10,000 from the Chinese Consul General on behalf of the Shandong Provincial Government.
That donation emerged as a result of the close links existing between Angus and Yantai city in Shandong.
The effort was further boosted by the donation of 7,000 face masks from David Lu, owner of the Manchurian restaurant in Dundee's Gellatly Street and president of the Fujian Scotland Chinese Association.
It was followed by a further 4,000 masks from the Society of Chinese Medical Practitioners, a professional organisation run by practising doctors with a Chinese background working in the UK.