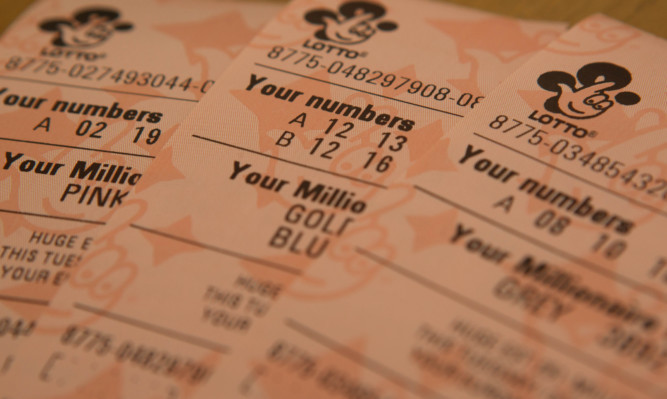 Forfar has been gripped by lottery fever amid rumours of a £10 million town winner.
Speculation has swept through Angus town that Saturday's £10,317,199 jackpot was scooped by a local man, but so far the potential multi-millionaire is staying well out of the spotlight.
Lottery chiefs have confirmed that a valid claim has been lodged for the massive weekend prize, but said they could neither confirm nor deny if there was a large prize winner in the Angus area.
The Courier understands the man at the centre of the speculation is well-known in the town, but he has not been since the weekend.
Attempts to contact the man have so far proved unsuccessful, but one town newsagent said the town was buzzing with news of a possible jackpot winner.
Adrian White of Richardson's on West High Street said the name circulating the town was a regular customer in the shop, to buy both lucky dip and syndicate lottery tickets.
"I've no idea if the rumours are correct but everyone has been talking about it. We wouldn't be told by the lottery if we had sold the winning ticket," he said.
A Camelot spokeswoman said that Saturday's main prize for matching all six numbers in the draw had been the subject of a valid claim by a single ticket, but could not say whether that ticket was an individual or a syndicate.
She was able to confirm that at this stage there were no big prize winners in the Angus area who had agreed to publicity.
If the rumour mill is true, it seems Lady Luck has touched the town for the second time in just a few years.
In September 2013, shop assistant Janette Robertson became a EuroMillions Millionaire Raffle winner after buying a ticket at the newsagent where she had worked for almost 20 years.
Janette had bought a weekly ticket at Hampton's newsagents in East High Street but was more used to paying out local winners with their smaller prizes before being stunned to discover she had secured millionaire status when she checked the winning numbers after going in to work.