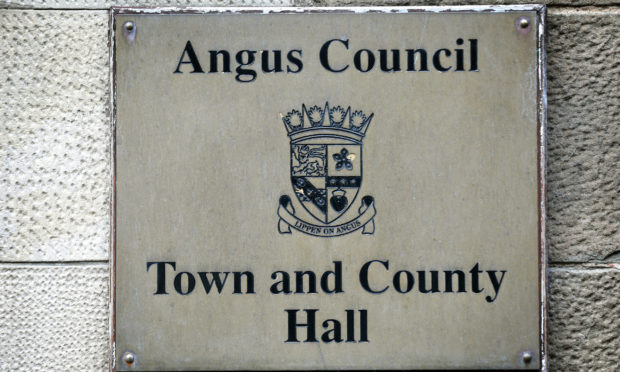 Angus Council's debating chamber could be out of action for months beyond Covid-19 due to costly repairs to a sagging ceiling.
Forfar's Town and County Hall has not been used since lockdown after the authority became one of the first in Scotland to convene online meetings of its emergency coronavirus committee.
It has now emerged the historic town centre building is unsafe due to issues in the main upstairs chamber and is unlikely to be used again in 2020.
Engineers have been unable to fully assess the situation due to pandemic restrictions and there are fears the council could be looking at a big repair bill to add to the £7m-plus budget mattering Covid-19 has already delivered.
A Council spokesperson said: "With the closure of non-essential buildings as part of Covid-19 restrictions it has not yet been possible to undertake a detailed examination of the chambers so as to fully assess the extent of any repair works that might be required.
"Once this is done, we will be better placed to fully understand the position and any timescale for repairs. As a precaution, the chamber will remain closed meantime."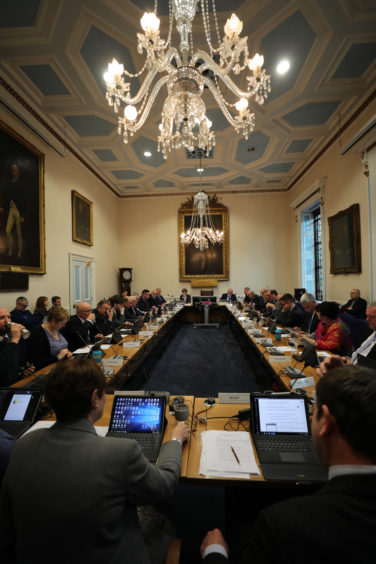 Angus has been one of the country's leading councils in hosting Zoom meetings which are recorded and made available to the public, after initial attempts to allow live open viewing were hijacked by unwelcome guests posting indecent images and comment.
The authority is now in summer recess and meetings of the full council will continue to be held online from August.
The situation will be reviewed after six months, but some favoured a move towards a hybrid model allowing a mix of physical and remote attendance.
Montrose SNP member Bill Duff said: "Accepting where we are at the moment, I'd like to see us moving towards the hybrid model in the medium term – that might be the new norm."
Officials said the options would bring extra cost and involve issues such as deep-cleaning venues before and after committees.
Carnoustie independent councillors David Cheape and Brian Boyd have been critical of the make-up of the Covid-19 special arrangements committee and being unable to participate in the online dicussions.
"It is so important for all councillors to get back around the table and have a say in the decision-making of Angus Council, rather than just seven from mainly the ruling administration with all the others left out in the cold," said Mr Cheape.