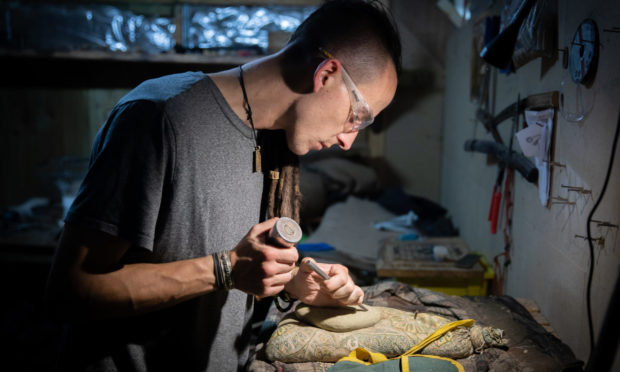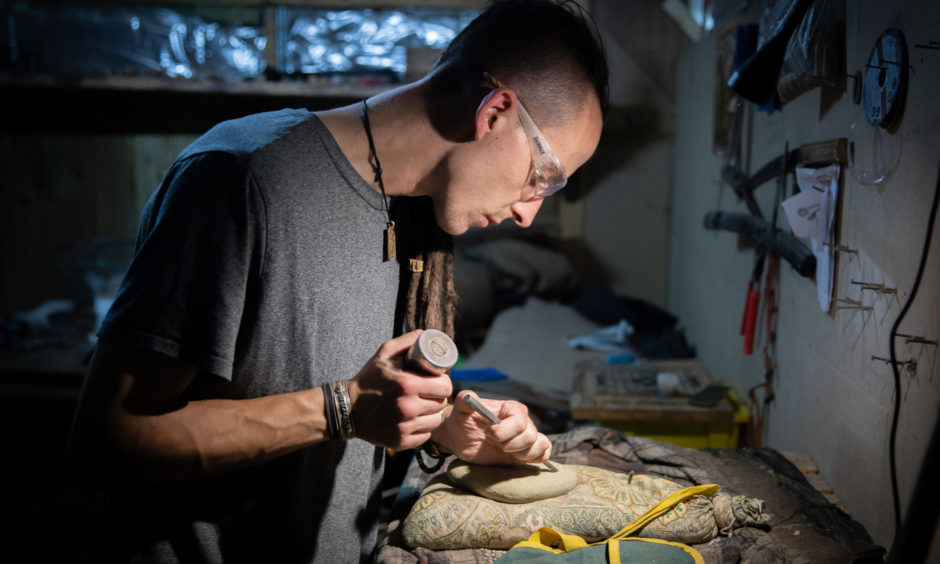 Michael Alexander speaks to Angus stone carver Dean Gowans about his Pictish and Nordic design inspirations, hopes for the future – and his "totally random" recent appearance on national TV.
The tap, tap, tapping of chisel chipping through sandstone fills the air as sunlight heightens the contours of Dean Gowans' latest stone carved creation – a Norse-like warrior armed with blade and shield.
The 31-year-old former Blairgowrie High School pupil only started doing stone carvings around 18 months ago.
But with a growing reputation for his intricate Norse and Pictish-styled designs under the banner Stravaig Stonecraft, and following a recent appearance on the BBC TV programme Home is Where the Art Is, Dean, who works in retail, hopes that stone carving can become a much more integral part of his future.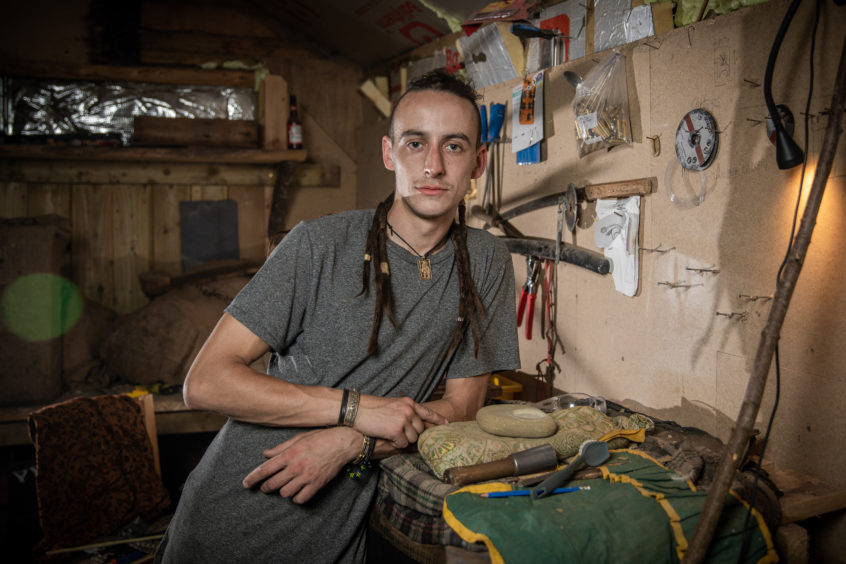 Born in Dundee and growing up in Coupar Angus, Dean has always loved the outdoors and grew up with a keen interest in history – including the many Pictish stones that can be found throughout Perthshire, Angus and Fife.
Inspired by his carpet fitter dad to work with his hands and enjoy the outdoors, when he left Blairgowrie High, he worked as a gamekeeper for a short time before studying illustration at Dundee College.
After four years, he graduated with a Bachelors degree validated by Gray's School of Art in Aberdeen.
When "real life" kicked in, and with bills to pay, he ended up working in retail including four years at the former WH Smith in Dundee's Overgate and, more recently, at Lidl in Brechin where he still works.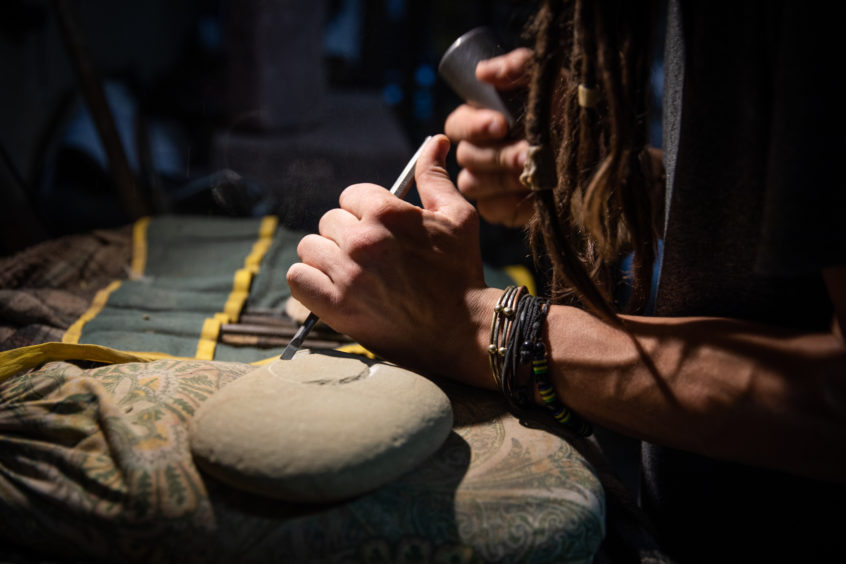 However, his stone carving break came in 2018 when he saw an advert by professional stone carver David McGovern of Monikie Rock Art  looking for, as Dean puts it, "an apprentice who isn't quite an apprentice and not quite a job" to learn the skills of stone carving.
Crucially, the successful candidate had to be "keen and flexible".
David agreed that Dean could keep on his Lidl job. The result? After 30-40 hours per week working in the supermarket, Dean now spends "every spare minute" of his two days per week off doing stone carving.
He works mainly in sandstone taking inspiration from history, mythology and nature.
When he's not looking after his dogs, chickens, ducks, turkeys and horse at his cottage in rural Angus, he now admits he's at the point where, after just 18-months, he's "probably ready to be self-employed".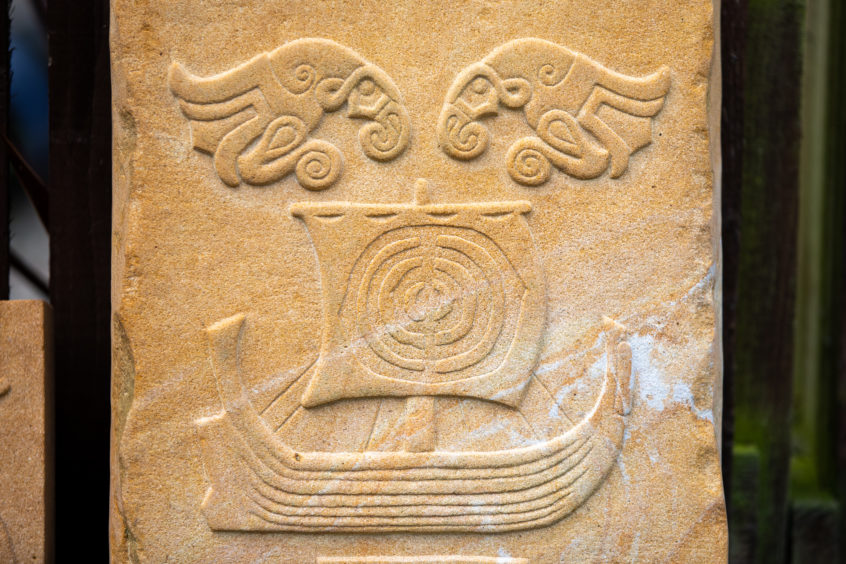 "Before I started this I'd never touched stone before," he tells The Courier.
"I'd dabbled with wood carvings but I'd never really thought about stone.
"I saw the stuff David was doing with all the Pictish stuff and thought 'I want to do that'."
Dean, who lives just a few miles from the famous Aberlemno Pictish stone, said people will often get in touch and ask for a smaller copy of a real life standing stone design – an area that he tries to avoid as "that's more David's department".
But because he studied illustration, he now finds himself more likely to come up with something "off the cuff" and is finding the research and organisational skills he used at college very useful.
"I was always obsessed with history – anything to do with history – from a young young age," he says.
"With my carvings, I lean more towards Nordic stuff. My personal stuff is very Viking.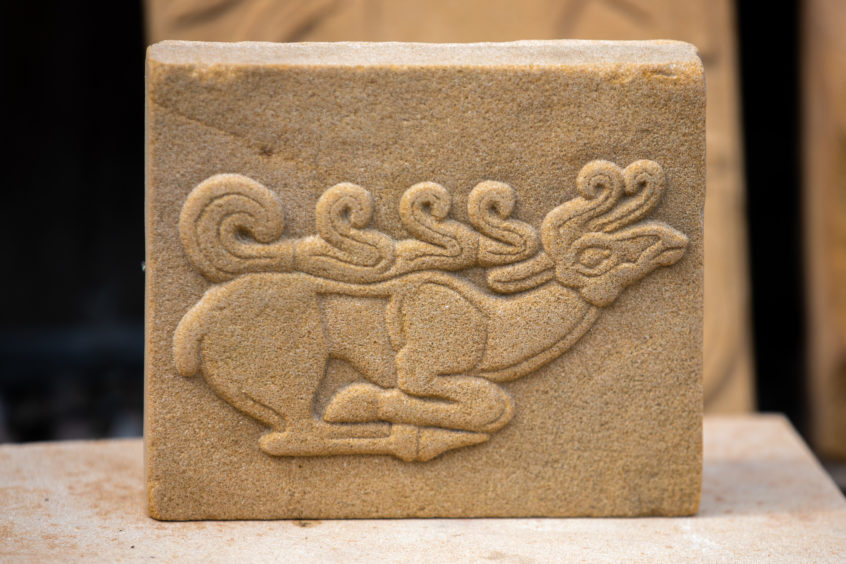 "David does Pictish stuff so I try not to step on his toes too much. I don't want to be just seen as David's apprentice – I want to be seen for my own style.
"I've done a couple of carvings recently inspired by the Norse Sagas.
"I've got an overactive imagination! A couple of hours behind a desk and I've usually got something.
"The thing is it doesn't even have to be that good a drawing. Once you carve it in stone it looks 100 times better. A lacklustre drawing can be a really nice carving."
During the first two months of lockdown, Dean wasn't able to get down to Monikie.
Instead, he found himself working on the frontlines of the supermarket trade as a key worker.
He remains grateful to have a job during these difficult times.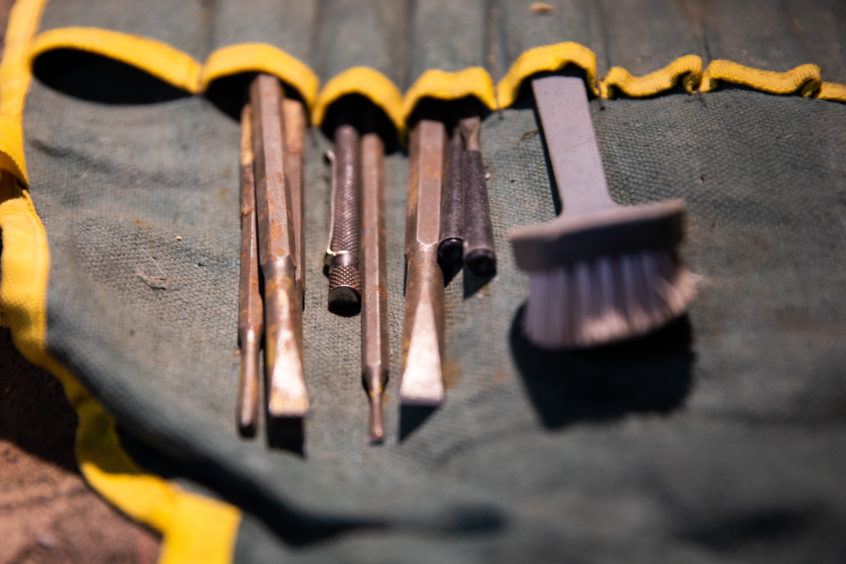 On July 23, however, carving came back to the fore when viewers saw Dean grace their screens on a previously recorded episode of BBC show Home Is Where the Art Is.
Dean was one of three artists challenged by presenter Nick Knowles to make something amazing for the owner of a Scottish castle they'd never met.
The couple wanted something to mark their stunning home's upcoming 850th anniversary. So how did that come about?
"It was totally random," laughs Dean.
"I got a message to my Facebook page. A random lady had messaged me. I thought it was a mickey take. My ex-girlfriend who was in the room said 'it's the BBC'. It turned out it was.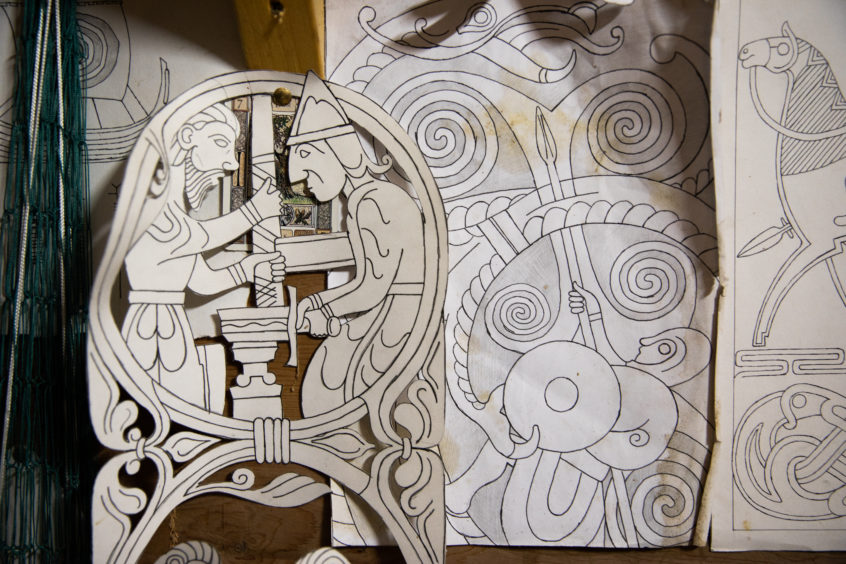 "I got the information about the show then got given an address in the Borders to drive to. I went down through Castle Douglas and down a glen to a castle.
"I spent day in the castle to get an idea of the people in there. Then me and another two artists were tasked with creating a piece of art that we thought would appeal to the people who lived in the house."
Inspired by the Hilton of Cadboll Pictish stone originally found in Easter Ross, he produced a piece featuring a mounted hunt scene and Pictish/Christian symbolism.
While he didn't win – finishing second instead – he did, however, sell the piece after the show.
Dean explains that most of the sandstone he uses is yellow Northumbrian sandstone.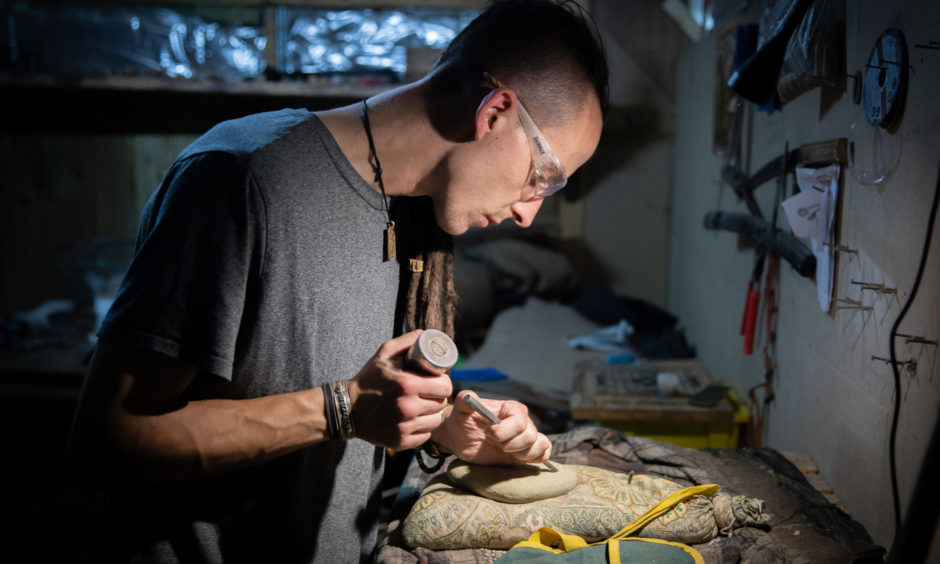 "The reason that we use that is because it's a close match for the yellow sandstone that's used for all the early medieval architecture in St Andrews," he says.
"But the stuff over there isn't being quarried anymore so you can't get it. This stuff is available and is a close match, so we use that.
"There's also a fine grained red sandstone called St Bee's. It's a dream to carve. It comes up really nice."
Dean normally takes a few days to produce a single carving – depending on its size.
But he's as likely to do a four hour stretch in the dead of night as he is to fit in half an hour between looking after his animals.
"Usually I start with a drawing," he says explaining the process.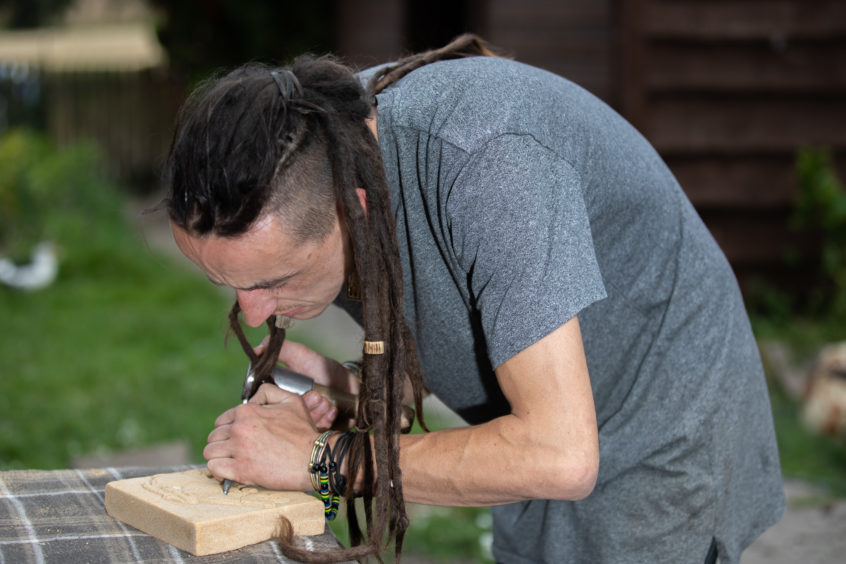 "You decide the size you want it on paper. Then you either make a stencil or what I've actually started doing now is drawing it freehand onto the stone. It's a bit slow freehand but I like the process a bit more. As well as Facebook, I've started using Instagram and it's quite good to show different stages."
Dean admits he can be highly critical of his own work as he goes along.
However, it always comes right in the end and he loves researching Pictish history to get facts right.
"The house is full of books on all that," he adds.
"But you can't beat going out to the real thing. It takes about 10 minutes to get from my house to Aberlemno.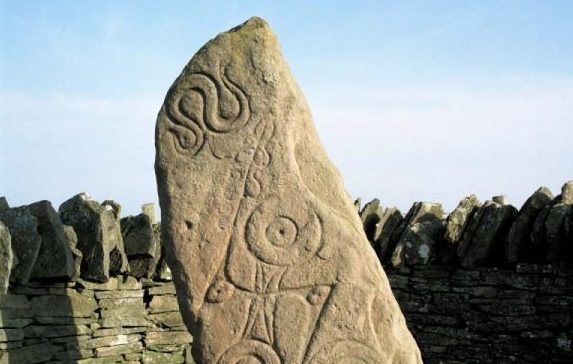 "Obviously you've got some of the best standing stones there.
"Since I started working with David as well I've seen so much.
"He took me to St Andrews Cathedral once – where I'd never actually been before.
"He can just about tell you who laid what brick in the place. It's like that everywhere you go whether it's St Andrews Cathedral or Meigle museum to look at the Pictish stones there.
"It just gives you a deeper level of understanding because you are seeing them but you are also having them explained to you.
"David's also involved with all the people who are researching Pictish history and culture.
"So as soon as stuff gets found out, I'm usually not far behind which is a constant source of inspiration as well."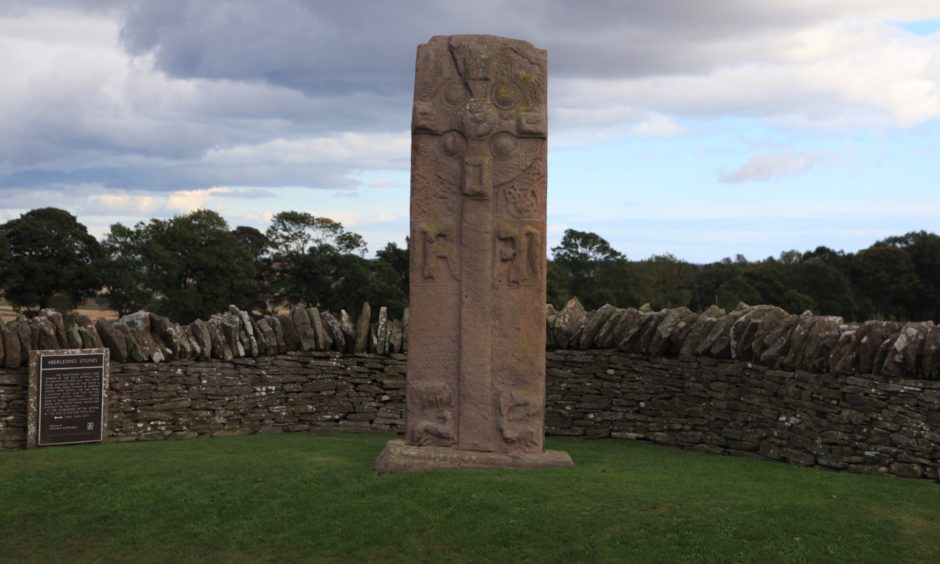 Dean laughs when it's suggested that one of his carvings might get dug up in 1000 years to the amazement of future archaeologists.
But if lockdown has taught him one thing it's how he looks at the world of work.
"I don't think retail is really for me anymore," he says.
"I'm looking at stone carving, but I'm looking at other things as well – outdoorsy stuff.
"Stone carving might be a big part – but it might not be the only part!"