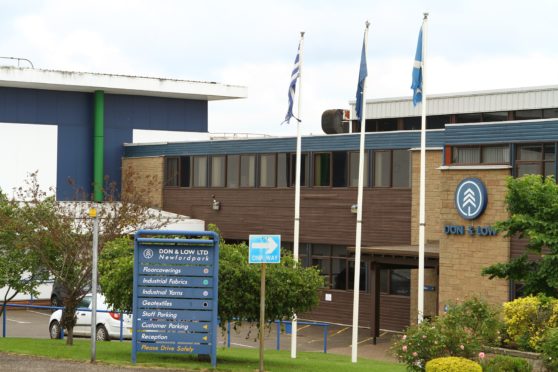 Two cases of coronavirus have been confirmed at an Angus textile firm that has been supplying PPE across the country.
Don & Low confirmed the positive tests and said close contacts have been told to quarantine.
The factory remains open and HR manager Paul Leigh said all appropriate safety measures were being taken.
One insider said workers on the factory floor were concerned about the lack of clear communication from bosses.
The source said: "We are all very worried about it, a lot of us have elderly parents or very young kids.
"No one from management has officially told us, we feel all they are concerned about is the product being made."
Mr Leigh insisted all people identified as close contacts of the individuals concerned had been briefed.
He said: "We work shift patterns here so not everyone will have been affected.
"But I have spent all of today talking to the relevant people.
"We have taken every measure possible to make it safe here. I think this is the first formal diagnoses of Covid we've had.
"We have more hand sanitiser here than you can shake a stick at.
"It's a question of what we are doing carefully and thoughtfully. We are trying to deal with this correctly."
Mr Leigh said the technical textiles side of the business, where the positive cases have emerged, will close next week as a normal part of its shift operations.
He added: "We don't want people seeing it closed next week and jumping to conclusions in light of this.
"We operate a shift pattern which sees the factory close for a week now and other times through the year and this just so happens to be coming up now."
The firm received plaudits earlier in the year from First Minister Nicola Sturgeon for its efforts manufacturing PPE (personal protective equipment).
An Angus Council spokesman said the local authority was not aware of the situation.
NHS Tayside has been approached for comment.