Bomb squad called as Angus beach closed off following 'explosive' find
An Angus beach was sealed off for almost six hours after suspected explosives were discovered.
As reported in The Evening Telegraph, UK Coastguard closed a section of the coastline at Carnoustie after two devices were found by a member of the public at about 12.45pm.
An explosive ordnance disposal (EOD) team was called to the incident from Faslane Naval Base and detonated one of the suspected explosives. The second device was found to be "inert".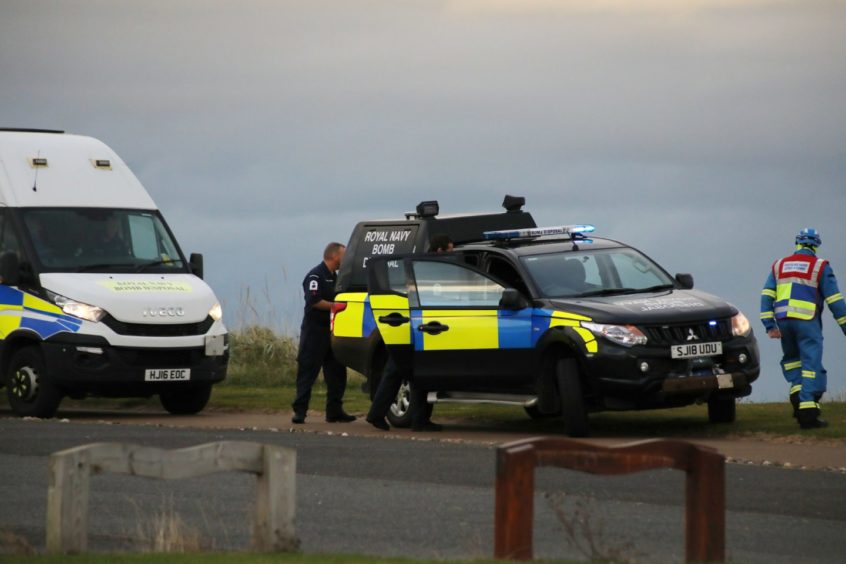 The UK Coastguard were alerted and part of the beach close to the skatepark was closed to the public while the devices were investigated.
Just before 4pm, the coastguard then closed off the beach completely and shut the car park.
Five-and-a-half hours after a suspected explosive device was found on the beach, it was detonated in a controlled explosion by the Royal Navy bomb squad.
It is thought to have been a World War II device which was spotted among the rocks on the shore line when the tide was out.
A spokesman for the UK Coastguard said: "A team from Royal Navy EOD at Faslane dealt with two devices.
"One device was detonated in a controlled explosion on the beach.
"We have no information if the device was explosive but the decision was taken to blow it up.
"The second device was found to be inert, not an explosive device, and it was taken away by the team for disposal."
The device was detonated at 6.20pm.
A large crowd had gathered at the wall beside the leisure centre in Carnoustie to watch as the drama unfolded.