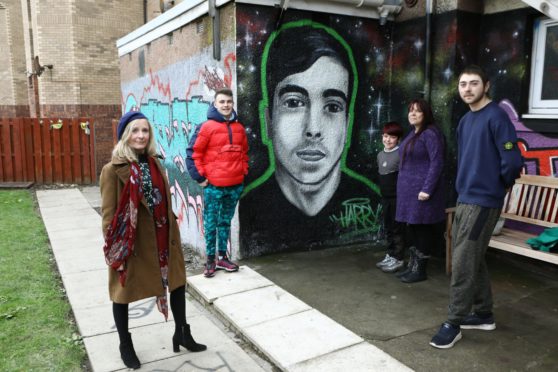 A striking mural of a young boy from Forfar who died has been painted at a youth charity.
The garden of the Pitstop Project in the town has already been revamped to honour Harry Fyfe, who regularly visited the drop-in centre before he died, aged 20, in June last year.
Dundee graffiti artist Simon Matheson, known as Sykes, has designed a portrait of Harry on the wall of Pitstop's base, where Harry's mum, Ashley Carle, is a youth worker.
Sykes approached the charity offering his talents after being saddened by Harry's death. He spent two days working on the mural, which was unveiled earlier this week.
Ashley thanked the artist for helping people to remember her son.
"I'm absolutely over the moon. Sykes has done a wonderful job and it has brought so much comfort for young people.
"As a family it brings a lot of comfort to us all. I love it."
Dawn Mullady, manager of the Pitstop Project, said: "When Harry passed away it had a big impact on a lot of young people and a lot of his friends stopped going out.
"We thought the garden and mural would be a nice way for them to come and remember him in a place where we can be there for them."
Dawn worked at Pitstop when Harry attended as a child and remembers him fondly.
"A shy boy came to the Pitstop and played pool," she said.
"He was then only aged 10 and an absolute gem of a lad. He was one of the kindest, most intelligent young people I have ever worked with.
"We all have mixed emotions about the mural. Ashley is really excited to see the mural but it's obviously sad too."
Dawn hopes the mural will encourage young people to drop by and reminded them that support is still available, although the charity cannot run all of its usual activities.
"We are still here to support whoever needs it," she said.
"Our indoor services aren't open but we still want to support as many people as we can."
The memorial garden is open at any time and anyone who wants to meet a support worker there can call Dawn on 07921450172.