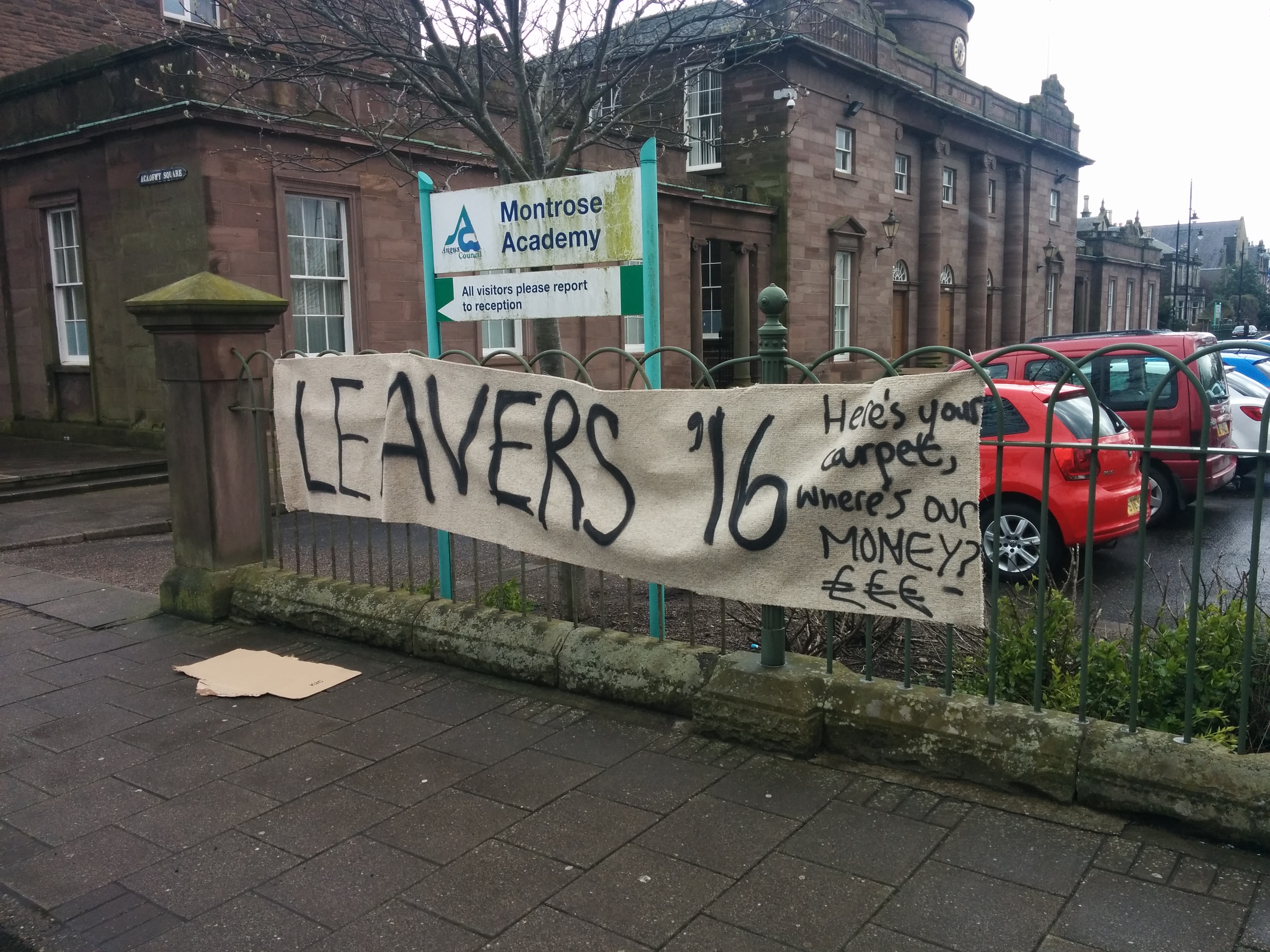 An Angus councillor has demanded an independent investigation into how a secondary school in Montrose handled pupils' money.
Sixth year students at Montrose Academy recently led a protest outside the school over claims that £180 raised from prom ticket sales is being kept by the school.
Now Councillor Mark Salmond has asked Angus Council's education department and its internal audit service manager to conduct investigations into the affair he has dubbed Carpetgate.
Although the prom was organised by the pupils independently of the school, office staff banked the proceeds of the £17 ticket sales for the event which is being held at the West Park in Dundee on June 10.
Problems emerged around two weeks ago when the school suddenly announced that it was withdrawing a pledge of £250 towards the cost of the prom due to damage to a common room carpet.
Faced with having to raise the shortfall just a few days before the final payment to the West Park was due, the prom committee decided to forego a planned photo booth attraction.
However, it then emerged that this left a £180 balance of ticket sale money in the Senior School Benefit Fund account.
It was claimed by pupils that the prom committee – who had suggested that the money go to charity – were pressured into giving this to the rector as a "gesture of goodwill" to also go towards repairs.
This led to around 30 pupils protesting outside the school on Friday holding a length of carpet which had the words: "Here's your carpet, where's our money?" written on it.
Mr Salmond said he had received calls from several parents about how the school had acted which is led to him calling for an independent inquiry.
He said: "I have contacted the strategic director with responsibilities for education and asked that the pupils' concerns be investigated by staff external to Montrose Academy.
"I have asked that the school staff and pupils concerned be allowed to explain how this issue arose. It is imperative that parents and pupils know the full facts.
"As the pupils are raising financial issues I have also asked Angus Council's internal audit service manager to review how the school account concerned is operated."
The local councillor said the Academy was a "fantastic school with a great reputation" and that he had never encountered "this level of anger" over an issue at the school before.
He added: "What disappoints me the most is that the senior pupils who are about to leave will have their memories tarnished for ever.
"All the great things that happened at the school will be forgotten and Carpetgate will be the only memory.
"The full facts must be established so that pupils from years one to five have confidence to raise funds for the school and continue to help at school events."
Around 80 pupils are expected to attend the prom next month.
A spokesman for Angus Council said: "We have received the councillor's correspondence and will respond directly to any concerns he has raised."