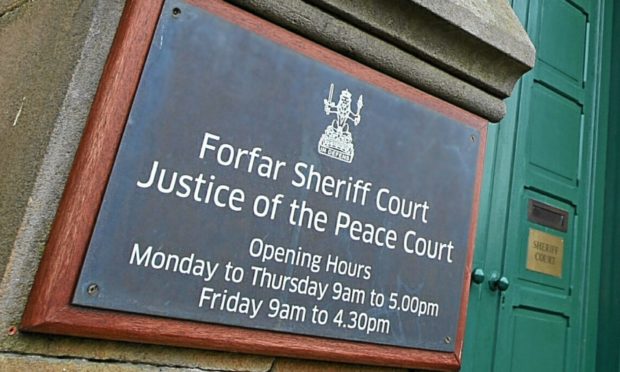 A valium and cocaine-fuelled Angus man who launched a foul-mouthed tirade at police in a Montrose pub has been ordered to pay restitution for an attempted attack on one officer.
Lewis Ryan delivered the volley of abuse, including the term "spastic", after officers were called to the Lochside Bar in Montrose last year, during an incident the 22-year-old can remember nothing about.
Ryan, of Glenlethnot Place, Montrose pled guilty to breaching the peace at the pub on December 30 by repeatedly shouting and swearing at them in a manner aggravated by disability prejudice.
He also admitted assaulting PC Rod Hamilton at Dundee police headquarters on December 31 and attempting to butt him.
Everything you have done fully justifies sending you to jail.

Sheriff Gregor Murray
The court heard Ryan's abuse continued at the custody suite at police HQ.
Defence solicitor Nick Markowski said it was the first of four offences committed within a relatively short period of time during which Ryan was abusing valium, cocaine and alcohol.
He had previously been placed on a community payback order and an electronic tag and curfew.
"This was committed entirely due to intoxication – he has absolutely no recollection of these events," said Mr Markowski.
"That substance abuse has caught up with him and he has been left with permanent memory issues and other problems that have made him unfit for unpaid work.
"He had a flurry of offending over a three to four month period which came to an end just after the beginning of lockdown. He has addressed his addictions since then."
Sheriff Gregor Murray told Ryan: "Everything you have done fully justifies sending you to jail.
"However, this took place almost a year ago, you have cleaned up since then and you are making good progress on your existing order."
He placed Ryan on a community payback order with supervision for 12 months, imposed a six-month tagging order confining him to his home between 7pm and 7am and a police restitution order of £400.
"I warn you that if you appear on anything similar or anything new you will be going straight to jail," said the sheriff.