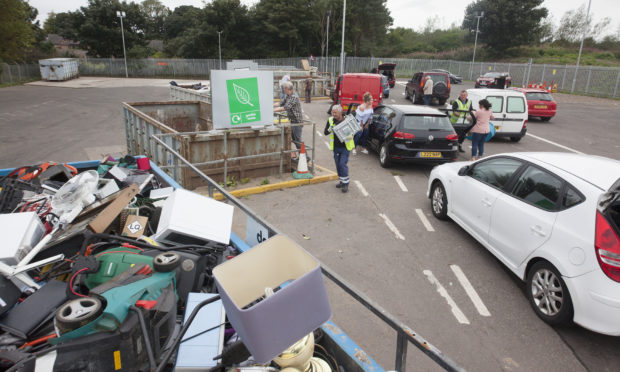 Angus has leapt up Scotland's recycling chart with a performance putting it second in the list of the country's 32 local authorities.
New data has revealed a recycling rate of 59.1% in 2019.
The figure captures waste disposed of via kerbside collections, recycling centres and neighbourhood recycling points.
Angus stands well against the 2019 Scottish average of 44.9% and its neighbour councils of Perth and Kinross (52.7%), Fife (44.5%) and Dundee (38.4%).
It follows a major – and controversial – redesign of Angus recycling centres which came into place in February last year.
Angus communities convener, Councillor Mark Salmond said: "It is a terrific achievement.
"The way in which the focus on recycling has become second nature to so many of our citizens is magnificent.
"There's no doubt they are setting an example for others in Scotland to follow."
The Montrose independent added: "That justifies the changes made, including the necessary redesign and modernisation of our recycling centre services."
Only 5.1% of generated household waste in Angus went to landfill and only one other council had a lower percentage rate among Scotland's local authorities.
Mr Salmond said this was thanks to an agreement to send non-recyclable items to the waste from energy facility at Baldovie, Dundee.