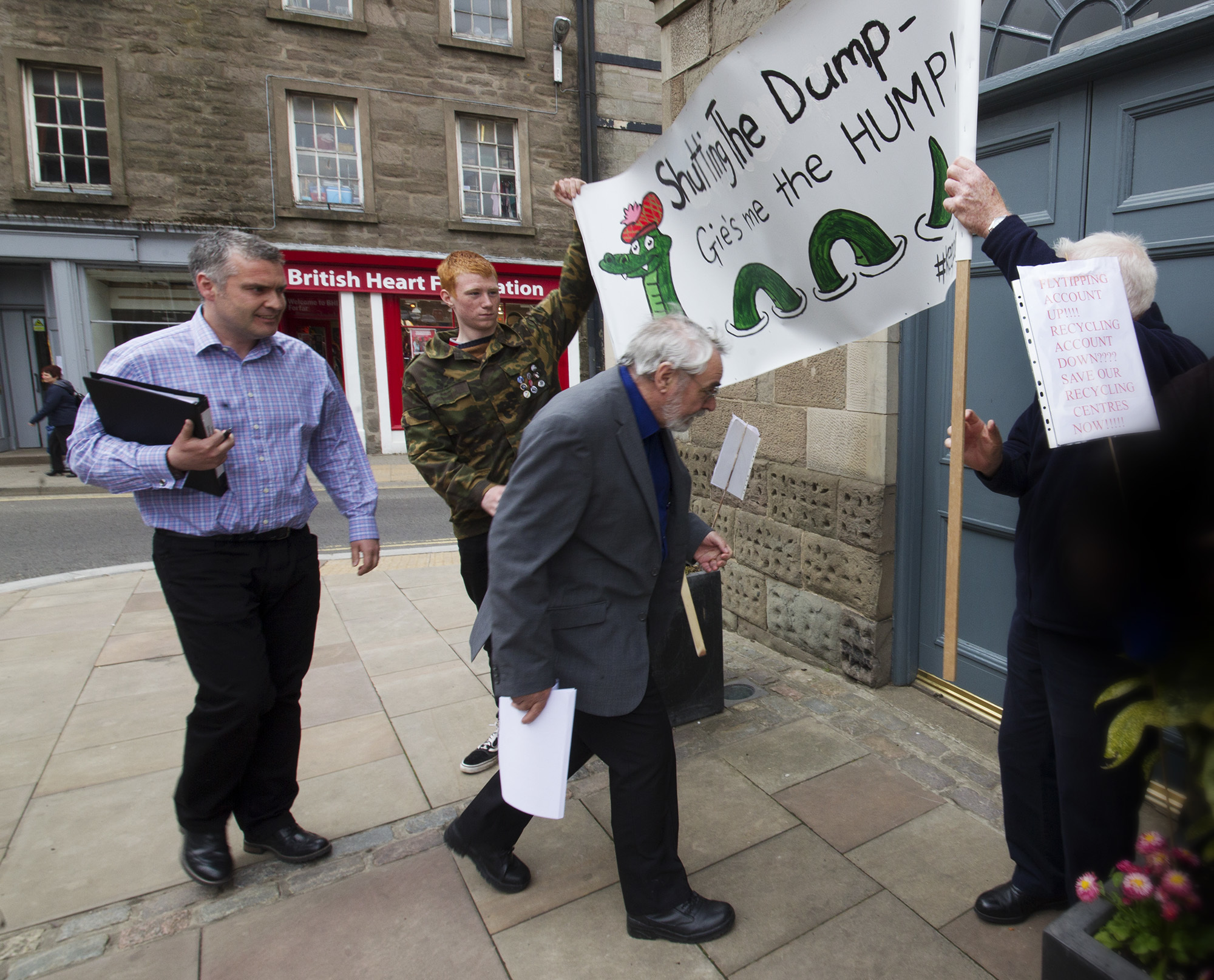 Angus councillors have made the "extremely difficult" decision to close Monifieth's recycling centre to save others across the county.
Initial proposals to shut five centres were rejected in favour of one outright closure, skips at Forfar and Kirriemuir being replaced by a new "supersite", and reduced opening hours at Brechin and Carnoustie, which were braced for the axe.
The moves were slammed as "totally unacceptable" by Monifieth and Sidlaw councillor Craig Fotheringham, who was angry that no options were brought forward to save his town's dump.
And an amendment to save all seven burgh sites, and a referral to full council, were both denied.
But the communities committee at Forfar were told there were no "bad guys" involved in the hunt for £250,000 of recycling savings.
The meeting at the Cross was picketed by protesters from across Angus.
Campaigner Laura May Kennedy said the result is "disappointing" for Monifieth residents and she fears the reduced opening hours elsewhere signal an erosion of all services in future.
Opening the meeting, convener Donald Morrison said: "We have to make extremely tough decisions to ensure non-ring-fenced, front line services can continue to be delivered as much as possible.
"This council has already agreed to make the year-on-year £250,000 saving at our budget in February and the effect of this is stark, as the reality of austerity is beginning to bite, and bite hard.
"I am proposing (an option) which not only meets the budget saving, it also retains centres in a more geographical way, albeit those retained centres will see a reduction in opening times and days."
Brechin councillor Bob Myles proposed an amendment to reject closure of any site, instead asking officers to find alternative savings in the recycling budget, and to fully consult communities which may be affected.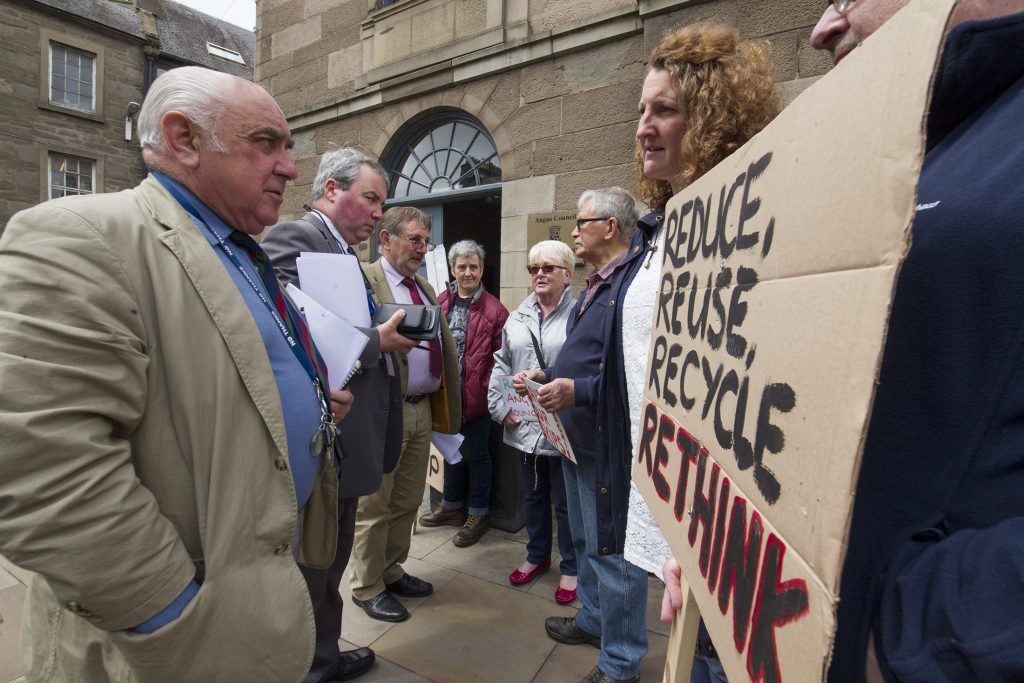 He said: "We all know the pressures the council is under in reaching its budgets and we all have to find ways that are acceptable to achieve these.
"We have a duty of service to communities.
"We don't want to create second-class burghs where some have services and some don't."
However the amendment was deemed incompetent following a recess, as the saving could not be delivered.
An attempt was made to refer the decision to full council by Arbroath councillor Ewan Smith. However, this was denied as no competent amendment had been made.
Monifieth and Sidlaws councillor Craig Fotheringham said the report was "totally unacceptable".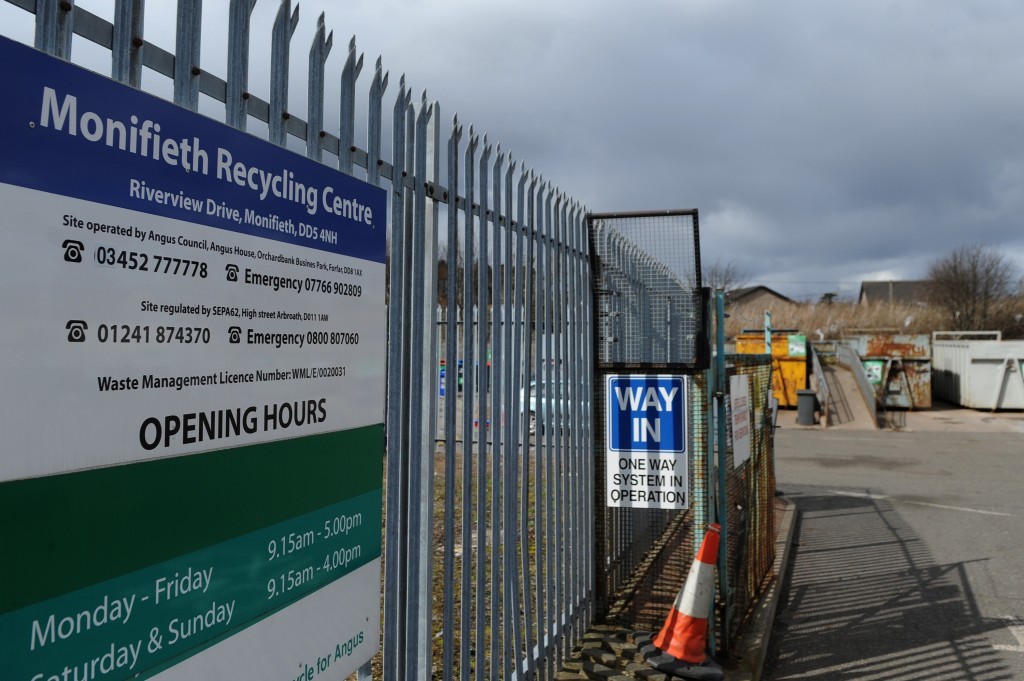 He added: "Every single recommendation on this report recommends closure of Monifieth recycling centre, which my constituents are very unhappy with.
"As an elected member I understand their concerns, I also understand the concerns of officers to do with the financial pressures facing this council.
"But I am very disappointed, despite asking officers for alternatives they have come back with basically the same recommendation."
Carnoustie councillor Brian Boyd made an amendment that his town skip could open from noon to 4pm on a Wednesday, which was backed by Provost Helen Oswald.
The move reduced the expected level of saving from £253,000 to £246,500, but was accepted as satisfactory.
Mrs Oswald said: "This has been an extremely difficult time for every councillor around this table — I don't think anybody would say otherwise. It's going to be the same at every committee from now on."
Good sensible compromise today at Angus Communities cmmtte on Recycling Centres.Convener Morrison proposed option 5.Brechin/Carnoustie saved

— Bill Duff (@BillNorAngus) May 24, 2016
Forfar councillor Glennis Middleton said: "Some people are trying make out that they are the good guys and some of us are the bad guys, and I don't think anyone is particularly happy, whether members or officers, about the financial circumstances we are in, or the very difficult decision that we'll have to take."
Montrose member David May asked whether there would be any risk of increased fly-tipping due to reducing hours, but communities strategic director Alan McKeown said there was "no evidence" to suggest this from other councils.
Councillor May added: "I cannot back this report and the preferred option, as it is doing a partial U-turn on our superb efforts on reducing waste, (by) closing the recycling centre at Monifieth, and effectively closing those at Kirriemuir and Forfar once a new location is found to serve both burghs."
At the close of the item, councillors Colin Brown, Ian McLaren, Ronnie Proctor, Fotheringham, May, Myles, and Smith all requested that their dissent be recorded.
What was agreed:
The council's own recommendation was to close centres in Brechin, Carnoustie, Monifieth, Kirriemuir and Forfar, with a new-build site to replace the latter two.
Arbroath and Montrose centres were to be upgraded, with no change to opening hours at the remaining three skips – with a cost saving of £258,000.
Pulling up short of that proposal, the committee agreed the following:
Monifieth will close.
Kirriemuir and Forfar's existing skips will close, making way for one new site that will be open seven days a week between noon and 4pm midweek, and 9.15am to 4pm on Saturday and Sunday.
Arbroath and Montrose will be improved and open seven days a week from 9.15am to 4pm.
Brechin will be kept open for four days a week, between noon and 4pm Monday and Friday, and 9.15am to 4pm on Saturday and Sunday.
Carnoustie will be retained and kept open for five days, on the same basis as Brechin between Friday and Monday.
The extra day, likely Wednesday, was agreed following an amendment by Councillor Brian Boyd, between noon and 4pm.
Edzell's skip servicing agreement will also end.
The changes are anticipated to save £246,500 — short of the planned saving but considered acceptable by council officers.
A council spokesman said: "Further information about the timing for the implementation of these changes will follow in due course."