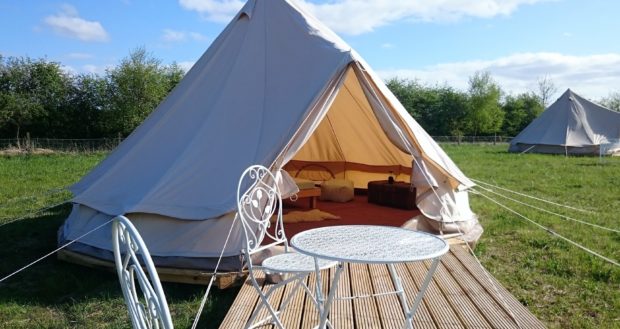 Angus will have its first glamping site after councillors approved a family's ambitious rural diversification bid for a site near Forfar.
But the Kirkbuddo plan split members of the area's development standards committee after several supported objectors who had raised concerns about the scheme's impact on the rural setting and the potential noise created by 150 campers.
However, the applicants assured the committee  that a rowdy campsite was the last thing they are looking to create in their own backyard and one councillor warned that Angus "might as well shut up shop" to tourists if the bid was blocked.
The Greenhillock Glamping site lies a few miles south east of Forfar and the family behind the plan aim to create a site with a maximum of eight glamping bell tents and capacity for 30 regular tents between April and September.
Mrs Kate Latham told the committee she regretted not having consulted with near neighbours more fully to assuage their concerns, but assured opponents the driver was to share the "beautiful setting on our doorstep" with an appropriate market.
"We are passionate about bringing a responsible and sustainable eco-tourism business to Angus," she said.
"Our aim is to offer environmental education in an informal way, it's not simply camping," she told the committee.
Objector Rod Houston said: "The scale and ethos flies in the face of the wildlife that could be disturbed.
"Noise and disturbance is a real concern – we understand the local economy aspect, but I don't think our concerns have been answered."
Supporting committee chair Rob Murray's backing for approval of the Greenhillock project, Montrose councillor Bill Duff said: "Angus has a chronic shortage of visitor beds.
"We are trying to say to people that we are open for business and looking to welcome tourists and quite frankly if we don't approve this development we might as well shut up shop.
"This is a site well away from the bright lights – it isn't going to attract teenagers wanting a riotous weekend so fears of a noisy campsite are a little bit overblown and I'm very supportive of this."
A refusal amendment was presented by Arbroath councillor David Fairweather, who said: "I have a problem with this.
"I believe in doing all we can for tourism but there are twelve objectors and I don't think this is in the right place."
Councillors voted 6-4 to approve the application.