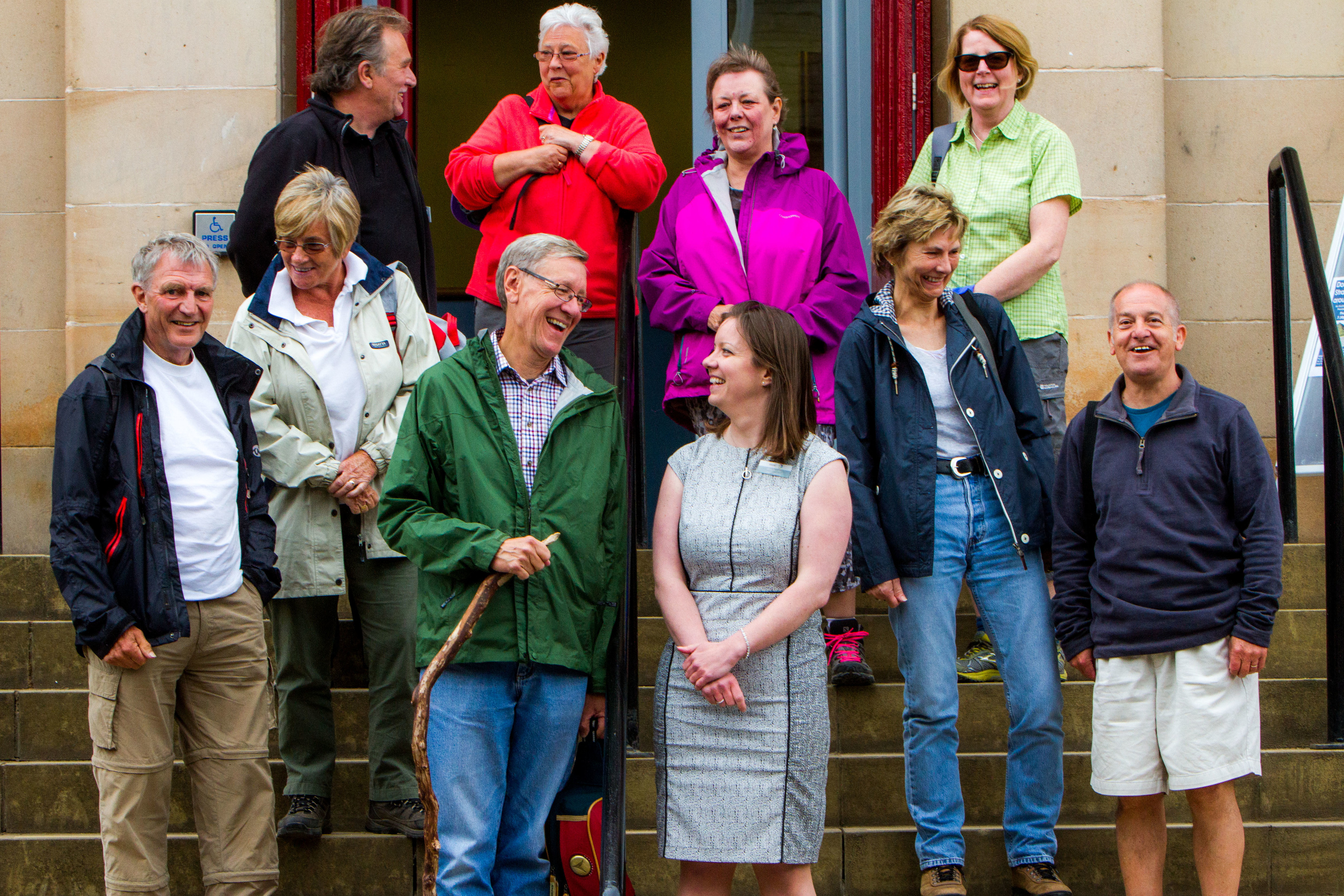 Hill walking enthusiasts from across Britain were greeted with clear blue skies as the Angus Glens Walking Festival started.
More than 350 people are attending the four-day festival, which runs until Sunday, including visitors from Australia and America.
The popular annual festival features 18 walks for people of all abilities, led by experienced and knowledgeable countryside rangers, local mountain leaders and land managers.
Buses left early on Thursday morning from the festival's base camp at Kirriemuir Town Hall for walkers to explore the hills.
Kirsty Hunter, chief executive of Angus Alive, which runs the event, said: "We're delighted to welcome walkers from near and far for the festival. Some of the people attending have joined us for the past 14 years.
"People have come from all over the country to enjoy the wonderful landscapes in Angus and the wide variety of walks we have on offer over the next four days.
"The walkers have had a perfect day for exploring Jock's Road and the Corrie Fee.
"We are keeping our fingers crossed that the sun keeps shining."
The walks through the Angus Glens are classed as extremely strenuous for serious hill walkers, while there are also moderate and easy options.
As part of the festival, an illustrated talk was given by Stewart Logan, the president of the Munro Society, at the Kirriemuir Gateway to the Glens Museum.
Kirsty added: "We try to make sure that the hills are accessible for all.
"The festival attracts some very experienced hill walkers who are looking forward to having the transportation and to benefit from the expertise and knowledge of the rangers.
"But we've also got the opportunity to do walks that are more accessible.
"In Angus there's wildlife and views that can rival any area of the country.
"The festival is also attracting tourists to Angus, who are coming in and spending money on accommodation, meals and entertainment while they're here."
In addition to the Angus Glens walks there is also a 'coastal crawl' on Saturday, which starts at Mains of Usan, overlooking the dramatic scenery of Lunan Bay, and ends at Montrose Basin.
There are some spaces available on a special family walk organised around Forfar Loch on Sunday, which runs from 10am until noon and from 2-4pm, which is open to people of all abilities.
There is limited availability left on the other walks. People are asked to call 01241 435804 to book places.