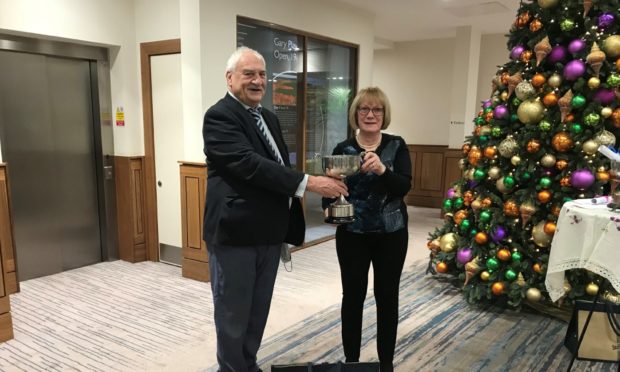 Carnoustie's Citizen of the Year has helped set the burgh's Memories group up for a busy 2021 programme with a generous gesture on the back of her success.
Lorraine Young was recently revealed as the 2020 winner by Carnoustie Community Council chairman Arliss Rhind at a small Links House ceremony.
The accolade was primarily in recognition of the voluntary work Lorraine does for people living with dementia in the community.
Despite the challenges of this year, Lorraine and her team of volunteers maintained contact with group members in a variety of ways.
Many of the activities were based online, but for those who did not use social media, doorstep deliveries of printed quizzes were made, along with pies as a 'half-time' treat for those taking part in Football Action Zoom sessions.
At the Citizen of the Year ceremony, Lorraine received a prize cheque which she has donated to Carnoustie Memories in support of their ongoing work which is provided free to all members.
Board member Craig Murray said: "Carnoustie Memories was established back in 2015 by the creation of Golf Memories and then swiftly followed in 2016 by Football Action.
"Both have continued to run on a monthly basis since then.
"The groups are managed and led by volunteers on a not-for-profit basis to ensure they can be as inclusive as possible.
"The key aim of the groups is to reconnect members with their passion for sport and through this medium reconnect members with many happy memories."
Craig added: "The friendly laughter and banter is infectious and every session echoes to the sound of laughter and wall to wall smiles, peppered with some amazing stories of personal achievement and happy memories.
"Both groups also focus on safely managed physical activity to support both the physical and mental wellbeing of members."
Craig said the groups had quickly responded to the challenges of the pandemic which had revealed the importance of increasing interaction with members.
"As a Christmas surprise our members were also able to enjoy transatlantic links with Texas, Florida and most recently, Canada through the recently launched Juke Box Days and Screen Memories.
"Everyone can enjoy a trip down memory lane to the era of the dance halls and the music of their day.
"This donation from Lorraine will massively help our ongoing activities into 2021," he said.
Lorraine's gesture was also replicated by young piper Ewan McAree who donated his award money to the foodbank run by Carnoustie Legion.
Woodlands primary school pupil Ewan received the Derek Orrock Memorial Trophy after lifting spirits during lockdown by playing his bagpipes for folk in the town.