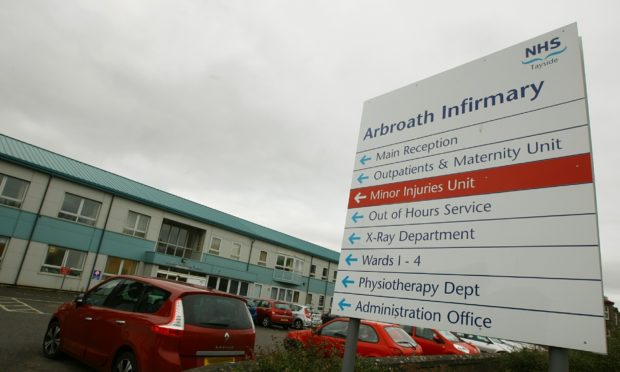 Arbroath Maternity Unit is operating a "9-5 policy" in a move described as "deeply concerning".
Midwives will "no longer be staffing" the unit after 5pm if there are no inpatients.
The midwives will now be on call from 5pm until 9am the following morning and will only attend the unit "as and when required".
Anyone giving birth between the hours of 5pm and 9am will now have to phone a number to get on-call midwives to turn up at the unit.
The news comes just a week after Montrose Maternity Unit closed its doors to births until September.
North East Scotland Conservative MSP Alex Johnstone said he was "deeply concerned" about the Arbroath maternity unit situation and said the on-call set up after 5pm "seems ludicrous".
He said: "First we had the closure of Little Cairnie, then the GP crisis in Brechin, followed by the closure of the Montrose maternity unit and now a reduced maternity service in Arbroath.
"Add to this a Scotland-wide increasing reliance on agency medical staff, and we are presented with a scenario of NHS Tayside in crisis.
"I know I won't be alone in being deeply concerned about the Arbroath maternity unit situation.
"The idea that someone in labour phones an out-of-hours number and two on-call midwives open up the unit seems ludicrous if you consider that the midwives might actually live in Brechin or Montrose.
"I want to put on record my sincere gratitude and respect to the professional and dedicated staff of our hospitals and medical units across Tayside and indeed Scotland.
"This situation is not of their making, but the chain of events we are seeing now, means the Cabinet Secretary must intervene and appoint a task force to investigate just how bad things are and what else is under threat.
"The Scottish Government must step in to restore confidence among patients and staff."
Arbroath councillor David Fairweather said alarm bells were ringing again after previously warning of further health cuts in the town.
"My fear has always been that this was not the end of the cuts," he said.
"Why is there a lack of staff? This has to come down to a lack of funding."
A source at Arbroath Maternity Unit said the 9-5 move was "extremely dangerous" as many staff do not live locally and babies could easily be born before staff arrive.
She said: "Management have known for approximately 6-9 months that staffing was at crisis levels yet little plans were put in place to alleviate the situation."
NHS Tayside responds
NHS Tayside's head of midwifery Justine Craig said the safety and care of women and babies will always be their primary concern.
"Our midwife teams work really hard to support women throughout their pregnancy journey and the safety and care of women and babies will always be their primary concern," she said.
"We want to reassure women that this remains the case in Angus and midwives are committed to continue to deliver the highest quality of service for mums and mums-to-be.
"The Arbroath Community Midwifery Unit is not closed overnight. It is open for labour, birth and inpatient postnatal care when women need it, which means that when a woman is in labour or has given birth, they will be cared for in Arbroath, regardless of the time of day or night."
She continued: "To be clear, from 9am to 5pm that care will be provided by midwives who are at the unit every day and from 5pm to 9am two midwives will attend the unit together to care for any women who are already inpatients or any woman who goes into labour.
"NHS Tayside had to make the difficult decision last week to temporarily close Montrose Community Maternity Unit for births due to ongoing staffing shortages.
"Our Montrose maternity team and other support staff are now working out of the Community Maternity Unit at Arbroath Infirmary for births, alongside the Arbroath maternity team.
"Antenatal and postnatal care is being delivered as usual at Montrose during the day.
"The Montrose midwives have been in touch with all women who are affected by this temporary change to ensure that arrangements are clear and to reassure them over the temporary change and what it means for them.
"This temporary change to the service will ensure that all aspects of pregnancy, labour and birth, as well as postnatal care, can continue to be provided to the highest standard and will still offer women the choice of labour and birth in a Community Midwife Unit in Angus.
"It will also ensure continuity of care, which has been shown to be vitally important to improve outcomes for mums and babies."
Ms Craig said that on rare occasions in the past, women have been diverted overnight to either Montrose or Arbroath, but this has only been in exceptional circumstances to ensure the safety of mums and babies, which is paramount.
She added: "Staff who have left the service have been replaced where possible, however recruitment of midwives remains challenging.
"In recognition of national workforce issues, student midwife numbers have been increased and NHS Tayside has plans in place for the active recruitment of graduates."