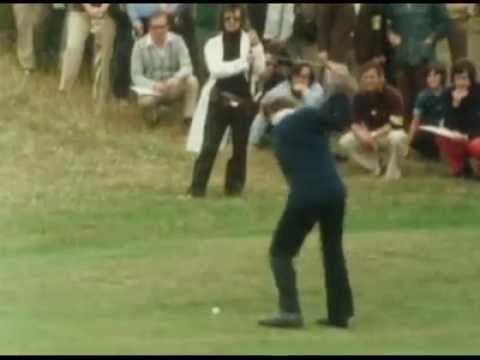 Tom Watson was honoured in Monifieth when he returned to the scene of the first links course he ever played on Wednesday night.
The five-time Open champion drove off the first Medal tee in front of Monifieth Links Trust members to re-enact his first shot on a links course.
In 1975, the then 25-year-old played Monifieth Medal after he discovered nearby Carnoustie was closed for practice games ahead of his first Open.
Watson – who stopped off ahead of his preparations for today's Senior Open first-round – was presented with an honorary life membership and a plaque was embedded in the first tee to mark his return to where it all began.
He described the honour bestowed on him at Monifieth as "very nice" and said it was a pleasure to return to a course which helped him come to terms with the peculiarities of links golf.
He said: "The last time I hit the first tee ball at Monifieth I virtually lost it despite hitting it straight down the middle of the fairway.
"It didn't get me off to a great start as far as my liking of links golf goes to put it mildly.
"Going back to have a ceremonial first tee shot is very nice."
Brought up land-locked in Kansas, Watson initially found links golf foreign and befuddling until his landmark round at Monifieth.
His first drive in 1975 went straight down the middle of the fairway but he still ended up losing the ball in a tiny pot bunker 50 yards to the left.
But Watson went on to win the 1975 Open at Carnoustie with a piece of white heather zipped inside his bag.
A little girl had knocked on his door the morning of his Carnoustie play-off win against Australia's Jack Newton and handed him the heather wrapped in foil as a good-luck charm.
Watson rented a little house in Monifieth during The Open and that evening he said it "seemed like the whole neighbourhood came by" after he won the Claret Jug
Few have come close to Watson's Open achievements and he went on to win four more titles including the famous Duel in the Sun with Jack Nicklaus at Turnberry in 1977.