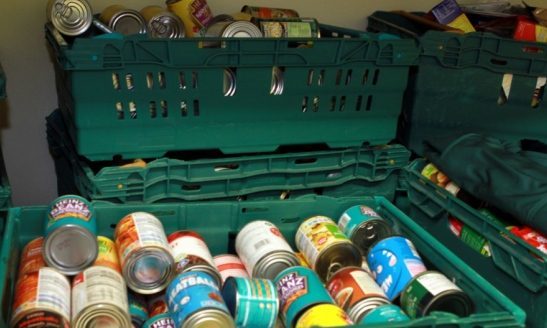 Angus Foodbank has warned it expects a "substantial increase" in demand in the coming months.
The charity's annual report revealed it fed 3,028 – including 768 children – in the 12 months to the end of July.
But chairman Derek Marshall is expecting a surge this year due to recently introduced benefit changes.
He said: "As soon as the universal tax is introduced in any area, foodbank use escalates.
"The reason for that is that it's taking some people up to seven weeks to get their tax credits sorted out, so occasionally we have to step in and help somebody for a longer period of time.
"We are expecting quite a substantial increase in uptake in Angus, which is already a very busy depot."
Angus Foodbank now has centres in Forfar, Montrose and Arbroath. It also operates a delivery service to assist people in Kirriemuir, Carnoustie, Monifieth, Brechin and Edzell areas.
The group distributes between 2,500 and 3,000 tonnes of food a month.
"We work on a referral basis," Mr Marshall added. "We don't make any judgement calls when people come. If they come with a red slip then they'll get food, no questions asked.
"We are now working with 130 agencies – almost every third sector or public organisation you can think of will be a partner with us.
"We have around 90 volunteers working between the different distribution centres.
"But we are needing more volunteers, we are needing more food and we need more finance as the task at hand continues to escalate.
"We are trying to keep a step or two ahead of it all. Demand is increasing all the time."
In the past year, the Forfar area saw the largest amount of people being fed by the foodbank (1069), followed by Montrose (486) and Arbroath East and Lunan (392).
Benefit delays, benefit changes and low income are the main reasons that people are referred.
Mr Marshall said the main source of donations is through collections at supermarkets. He highlighted the support from Tesco, which gives the money back on the profit it makes on items for the foodbank as well as making its own food donations.
"We've got a lot of support coming in from schools, rotaries, churches, round tables and individuals handing in supplies but there's always a need," he added.
"It's not a good indictment as a culture or a Government that so many thousands of people are relying on foodbanks for the bare necessities."